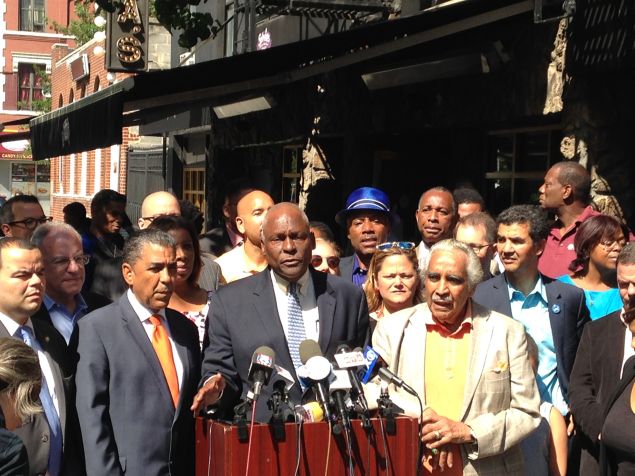 State Senator Adriano Espaillat—the winner of the Democratic primary to replace Congressman Charles Rangel—and and his nearest rival, Assemblyman Keith Wright, met with the outgoing 86-year-old representative in Harlem to work out a smooth transition and to ease resentments after an ethnically contentious race.
The three lawmakers met at Sylvia's Restaurant before addressing the press, and acknowledged the historic situation: for the first time in its 72-year history, upper Manhattan will have a non-black congressman. Joining the trio were an array of city and state officials who endorsed either candidate in the primary, ranging from Council Speaker Melissa Mark-Viverito to Assembly Speaker Carl Heastie, from Bronx Borough President Ruben Diaz Jr. to Manhattan Borough President Gale Brewer.
Also present were ex-Ambassador Suzan Johnson Cook and former Assemblyman Adam Clayton Powell IV, both fellow contenders in the Democratic contest. Wright thanked them all, after a bitter political fight that ended Tuesday night.
"We've left it all on the battlefield," said the assemblyman, Rangel's protege and favored successor, acknowledging his loss for the first time. "Now it's time to come together."
Rangel, who defeated Espaillat twice in similarly nasty primary fights, acknowledged that the demographics of the district have changed. Historically black, today 55 percent of its residents are Latino and just a quarter are African-American.
But today the retiring 23-term lawmaker asserted it didn't matter. He praised his former rival, a 20-year representative of the mostly Latino neighborhoods of Inwood and Washington Heights.
"Some have asked me, 'well, how do you feel now that there's a political shift, from Harlem to Washington Heights?'" he said, alluding the district's long history of ethnic changes. "I don't know how the Italians felt when the Puerto Ricans came to East Harlem. Or how the Irish and German Jews felt when the Dominicans went into Washington Heights. Or how the Jewish community felt when the Puerto Ricans went to the Bronx. Or how the whites in Harlem felt when we came from Hell's Kitchen and moved up in Harlem."
"But I do know one thing: that's what America's all about. That's what change is all about. And the most important thing is that we do work together," he continued.
Espaillat promised that Harlem and its historic black community would not lose any attention or prestige during his tenure.
"There is no difference. Maybe their ancestors picked cotton—mine cut sugarcane," he told the Observer.