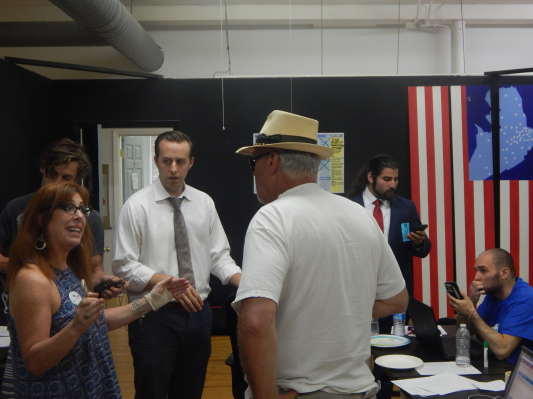 COLLINGSWOOD — Democratic voters choose between incumbent congressman Donald Norcross and progressive newcomer Alex Law today, and the fight is as bitter as turnout is slow. Norcross supporters have been traveling across the district in t-shirts emblazoned with the Norcross ticket of Hillary Clinton, Norcross and Camden city councilman Angel Fuentes and allegedly handing out campaign literature at polling places.
25 year-old Law, who faces tough odds against the brother of one of the most powerful unelected Democrats in the state, said that his staff has been playing whack-a-mole as reports of illegal electioneering continue to pop up. Norcross is the younger brother of insurance executive and former Camden County Democratic chairman George Norcross III, a point that Law has hit hard in his grassroots 
"The big issue was in Logan Township, but we got it taken care of," Law said. "We got there, made sure that wasn't going to be continuing to happen there. We had a line drawn in chalk so that that's the line that people can't go over. We have the police going over there every once in a while to check and make sure that that isn't being violated."
In addition to Logan Township, Black Men for Bernie Sanders members told PolitickerNJ that there was an altercation at Camden High School, where Norcross supporters were distributing campaign materials too close to the perimeter. State regulations require that no campaign activities take place within 100 feet of a polling place's entrance.
The Norcross campaign, which has raised $1.5 million against Law's $70,000  including a quarter of a million dollars in self-funding, is pulling out all the stops with supporters flanking polling places in the district's many suburban areas and the city of Camden.
Democratic committeewoman and Camden's head of code enforcement Iraida Afanador was on the site sporting a Clinon-Norcross-Fuentes tee and encouraging passing Rutgers students to vote at the polling place inside the student center. Afanador was leisurely sipping a fruit protein shake, sitting on a bench outside that 100-foot barrier but close enough to remind students without raising her voice.
"I'm trying to bring, as a former alumni, class of '96, I'm trying to bring to students the awareness that, you know, this is a presidential primary," Afanador said. "And traditionally, people really don't come out to vote in the primaries.
"As a Democrat my message is of course, you know, vote column three all the way."