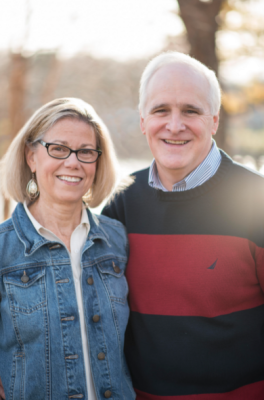 As primary season winds down, incumbent Donald Norcross looks set to secure his party's nomination for reelection despite an unexpected challenge from the left. With Norcross leading in early vote-by-mail tallies, the congressman's long-shot Republican opponent Bob Patterson is hitching his own campaign to Donald Trump.
"Trump is Trump. He has his plusses and his minuses, but his core message — his core message — of putting America first, rebuilding our manufacturing base, restoring jobs and being proud to be an American is a message that I can identify with," Patterson said by phone.
Patterson said Trump's emphasis on restoring the country's manufacturing sector recalls Eisenhower, and argued that he will bring that same message to South Jersey. Patterson is running unopposed for his party's nomination in a district where some cities skew as heavily Democratic as 90 percent.
Patterson, a policy consultant who served in the administrations of President George W. Bush and Pennsylvania Governor Tom Corbett, has been sharply critical of Norcross' brother George Norcross III in the Philadelphia Inquirer.
"Eisenhower was all about investments in infrastructure, patriotism, nationalism, and so my whole platform kind of predates Mr. Trump. It goes back to an older Republican agenda of connecting with middle America and providing economic tangibles to go to a portion of the country, like South Jersey, that's been left behind for 45 years.
"Give me a choice between Hillary and Trump, I think the choice is obvious."
Asked whether his camp has a strategy in place to compete with a man who is at the epicenter of the Camden County Democratic machine created by Norcross' brother, Patterson said that his tack will remain the same regardless of who comes out the winner in the Democratic primary. Norcross is expected to make short work of progressive challenger Alex Law when final returns come in tonight.
"I'm going to have the same message whether it's Mr. Norcross or Mr. Law. I'm talking about bringing manufacturing to South Jersey, protecting jobs, protecting American workers, and protecting America. So my message is not going to change based upon who wins tonight."
Despite Trump's ability to draw the ire of moderate Republicans here in New Jersey, Patterson expects the party to rally behind him at the convention. Governor Chris Christie's endorsement of Trump drawing a wave of criticism from fellow Republicans and former Republican governor Christine Todd Whitman's suggestion that Republican voters write in John Kasich or Ted Cruz rather than support Trump in the primary.
"The 'Never Trump' crowd has sort of died away. So I anticipate on the Republican side a show of unity at the convention in Cleveland."