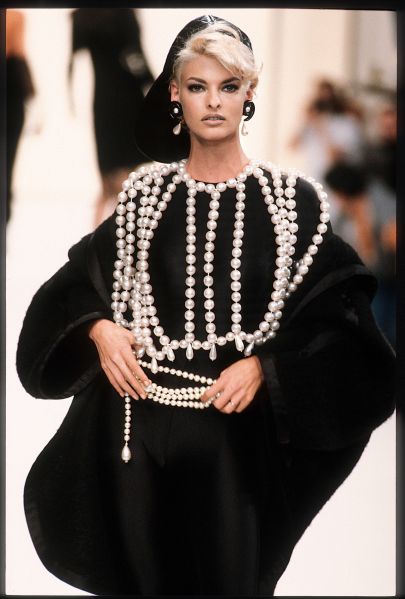 There is a new Chanel book out now and it's as glamorous and chic as you'd expect. Yale University Press's Chanel Catwalk: The Complete Karl Lagerfeld Collections, written by Patrick Mauriès, is a visual feast. It's a book whose size and weight embodies the term "tome." The book design is gorgeous. It has a simple, yet striking, black cloth binding with the title stamped in iridescent silver foil. And, at strategic points throughout the book, there are around half a dozen ribbon bookmarks – a detail that takes into account the people who will inevitably want to bookmark more than one page.
The author, Patrick Mauriès, is a French fashion journalist who has written over 40 fashion books, and his experience writing and producing fashion books is evident throughout. There are 630 pages detailing every runway collection Lagerfeld has presented since 1983, when he took the helm at Maison Chanel – from Resort to Spring, from Pre-Fall to Fall, from Haute Couture to Prêt-à-Porter. Each collection is represented by a curated selection of images accompanied by short descriptions, which often includes reviews sourced from magazines and newspapers, and quotes from the designer himself. While most collections occupy a two-page spread, extra pages are devoted to the most significant and influential collections.
There is a plethora of books available on Maison Chanel, ranging from biographies to surveys of the house's most important fashion shows. Many of those books include a disproportionate amount of material related to Karl Lagerfeld's collections; even books that purport to be about Gabrielle Coco Chanel's oeuvre. One might argue that another Karl Lagerfeld for Chanel book would be redundant at this point. But because the book is so overwhelmingly comprehensive, that thoroughness justifies its existence.
This book isn't so much a book about Karl Lagerfeld as it is about the clothes he produced for Chanel. There is no analysis, no in-depth study on the man behind the collections (aside from a short introduction by Patrick Mauriès which includes a brief designer profile). But that is to this book's advantage. By letting the collections speak for themselves, showcasing every single runway show, this book is more of a reference than an engrossing read. It's the kind of book you open when you want to look up a specific collection, but it's also good for casual browsing. And it's a great resource for any fashion-phile, especially if you are obsessed with all things Chanel.
Chanel Catwalk: The Complete Collections of Karl Lagerfeld, published by Yale University Press, is on sale now for $75.