Prime Minister Benjamin Netanyahu has, for the first time, openly and very casually, revealed that Israel and many Arab leaders have open and ongoing dialogue.
That's revolutionary.
At a May 10th press conference, the Israeli prime minister clearly stated: "The initiative that I'm referring to are regional initiatives—meaning, aided by the Arab countries in the region to reach a real deal with the Palestinians."
In other words, Netanyahu is clearly saying that he had spoken to not one or two, but several Middle East leaders preceding the press conference. And by extension, he will continue his dialogues with these leaders in the very near future.
Knowing that there are ongoing discussions between Israel and the leaders of Arab and Muslim states in the region is a very big deal. And not just any leaders. According to Israeli intelligence sources, Netanyahu was referring to the Saudi crown prince, who doubles as the defense minister of Saudi Arabia.  He was referencing the leader of the United Arab Emirates, the President of Egypt and the King of Jordan. He was talking about talking to them about multiple topics, not only about efforts to creating a solution with the Palestinians. Conversations like those signal a new approach to problem solving and portend well for successful conclusions to conflicts and crises.
It seems that the Israeli prime minister speaks to Arab leaders as often as once a week. That's about as often as most adults speak to their parents—and probably more often than their own young adult children speak to them.
As the circle of Israeli dialogue with Arab and Muslim world widens, it becomes even more impressive. These leaders, who posture and play act before their citizen constituencies as mortal and eternal enemies, are instead, behind-the-scenes dealing with real issues and problem solving by sharing ideas and Intel.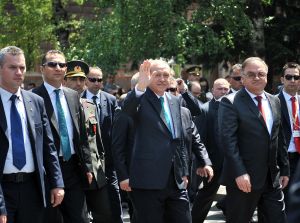 The Israeli prime minister also regularly, but less frequently, speaks to the presidents of Ethiopia and Kenya. And now, because of a thawing in relations with Turkey, Netanyahu is also speaking regularly with President Recep Tayyip Erdogan.
For decades—and this has always been an open secret—Israel has held military discussions with countries in the region. That give-and-take began because Israel was securing good intelligence data and military exchanges with non-Arab states, such as Turkey and Iran during the reign of the Shah.  These states were extremely interested in having that information.  Those exchanges blossomed into relationships, as Israel began to help those Arab countries who wanted assistance solving internal problems with water shortages, irrigation and technology.
Finally, the path opened and evolved into real discussions about terror, radical religious groups, sharing intelligence and other issues—like the continual Palestinian crisis.
The exchange and dialogue between Saudi Arabia, Egypt, Jordan and Israel is impressive. That bond has upset the United States and Russia, which are wary of this new acquaintanceship and do not know how to deal with the discomfort. This new interaction has forced the United States out of the center of all things Middle Eastern, a position it long maintained.
Certainly, all the parties involved still need either the United States or Russia, or even both of them, but they have also made the decision to try and work out issues on a regional basis. Diplomatically speaking, that's the grown up thing to do.
Ironically, the impetus for the new status between Israel and these Arab countries was, get this, US-Iranian detente. President Barack Obama should either be patting himself on the back or hitting his head with his open hand.
Without exception, each and every country in the Middle East was so frustrated and angered by President Obama's obsession to cut a deal with Iran at any cost, that the leaders were forced to communicate with each other and find their own ways to secure their own futures. Old hostilities were put aside when faced with this new danger.  It was the result, albeit unintended, of poor US policy in the Middle East.
All of Bibi's counterparts agree Palestinian President Mahmoud Abbas is too weak to deliver a peace solution or to convince his people that peace with Israel will improve their lives.  But if the other leaders of the Arab world can sign off on a peace pact, that deal will likely secure a real and lasting new solution between Palestinians and Israelis.
Arab and Muslim leaders can force the Palestinians to do what the United States could never force them to do: strike a reasonable deal.