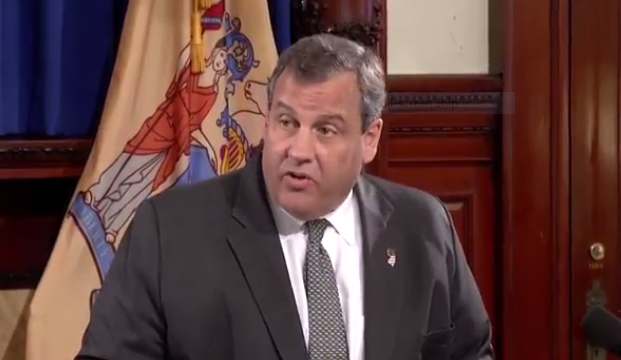 Oratorically bear-hugging newfound friends in the people's house and playfully swatting at the lordly lagging of the senate, Gov. Chris Christie said he wasn't particularly thrilled to back a 23-cent tax increase to replenish the Transportation Trust Fund (TTF) but celebrated a one percent sales tax cut while leaning on senators to follow the example of the assembly.
The Plan A fix for TTF funding would have made New Jersey an outlier on aviation fuel taxation, Christie told reporters at a press conference this afternoon, which is why he said he nixed that plan in favor of lopping the sales tax.
He expressed confidence that in the wake of press releases and nattering, the state Senate would follow the assembly and pass the deal he struck with Assembly Speaker Vincent Prieto (D-32). But Christie did linger on the oddity of his having worked with Prieto first this time instead of old pal Senate President Steve Sweeney (D-3).
In the past it was always Christie and Sweeney in the backroom and Prieto with his mustache stuck to the cold windowpane.
Now it was Sweeney shivering in the cold while Christie and Prieto chummed beside the roaring fire of close quarters bargaining.
"It's time for them to do their work," the governor said a day before the deadline, referring to the senate. "It's time for Republicans and Democrats to come together. …I'm doing my best to bring them together. The speaker deserves credit for not dilly dallying. The speaker and I work just fine together. We got it done together, and now it's time for the senate president to do the same thing."
The senate president (and the senate as a whole) this afternoon appeared far from convinced, not least of which because the plan leaves a billion dollar budget hole. A source close to the action said senators by and large felt broadsided by Christie's deal with Prieto. The governor can blame them all he wants and try to act like the senators are the ones retreating from their responsibility, but they presented the more viable Plan A, a source argued.
At his press conference, in addition to extolling the virtues of the heretofore scorned speaker, the governor proclaimed his belief in the virtue of his plan.
"The gas tax would be paid for by people who use the system [including out of state drivers]," he said.
In the next breath, Christie struck at two senate critics, who joined progressive organizations critical of the plan.
"They're experts on bizarre," Christie said of Senate Majority Leader Loretta Weinberg and senator Ray Lesniak, who earlier today expressed concerns.
"They say that every tax cut helps the rich," Christie added.
Everyone pays the sales tax, he added, which is why he decided it makes more sense to target than other options.
"If they put it [the bill] on my desk tomorrow, I will sign it tomorrow," the governor said. "I was given a deadline, I've met the deadline. I'm sitting here waiting for them to do their job."