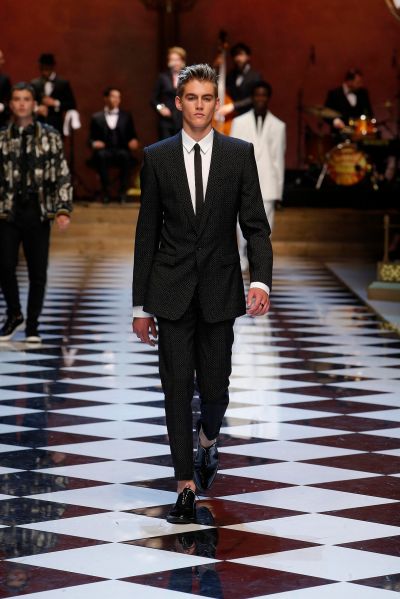 In modeling, good genes are almost everything. The rest of the cocktail for becoming an international modeling sensation includes a killer physique, a cool (or seemingly cool) personality and a dash of a charming social media presence.
Presley Gerber is great proof of this. The lanky teen has the high cheekbones of his mom, Cindy Crawford, and often takes to Instagram to post pictures of himself tinkering with his motorcycle or posing for prom with his model girlfriend.
But the model, who has a messy flop of bleached hair and a lanky swagger, is now a total model of the moment of the fashion community. This past weekend, he opened the spring/summer 2017 men's Dolce & Gabbana show, decked out in a fine suit from the Italian fashion label. Paired with a skinny tie and pointy dress shoes–sans socks–Gerber announced his arrival on the scene, without having to say a word.
Gerber has already garnered a major industry nod of approval, as Carine Roitfeld has already included him twice in her CR Fashion Book magazine. Roitfeld is credited with catapulting Gigi Hadid into the spotlight, in addition to discovering models Lara Stone and Kate Upton. So her endorsement of Gerber (and his equally gorgeous sister, Kaia) is a meaningful one; it means they both have a long, fruitful career ahead.
The male model also made a splash earlier this month at MADE L.A.'s fashion week, where he walked in Jeremy Scott's Moschino show for the resort season. He walked for a front row that included Katy Perry and Caitlyn Jenner, for the brand's very first stateside showing.
Stay tuned though, we're sure the Gerber siblings are bound to stay in the public eye for the rest of the summer, and well into the fall.