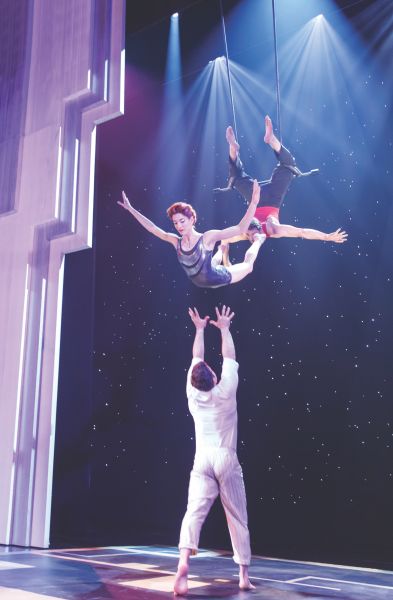 The circus is in town, but not in a tent. This time, the thrilling, imaginative and hair-raising excitement of Cirque du Soleil is exchanging the center ring for a Broadway stage in an extravaganza called Paramour. The result encompasses the mind-boggling skills this Canadian troupe has promised and delivered for 18 years in all previous incarnations from coast to coast, framed by the kind of book and score indigenous to the New York theater. While it undeniably lights up the Great White Way at the Lyric Theatre on 43rd Street, I have to be honest. Paramour ain't My Fair Lady, folks, but the multitude of bodies leaping, jumping, zigzagging and flying through the air like a rocking constellation of awesome Great Santinis (31 by my count, plus six singing actors in principal roles) are jaw-droppingly great, making the cost of what is obviously the most lavish and expensive musical in town entirely justifiable, even when the labored attempt to follow every production number with a feeble story line does not.
You can write the plot on the head of a bobby pin. A lecherous, tyrannical movie director (Jeremy Kushnier), his discovery and muse Indigo James (Ruby Lewis) and her piano-playing, songwriting boyfriend Joey (Ryan Vona) form a trio who almost get lost on the road to fame and fortune while trying to make a preposterous movie called Paramour. Every frame of this fiction is based on something somebody else thought of first. Eight girls in red spangles descend a gold staircase like Vincente Minnelli's showgirls in the "I'll Build a Stairway to Paradise" number in An American in Paris. A western saloon set serves as the backdrop for a Calamity Jane number inspired by Agnes De Mille that comes off more like Michael Kidd's boisterous choreography in Seven Brides for Seven Brothers. Another number is constructed around a piano on wheels and eight floating lampshades. You can't say there's nothing going on even when you forget the plot (easy as pie), and it all leads up to a breathtakingly clever and dangerous gangster-chasing pantomime on the New York rooftops, with acrobats leaping from water towers, bridges, flagpoles and neon signs, then bouncing off hidden trampolines to the top of the proscenium stage. It's a feat of marvelous magic that really defies description and is, in itself, worth the price of admission. It's also worth seeing Paramour twice, just to be sure you actually saw what you thought you saw the first time around.
One thing you quickly learn is that any attempt to follow a conventional trajectory is futile. Ruby Lewis is a terrific singer who tackles blues, ballads, pop tunes and Gwen Verdon-styled parade numbers with equal aplomb. Ryan Vona is an accomplished, clean-cut romantic lead in the Gene Kelly tradition who makes you lament the decades when his brand of alluring singing and dancing would have spirited him from the New York stage off to Hollywood stardom. But what they've been given to do by directors Philippe Decouflé and Jean-François Bouchard is regrettably lost in the typhoon of talent that surrounds them. Upstaged by non-stop acrobats, singing waiters, jugglers, trapeze artists and contortionists swinging by their thumbs, toes and ropes in their teeth, the two leading players work hard as the glue that keeps the wafer-thin plot moving through 20 scenes and 17 (serviceable but mostly forgettable) songs. What really stops the show is a team of peroxided twin Adonises, Andrew and Kevin Atherton, who have invented and perfected the libidinous art of duo-strap aerial flying on cables, conjuring memories of Siegfried and Roy. You get an army of tap dancers, ropedancers, square dancers, apache dancers and pole dancers with a lot to give, giving it all they've got.
It's a show that needs popcorn, and there are plenty of roving waiters to provide picnic bags of that, too. From the juggler who balances three hoops and an open umbrella, to the somersaulting clowns who do backward splits in mid-air, the stunts on view without pause are amazing, death-defying and colossal. If your demands are not high and you don't try to make too much sense of the wobbly so-called "plot," there's a lot of skill on view here that is fun to watch. Paramour is a dream conceived by P. T. Barnum and revised by Bob Fosse, and some of it works even better on a Broadway stage than in a tent.