The No North Jersey Casinos Coalition held a press conference at the Trenton State House on Monday to announce that the group had formed and was standing in opposition to the proposed North Jersey casinos that many NJ lawmakers want to see built in locations like the Meadowlands or Newark.
According to COO of the South Jersey Chamber of Commerce Kathleen Davis, the group plans to fight against the building of new casinos outside of Atlantic City until after the November 8 election when New Jersey voters will be given the option to vote on casino expansion.
"It is really about grassroots and getting out information. We will be going until November when the question will be on the ballot," Davis said.
Davis said she is not yet sure what the coalition's plans are for the future but that the group aims to educate voters about the drawbacks of opening new casinos. At the press conference, No North Jersey Casinos members cited a study authored by Cory Morowitz, managing partner, GGH/Morowitz Gaming Advisors. That study found that increasing casinos would increase in-state competition and further negatively impact the industry that remains in Atlantic City.
"Gaming in northern New Jersey will quash vital investment, close casinos, reduce employment and destabilize an entire region," said Morowitz.
According to No North Jersey Casinos chairwoman Debra P. DiLorenzo, the coalition has "already signed up 300 like-minded businesses, business organizations, public officials, labor leaders and citizens who believe gaming belongs in Atlantic City – period."
The event also featured representatives from UNITE HERE! local 54 which represents service workers at casino hotels in Atlantic City, president Joe Kelly of the Greater Atlantic City Chamber of Commerce and local business owners. President and CEO of Resorts Casino Hotel Mark Giannantonio also spoke at the event.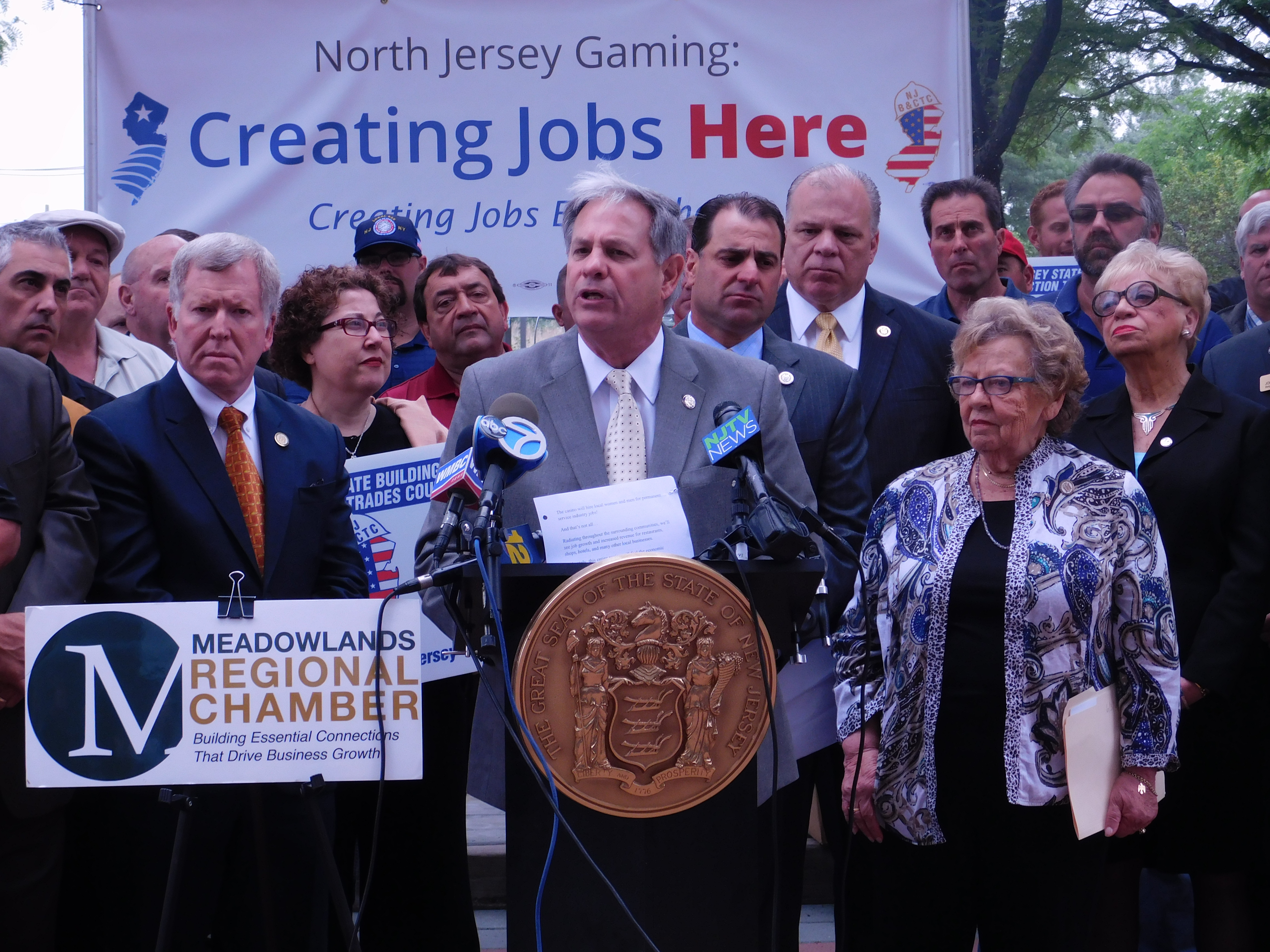 "After a few tough years brought about by out-of-state gaming competition and the economic downturn, gaming and tourism in Atlantic City are poised for growth," said Giannantonio. "North Jersey casinos will stop and even reverse this positive momentum, which is particularly troubling for the entire South Jersey economy."
Many New Jersey lawmakers including Senate President Steve Sweeney, Senator Paul Sarlo and Senate Majority Leader Loretta Weinberg are in favor of North Jersey casino expansion. They claim that, because about $200 million of the annual revenue generated in northern casinos will be redirected back into Atlantic City and spent on infrastructure, the new casinos will benefit the entire state. They also say that casinos in the north will create jobs and help fund services for seniors and disabled people. Opponents claim that northern casinos will cannibalize the industry in Atlantic City leading to increased losses in the area.