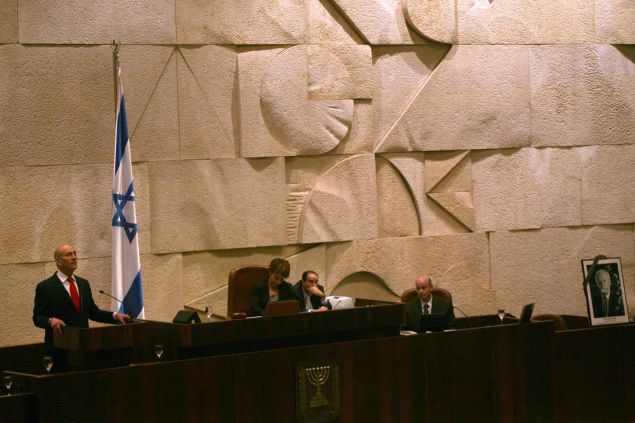 The artist of what is perhaps Israel's most famous sculpture, a stone relief inside Jerusalem's Parliament building, is calling for his work to be removed or covered in protest to the government's most recent policies on Palestinian relations, reports Haaretz.
Tel Aviv-born Dani Karavan is an award-winning artist notable for his site-specific sculptures and memorials created throughout Israel and Europe. Karavan made Pray for the Peace of Jerusalem for the assembly's Knesset Plenum Hall in 1966. The work is carved into the wall behind the main dais, and is often photographed in the background of political meetings and events. Israeli curator and art historian Adi Englman once described the piece as having a "universal humanistic spirit," and Knesset speaker Yuli Edelstein has called it "one of the most well-known works of art in Israel."
This week, during a panel discussion at Tel Aviv's annual Herzliya Conference, Karavan expressed regret over the iconic work's association with recent government policies, which he compared to a "dictatorship."
"[When it comes to] the wall in the Knesset, I sometimes am ashamed that I made it, and I have asked a number of times that it be moved, or covered with a tapestry, until the Knesset expresses the Declaration of Independence," Karavan said.
Karavan's comments come in response to a new mandate from the country's minister of culture and sport, Miri Regev, that would require government-funded cultural institutions to report whether they've held performances in the West Bank, Negev and Galilee. Regev's request is part of a larger ministry program that would cut funding from artistic groups that do not perform those regions.