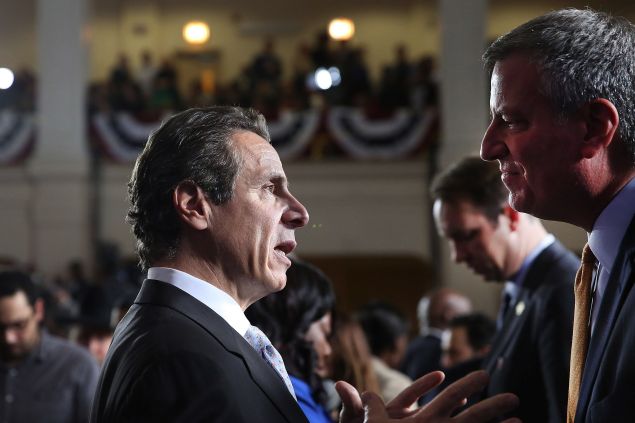 Gov. Andrew Cuomo is coming after the kind of shadowy outside political entities that have put Mayor Bill de Blasio in the sights of U.S. Attorney Preet Bharara.
Addressing a student audience at Fordham Law School, the governor framed his new effort as a response to the Supreme Court's much-maligned Citizens United v. Federal Election Commission decision and to heavy outside spending in the presidential race. Yet his program of reform would directly impact the kind of political organizations the mayor created to advance his agenda—and which have landed Mr. de Blasio at the center of several overlapping federal probes.
"The status quo is simply unacceptable," he said. "The collusion, the coordination, the subterfuge, the fraud in the current political system is rampant."
In his speech, the governor knocked supposedly independent entities which a politician establishes to support his agenda, that the politician personally appears at fundraisers for and that share past and current staff, donors and consultants with the politician's official campaign. All of those were the case with Mr. de Blasio's now-defunct Campaign for One New York and United for AffordableNYC, which he used to raise cash to promote his policies and which hired the BerlinRosen firm, the same that handles his 2013 and 2017 election accounts.
Under a new edict from the governor's counsel, such overlaps will constitute illegal coordination between an independent expenditure group and a candidate, allowing for state regulators to slap them with penalties. The governor denied that his action was a response to the mayor's legal fiascos, but raged against years of "lax" enforcement from the state Board of Elections and the media.
"The press asks a politician, 'are you going to set up an independent expenditure committee,' and the politician will say, 'I'm thinking about it.' You basically asked if somebody is going to commit a crime, and the person said, 'I'm thinking about it," Mr. Cuomo exclaimed to reporters after the event. "Independent means independence. You would have to be an independent entity that is not associated or affiliated or cooperating or facilitating with any candidate or any other group."
"This is not about the mayor's groups," the governor continued. "I am not accusing anyone of a crime in New York."
But he generally attacked the use of political nonprofits like the Campaign for One New York and United for Affordable NYC as a "mockery" of campaign finance reform.
"They're just another way to get around the law," he said. "Everyone knows it's in collusion and cahoots with the candidates."
The governor himself has established a number of similar organizations to promote his own initiatives, most recently the Mario Cuomo  Campaign for Economic Justice, which pushed for a $15 an hour minimum wage. Mr. Cuomo has, however, generally been more careful to disentangle such entities from his personal electoral operations.
The governor also announced new legislation to force political consultants to register as lobbyists, and to create new disclosure requirements for independent political expenditures. He urged the State Legislature to pass his new ethics measures before the legislative session ends next week.
Curiously, when Attorney General Eric Schneiderman sought to pass a major ethics reform package and Mr. de Blasio sought changes to a real estate tax credit a month before the end of session last year, Mr. Cuomo dismissed it as too late.
"Let me make this as a blanket statement: it is late in the day for anything. You have a number of days left, and any complicated issue, anyone who's watched Albany with one eye for a short period of time, you can't get, realistically, a complicated issue done with this Senate and this Assembly, in the midst of everything that's going on in a matter of days. That's not how it works," the governor told the Observer in late May 2015.
A young woman attempted to interrupt the governor's speech, loudly accusing him of failing to protect New Yorkers from cancer-causing compounds General Electric has left at the bottom of the Hudson River. GE has contributed in excess of $400,000 to political entities affiliated with Mr. Cuomo.
The governor's security staff forcibly removed the protester from the premises.
His administration beset with its own scandal involving some of his closest friends and political lieutenants, the governor has intensified his passive-aggressive feuding with the beleaguered Mr. de Blasio in recent weeks.