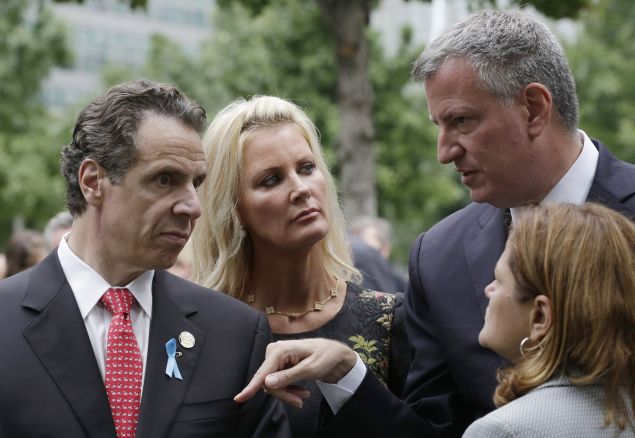 Gov. Andrew Cuomo again sniped at Mayor Bill de Blasio's insinuations that he is the mastermind behind the numerous investigations spiraling around City Hall—and called on the mayor to say sorry to the governor's handpicked state Board of Elections counsel, whom Mr. de Blasio suggested was the source of a damaging leak in April.
Speaking to reporters at an unrelated event at the World Trade Center, Mr. Cuomo argued his rival Democrat owed BOE head attorney Risa Sugarman an apology for alleging that she had shared an internal memo with the press relating to Mr. de Blasio's 2014 fundraising for State Senate candidates. The missive, which Ms. Sugarman penned, claimed the mayor had committed "willful and flagrant" violations of state election law, "warranting prosecution."
A BOE Inspector General report released yesterday found it was John Conklin, a Republican spokesman for the board, who had divulged the document at the request of the Daily News.
"Yeah, I think he should apologize, but he makes his own decisions," Mr. Cuomo said today. "The mayor was wrong. And he, in my opinion, falsely and recklessly accused public servants who were just doing their jobs of being unprofessional."
On top of Mr. de Blasio's innuendos about the potential "motivations" behind the leak, his lawyer shot off a letter simultaneously to Ms. Sugarman and the members of the media in April. In it, attorney Laurence Laufer questioned Ms. Sugarman's competence and accused her of "politically motivated" behavior.
"Beyond the legal and regulatory issues implicated by your office's memorandum being improperly leaked to the press, your memorandum reflects either a shocking lack of understanding or a complete disregard of the most fundamental aspects of the state's election laws," wrote Mr. Laufer.
Mr. Laufer, who represented several parties named in the memo besides Mr. de Blasio, also filed a Freedom of Information Law request to gain access to Ms. Sugarman's emails and suggested his clients might sue her personally.
The governor nominated Ms. Sugarman to her post in 2014. She served four years under Mr. Cuomo while he was state attorney general. Today, he alleged Ms. Sugarman—who has asked Mr. de Blasio for a public apology—had suffered "reputational damage" because of the mayor and his attorney's actions.
"Now, I'm a big boy, he's a big boy, you want to say something unkind about me, that's one thing. But not public servants that were just doing their jobs, with no evidence whatsoever, by the way. And now we know definitively that he was wrong," Mr. Cuomo said, noting his office had long asserted that Republicans were behind the report's unauthorized release. "Besides the fact that a couple of just qualified public servants had their reputations damaged, this is all a sideshow."
The governor further claimed that Mr. de Blasio's attacks on him and Ms. Sugarman were "theater to distract" from the welter of city, state and federal investigations in the mayor's political fundraising, relationships with consultants and dealings with real estate developers.
Mr. Cuomo would not say whether he believed Mr. Conklin should suffer any consequences for his actions. He also refused to say whether he would vote for his former friend for re-election.
"I'm not a city resident," the governor, a Queens native settled in Westchester, laughed.
The mayor's office issued a snarling response to Mr. Cuomo's comments.
"The state BOE leaked a confidential memo, and has been called out for failing to have proper policies in place to safeguard against these leaks. The BOE owes the people of New York an apology for such a flagrantly political act," spokeswoman Karen Hinton said. Ms. Hinton also hinted that the Daily News may have first learned of the memo's existence from Ms. Sugarman or another source before contacting Mr. Conklin for a copy.
The governor's office fired off a retort to Ms. Hinton a few hours after her remarks to the Observer.
"The mayor and his surrogates did not accuse the Board of Elections—they accused Risa Sugarman and those connected to this administration. They were wrong, and continuing to double down doesn't make them any less so," said spokesman Rich Azzopardi.
The governor is ensnared in his own scandal—a far-reaching federal probe into his economic development programs and into potential misconduct by one of his former top lieutenants, Joseph Percoco.
Updated to include comment from Mr. Azzopardi.