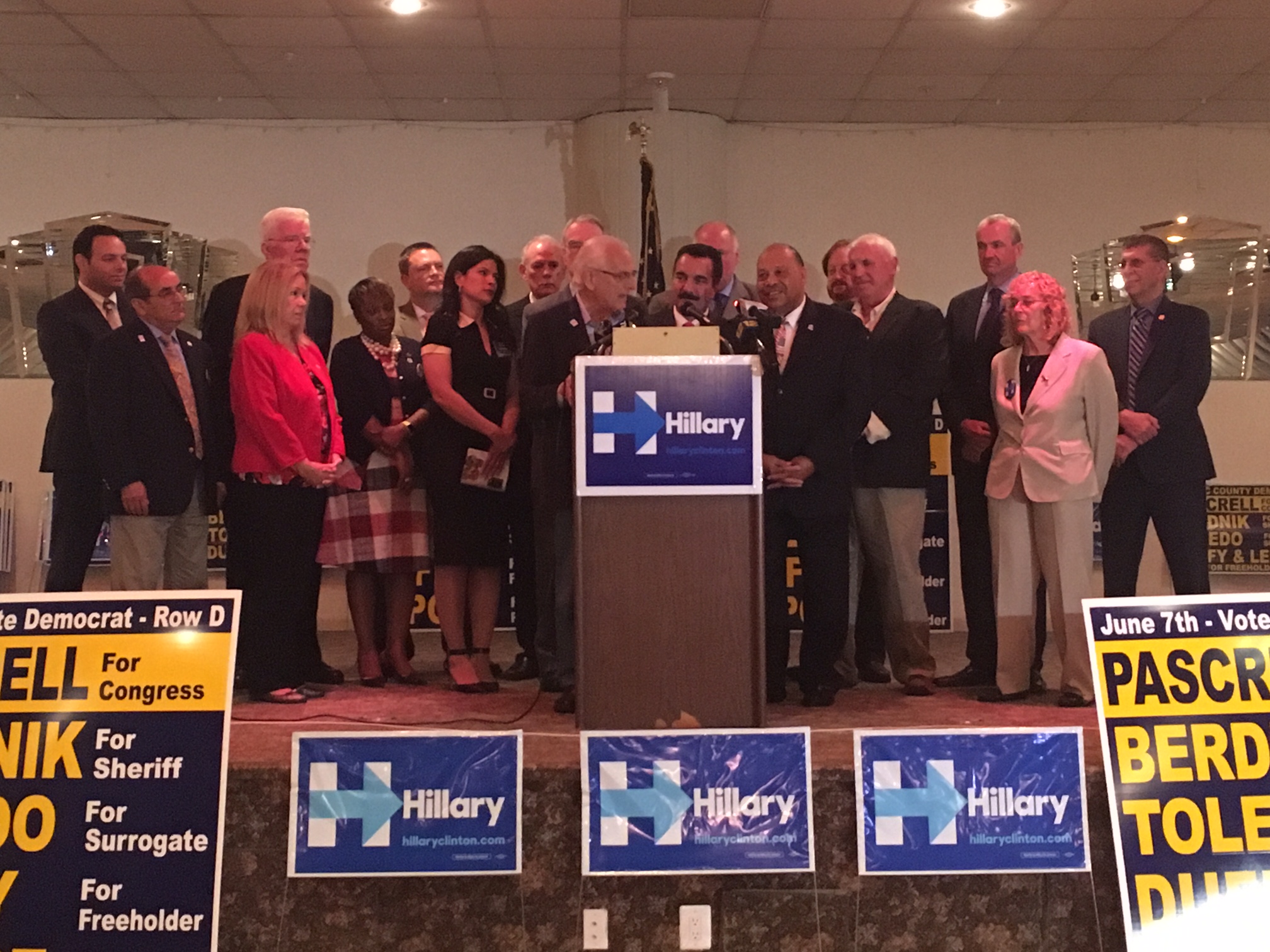 LITTLE FALLS – Democratic Party bigwigs crowded into the Amalgamated Meat Cutters Union Hall after the close of New Jersey's primary election polls to find out which candidates earned their party's nomination. Attendees included Democratic state chairman John Currie, gubernatorial candidate Phil Murphy, likely candidate Jersey City Mayor Steve Fulop, Congressman Bill Pascrell and Assembly Speaker Vincent Prieto.
The crowd was overwhelmingly in favor of Democratic presidential frontrunner Hillary Clinton, the winner of New Jersey's primary election over Vermont Senator Bernie Sanders. Because she stands to win a significant chunk of New Jersey's 126 Democratic delegates, many are saying Clinton has officially locked up the nomination. After New Jersey was called for Hillary, Currie took to the stage to speak about the candidate.
"What a history making night for us in the state of New Jersey and in this country," Currie said. "I want to honestly congratulate the next president of the United States Secretary Hillary Clinton."
Normally, New Jersey's June primary is relatively uneventful due to the late date. However, the dogfight between Sanders and Clinton made the state unusually relevant.
Currie also thanked the crowd for support of Clinton and those who have "worked so hard" to secure victory for the former Secretary of State. Currie said Clinton's victory was a "landslide."
The chairman also congratulated congressional candidates, Sheriff Richard Berdnik, Surrogate Bernice Toledo, Freeholder Terry Duffy and Freeholder Pat Lepore on their victories in Passaic County.
Congressman Pascrell, a longtime Clinton ally, also spoke at the event. He blasted presumptive Republican nominee Donald Trump for a recent comment made about a Mexican American judge not being a neutral because of his heritage on the fraud case of Trump University in California.
"Hillary is going to be a great president but only if we do our job will she be elected," Pascrell said. "We have never had a perfect candidate and the other side has never had a perfect candidate and they sure don't have a perfect candidate now. Thank you New Jersey."
Currie closed with a message to Sanders supporters: "The fight is over. This is about being a true Democrat."