Another day, another lawsuit.
Taking the heat off of Richard Prince for a moment, Damien Hirst was slapped with a lawsuit in a Manhattan federal court last week by a Canadian artist named Colleen Wolstenholme, who alleges that Hirst copied her Pill Charms and Pill Charm Bracelets, according to The Fashion Law.
Wolstenholme, who shows her work at the Art Mûr gallery in Montréal, claims she started making sculptures of pharmaceutical pills around 1996, followed by "bracelets, necklaces, pendants, rosaries, earrings, cuff links and rings" out of casts of the pills, according to the lawsuit. Her bracelets, which retail for between $1,000 and $3,500, have been displayed and advertised both in Canada and the U.S. (and on the world wide web).
Wolstenholme also claims that Hirst chose pills that are basically the same "antidepressants and psychotropic medications" that she had originally sought and sourced for her work.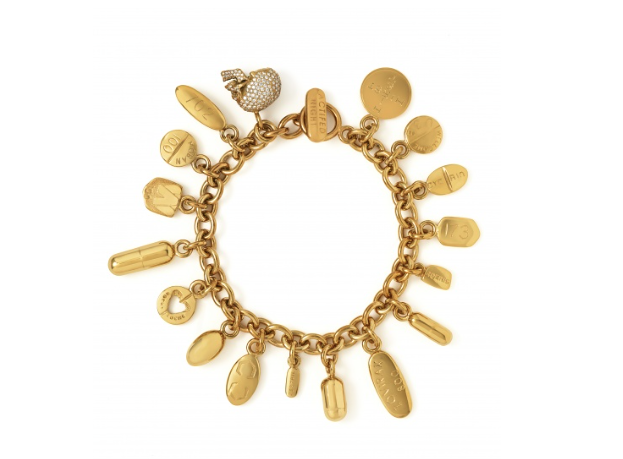 As further proof of this wicked deed, Wolstenholme points out in her lawsuit that Hirst "has [had a] rather notorious career, and has been the subject of numerous allegations of copying fellow artists." And as you can see, the Hirst bracelet that's selling on his e-commerce site Other Criteria isn't that different from Wolstenholme's bracelet, which is for sale through her Canadian gallery. Hirst's bracelets sell for quite a bit more than Wolstenholme's: ranging between $15,000 and $35,000. Wolstenholme has copyrighted her bracelets in Canada and in the U.S. and is asking the court for damages and that Hirst immediately halt sales of his bracelets.
Hirst is known internationally as one of the founding Y.B.A.s (Young British Artists) who shot to prominence in London during the 1990s thanks to cutting-edge—and sometimes offensive—artworks. His most famous sculptures, such as a tiger shark exhibited in a vitrine of formaldehyde and a human skull encrusted with diamonds, utilize death as a central theme.
There have been many accusations of plagiarism against Hirst in the past, including an instance in 2007 when a former friend of the art star's, John LeKay, claimed that Hirst's diamond skull artwork titled For the Love of God, was derived from his own crystal skulls made in 1993.