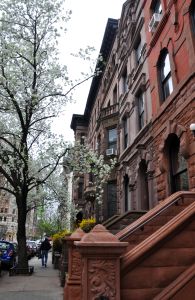 The calls come around the same time each year, said Carla Kupiec, a broker with FirstService Realty NYC. They start in May, usually, stretching into June. People looking for rentals in the various Upper West Side brownstones she represents.
There's something a little strange about these particular clients, though. They're families with kids, but they're looking at spaces—cheap studios, small one-bedrooms—better suited to singles or young couples. And they're weirdly specific about exactly where they want to live.
"They say, 'Oh, I need to be on the south side of this street, or I need to be on the west side of this street,' " Kupiec said. "And that's when I know it's for the schools."
Welcome to a special circle of New York City hell, the place where two of Gotham's most notorious bloodsports—apartment hunting and gaming the public school system—meet.
Technically, real estate agents aren't supposed to tout the schools their listings are zoned for, but it's no secret that some are considered more desirable than others. And it's not uncommon for agents with rentals in particularly coveted school zones to encounter clients willing to get a little, shall we say, creative, in order to secure their children a slot.
'People will say, "Can I just rent the apartment and not even move in just to give myself an address near that school?" '
Kupiec, who said she typically sees around 10 such deals a year, recently leased a $2,800-a-month one-bedroom to a couple with two kids looking to get into the Upper West Side's highly regarded P.S. 9. The family's actual home is a three-bedroom they own at West 88th and West End Avenue, but that apartment sits outside the P.S. 9 zone. And so to establish an address within the zone they rented a unit on West 84th.
"Rentals are always cyclical," Kupiec said. "The [summer] interns come in the spring looking for their multi-share apartments. You have the corporate people transferring in January and February. And May and June is when the families hustle to secure their apartments [for school zoning purposes]."
"It happens a lot when we represent a building that is part of a good public school zone," FirstService President Aviv Zumin told the Observer. "People will say, 'Can I just rent the apartment and not even move in just to give myself an address near that school?' "
"There are definitely a good number of people who are doing it," said Kobi Lahav, managing director at Mdrn. He recently rented an apartment in the Upper East Side's P.S. 6 zone to a family from Queens looking to secure an address for school purposes.
"When I started working with them they weren't really clear about what they were looking for," he recalled. "They just wanted to keep the price low, and they were very specific about the location they wanted to be in, because for P.S. 6 in most cases you have to be west of Lexington."
At some point in the process, Lahav asked his clients what exactly they were up to. "And they said they lived in Queens and they weren't really going to be in the apartment, they just needed [it] apartment so they could register for P.S. 6," he said. "So we ended up finding them a studio that was around $2,000 on Madison so they could have bills there and show residency."
With tuition for top private schools running in the range of $40,000 per year, the math certainly makes sense. Even if you're shelling out $3,000 a month for a Potemkin apartment, you're still saving money on the deal. And the savings only grow as you factor siblings into your calculations. Plus, Lahav noted, because these renters aren't actually occupying their apartments, some cover their costs by leasing them out on Airbnb.
"You either pay $45,000 a year [for private school], or you have an apartment that you can rent out so it costs you zero," he said. "Sometimes I'm surprised more people aren't doing it."
But if the economics are straightforward, the ethics, perhaps, aren't. BOND New York agent David Kazemi recently dealt with a family who considered renting an apartment in Greenpoint to qualify their children for that neighborhood's P.S. 110 but backed out after deciding the whole business was a little too shady.
'You either pay $45,000 a year [for private school], or you have an apartment that you can rent out so it costs you zero. Sometimes I'm surprised more people aren't doing it.'
The clients, who live in a luxury tower in Williamsburg were planning "to sign a lease on this $2,000 space [in the P.S. 110 zone] I was listing," Kazemi said. "But then they sort of had a moment of moral dilemma where they just didn't want to have to contemplate living a lie. So they decided against it."
Claiming residence in an apartment you don't actually occupy in order to qualify for a particular school zone is against New York City Department of Education rules. The department declined to comment for this story but pointed the Observer toward the portion of the Chancellor's regulations (section A-101) covering false residency claims. According to those regulations, in cases where a school suspects a family has falsified their address, the school can initiate a "verification investigation," and, if it is determined that the family does not, in fact, reside in the zone claimed, their children will be transferred to the school for which their actual residence is zoned.
It can be hard to hide the fact that you don't actually live where you say you do, said Joyce Szuflita, a Brooklyn-based consultant who specializes in helping families navigate the city's public schools.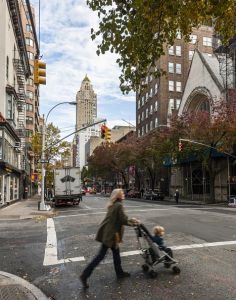 "Everybody in New York is trying to work the angles," she acknowledged. But, that said, lying about your residence for school zoning purposes "is not something that I recommend at all."
"This is something that happened very commonly back in the '80s and '90s," Szuflita said, but today overcrowding in popular schools and the easier research enabled by the internet make it much harder to hide your machinations from the Department of Education.
"I see a lot of fraud letters go out," she said. "And I get the calls from people who may not necessarily be living in their apartments and who are having their [school] registrations nullified."
In the first place, Szuflita noted, putting one over on the local school staff isn't easy. "The schools that have problems with capacity, frankly, the secretaries who work in their offices should work for the TSA. We would all be much safer. Very little gets by them," she said.
And if the school itself doesn't catch you, there's always the chance a fellow parent will drop the dime. "These communities are suffering because of overcapacity," Szuflita said. "So it's not unusual for parents who know the blocks very well to go, 'Yeah, no, they're not living there.' "
BOND New York agent Nadine Hartstein once rented a studio apartment to a family that was trying a little school zone sleight-of-hand only to get caught by the authorities.
"Somehow the school got wind of the fact that this was a studio apartment, and so they sent a representative to check on how four people could actually live there," she said.
Busted! Right?
Maybe not.
Thus confronted, the family "came up with this story about how they were divorcing and the husband would be staying [in the studio]," Hartstein said. "That wasn't true, though. They were just holding onto it for the school district."
But oh what a tangled web we weave when first we practice to deceive! In the end, the couple actually did get divorced, and the husband has, in fact, been living on his own in the studio for several years, Hartstein said.
"They were pretty cunning, these people, with the divorce scenario, but it was like a self-fulfilling prophecy," she said. "It was bad karma." Although, Hartstein noted, the couple's children did get to attend their desired school, P.S. 40 in Gramercy. So it wasn't a total loss.
Beyond the possibility of inadvertently dooming your marriage, there are other issues with the school zone rental gambit, Hartstein said—foremost among them the increasing difficulty of finding reasonable rentals in the city's most desired zones.
"When it's in the right school zone, it's not easy to find a cheap apartment," she said. "That is probably why this is not so flagrant as it might be. There are people that I have known of that have paid in the $3,000s just to have this empty address, but they can afford it. Many others are looking for like $1,200 hovels, but there aren't that many hovels around."
While a person might try to defray their costs by subleasing the unit or renting it out on Airbnb, more and more landlords are prohibiting such activities, Kupiec said.
And besides, isn't honesty the best policy anyway? For Kazemi, his clients' upstanding (in the end, at least) natures lay the ground for a much bigger deal than he'd originally planned on.
"They decided they didn't want to go down that [rental] path, and funnily enough it sort of worked out for me. Now they are looking to buy a townhouse [in the P.S. 110 zone] and spend like $2 million," he said. "Rent a $2,000 apartment or sell a $2 million townhouse? I'll take that trade-off."
Ethics for the win!