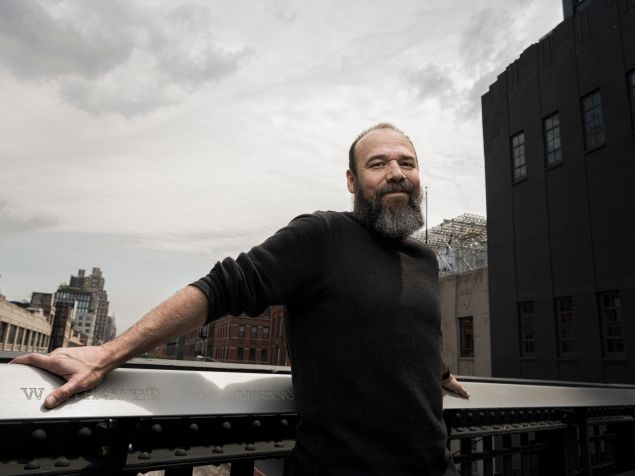 Like many kids past and present, Danny Burstein didn't like to read when he was young. But when his father gave him a copy of Henrik Ibsen's play Peer Gynt, he was hooked.
"I quickly understood the dialogue form, and it really spoke to me," the 51-year-old actor told the Observer during an interview in the leafy environs of Manhattan's elevated High Line park.
From then on Burstein knew exactly what he wanted, and his theater education at the High School of the Performing Arts and Queens College only furthered his ambitions.
"It changed my life and set me on my path," he said.
Indeed, Burstein has what he calls an "ambidextrous" career, appearing in films like The Family Fang and Blackhat and on TV shows like The Good Wife and Boardwalk Empire.
But Burstein can most often be found treading the boards on Broadway. After appearing in small roles throughout the 1990s, he got his big break playing the amorous Aldolpho in the hit 2006 musical comedy The Drowsy Chaperone, for which he received his first Tony nomination.
"It put me on the map and was a wonderful bit of recognition," Burstein said. "People looked at me in a different way."
Since then, Burstein has been a consistent presence on the New York stage, appearing in shows like South Pacific, Follies and Cabaret and racking up six Tony nominations in all.
This year's nod is for the new production of Jerry Bock and Sheldon Harnick's Fiddler on the Roof (which is itself nominated for Best Revival of a Musical). Burstein plays the iconic role of Tevye, a Russian Jewish milkman trying to uphold his family's "tradition" in a changing world.
When director Bartlett Sher first approached Burstein two years ago about playing Tevye, he warned that the production might go with a movie star in an effort to boost ticket sales. But Sher told the Observer that as time went on, that idea seemed less appealing.
"The only person I knew that could really bring us a new and profound Tevye was Danny Burstein," Sher said in an email. "So in the end it wasn't a choice."
Burstein, who is sporting a voluminous beard for the role, said many factors helped him prepare, not least the history of the Broadway Theatre, in which he is performing.
"I get chills thinking that I'm singing 'If I Were a Rich Man' in the same spot where Ethel Merman sang 'Rose's Turn' in Gypsy," he said.
The reactions from audience members of all ages also energize him.
"Grandparents are bringing their grandchildren to see it," Burstein said. "Children are laughing in Act One, and you can hear a pin drop in Act Two."
Of course, Tevye's emotional journey gives him plenty of material to wrestle with as well.
"I've never worked harder on a role," Burstein, who is contracted in Fiddler through November, said.
This production adds a framing device pegged to current events. At the beginning of the show, Burstein is shown as a modern refugee reading a book about his ancestors (the characters from Fiddler). At the end, Tevye's exodus from his homeland is juxtaposed with the current wave of emigrants fleeing violence in the Middle East.
"When we were in rehearsal, the most serious refugee crisis since World War II emerged," Sher explained. "So I wanted the man in the contemporary world to be forced to step into the line of his past."
"I think of him as an everyman, symbolizing that man's inhumanity to man sadly continues," Burstein added. "It ensures that people will be talking about the show and what it meant."
Burstein is especially glad that Tony voters are talking about the show, and his performance.
"It's a lovely pat on the back," he said. "It's the business telling you that you're doing O.K. How can you feel bad about that?"
"I go out and do the work every single night. If the awards come, they come, and if they don't, they don't." – Danny Burstein
The Best Leading Actor in a Musical category is hotly contested this year—Burstein is up against Hamilton stars Lin-Manuel Miranda and Leslie Odom Jr. along with Alex Brightman (School of Rock) and Zachary Levi (She Loves Me).
"I know all four guys, and I love all four guys," Burstein said. "I want it to be a five-way tie."
Despite the fact that he's playing a role that won the legendary Zero Mostel a Tony, Burstein still said he felt no added pressure to win this year.
"I go out and do the work every single night," Burstein said with Tevye-like pragmatism. "If the awards come, they come, and if they don't, they don't."
Burstein, who is married to three-time Tony nominee Rebecca Luker and has two sons, said that in the end they were the most important part of his life.
"If I win nothing's gonna change, and if I lose nothing's gonna change," he concluded. "I'll still be a husband and a father."