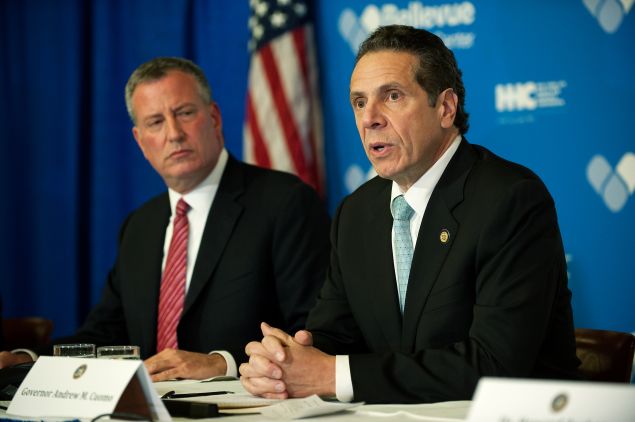 Mayor Bill de Blasio continued to claim today that Gov. Andrew Cuomo and one of his top appointees were behind the unauthorized April release of an internal state Board of Elections memo that accused the mayor of "willful and flagrant" violations of fundraising rules.
The comments came after an unrelated press conference at One Police Plaza, a day after the governor demanded the mayor apologize for impugning the reputation of his handpicked BOE chief enforcement counsel, Risa Sugarman. The board's inspector general released a report earlier this week that determined it was in fact a Republican spokesman for the agency who divulged the document in question—penned by Ms. Sugarman, and pertaining to the mayor's effort to elect a Democratic State Senate—to Kenneth Lovett of the Daily News.
But the mayor noted that Mr. Lovett knew of the memo's existence before he requested a copy from the flack, and that the veteran Albany journalist has long enjoyed a certain professional intimacy with the governor's office.
"It was leaked to a particular reporter—I think everyone in this room is a mature adult and I don't think I need to fill in those blanks too much more," Mr. de Blasio said, also noting that Ms. Sugarman served four years under Mr. Cuomo while he was state attorney general. "Now apparently we have further information that that reporter had foreknowledge of the existence of the report. The report was created by someone who had a particular employment history. And the report, although looking at a period of time where many, many people and institutions were involved in those elections, surprisingly it only focused on one person."
The mayor stood by his earlier refusal to say sorry to either the governor or Ms. Sugarman. He also insisted again he did nothing illegal or unusual when he and his team encouraged New York City unions and business leaders to donate to upstate Democratic county committees supporting candidates for the State Senate.
"I know we have done things appropriately, I know we held ourselves to a very high standard, and I know we have done everything legally," he said.
While the state caps donations to individual candidates, county committee "housekeeping accounts" can take in unlimited cash and funnel as much of it as they want to whatever campaigns they choose. Former Mayor Michael Bloomberg, among many others, have bypassed donation limits in this way over the years.
The legal question hanging over Mr. de Blasio and several of his political staffers is whether they broke the law by explicitly instructing the committees in how they could spend the cash raised from city interests—and whether the mayor's team inappropriately pressured entities with business before the state into giving.
On top of Mr. de Blasio's repeated innuendos about the potential "motivations" behind the leak, his lawyer shot off a letter two months ago to Ms. Sugarman and the members of the media. In it, the attorney questioned Ms. Sugarman's competence and accused her of "politically motivated" behavior.
"Beyond the legal and regulatory issues implicated by your office's memorandum being improperly leaked to the press, your memorandum reflects either a shocking lack of understanding or a complete disregard of the most fundamental aspects of the state's election laws," Laurence Laufer wrote.
Mr. Laufer, who represented several parties named in the memo besides Mr. de Blasio, also filed a Freedom of Information Law request to gain access to Ms. Sugarman's emails and suggested his clients might sue her personally.
Today Mr. de Blasio dismissed the idea, which Mr. Cuomo and his press team have promulgated since the leak, that the GOP masterminded the release of the BOE file. The mayor alluded to Mr. Cuomo's long-cozy relationship with the dominant Long Island faction of the State Senate Republicans.
"The lines between Republicans and Democrats often blur in Albany," Mr. de Blasio said, before reiterating his earlier points. "There is a pattern here."
Several Republican officials flagged the de Blasio team's fundraising work to the BOE in 2014, which prompted Ms. Sugarman's investigation and memorandum. The bipartisan board voted unanimously to refer the matter to Manhattan District Attorney Cyrus Vance, who is investigating the matter.
The governor's office referred the Observer to a comment spokesman Richard Azzopardi posted on Twitter.
"I'm sure saying 'I was wrong' is one of the hardest things to do in politics, but continuing this charade at this point is just silly," Mr. Azzopardi wrote. "Deflect is a lesser known river in Egypt as well."
Mr. Azzopardi elaborated on his remarks in a follow-up statement sent via email.
"This routine is officially ridiculous. The mayor of the City of New York shouldn't accuse career public servants of impropriety with no facts or basis. But for weeks, despite actual facts to the contrary, he continues his own reality of the grand conspiracy theory against him," the spokesman said. "Apparently even the Daily News is lying about their own story and source. When will it finally be enough already?
The State Senate fundraising fiasco is just one of the many potential scandals besetting Mr. de Blasio. Local, state and federal prosecutors are also digging into the cash-gathering activities of his defunct political nonprofits, into an alleged bribery scheme at the NYPD involving a pair of prominent Orthodox Jewish contributors, into potential straw donors to his 2013 campaign and into dealings with high-power consultants and real estate developers.
Updated to include further comment from Mr. Azzopardi.