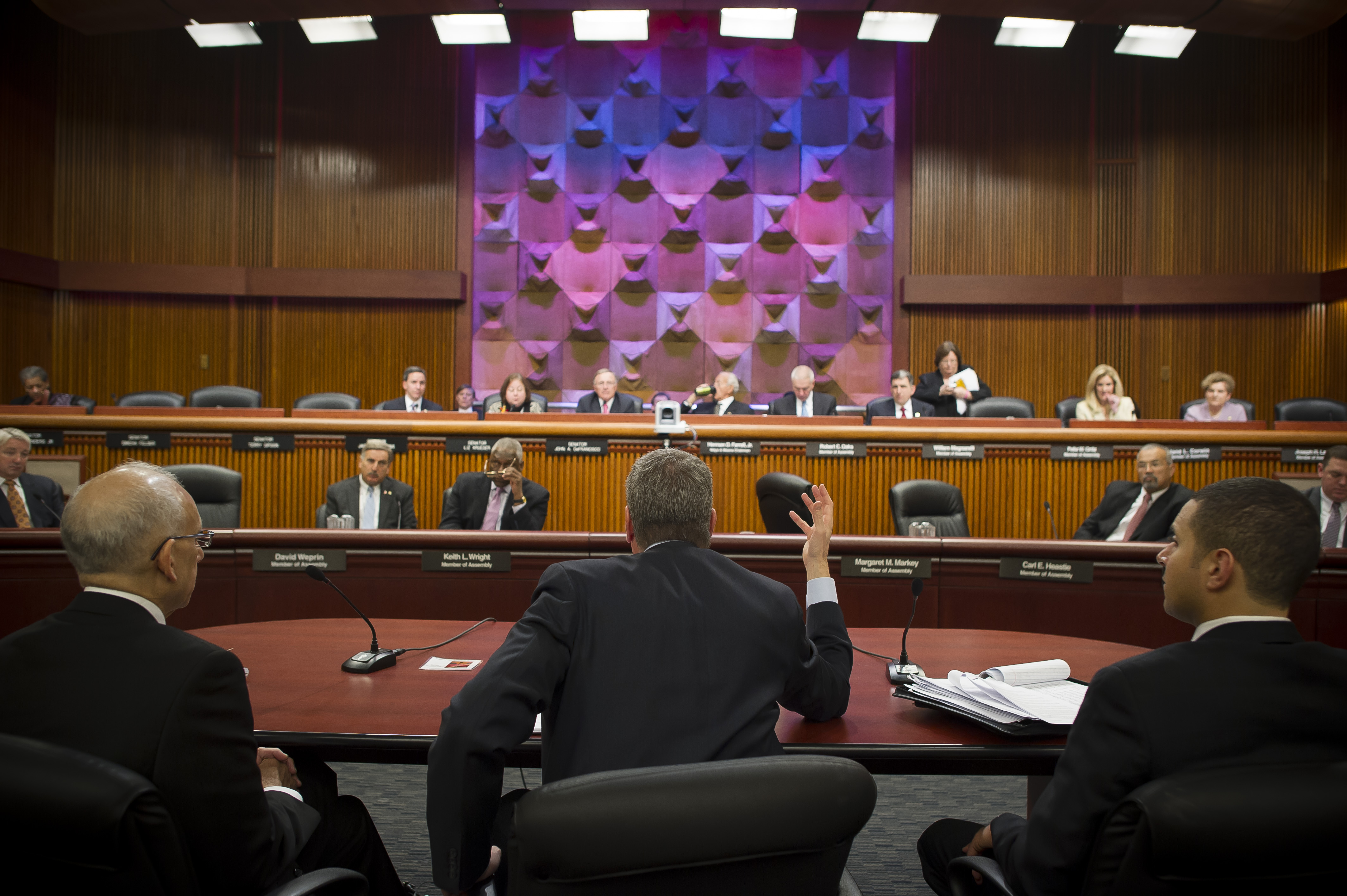 Only one day remains for Gov. Andrew Cuomo and the State Legislature to renew mayoral control of schools and to revive the 421a tax credit for real estate developers—and Mayor Bill de Blasio asserted the city would suffer ominous consequences if Albany should fail to do either.
Talking to the press after an unrelated event in Brooklyn, de Blasio railed against the locally elected community school boards that ran the city's education system before Albany gave control to former Mayor Michael Bloomberg in 2002. The city has begun preparations for a reversion to that system, but the mayor foretold that it would result in disaster.
"If mayoral control is not extended, we go back to a system of anarchy," said the mayor, who started his political career on his local community school board. "The system was characterized by chaos and corruption. That's what happened with the previous system. And that's what's at stake here."
De Blasio praised both his tentative ally, Speaker Carl Heastie, and his rival Gov. Andrew Cuomo for backing a three-year extension of the city's receivership. State Senate Majority Leader John Flanagan has backed a single-year renewal like the one passed last summer—but yesterday the Republican proposed a three-year extension of the program as part of a package of credits and benefits to private schools, unpalatable to Assembly Democrats.
The mayor again cited the improvements in standardized test scores over the the last 12 years, and the support for mayoral control among educators, politicians and business leaders. He did not mention that some parents and unions dislike the centralization of power in the mayor's office.
"I think the message has been received loud and clear in Albany, that an extraordinary consensus exists in this city that we need mayoral control to keep fixing our schools," de Blasio said. "It's time to put all politics aside and decide this issue and focus on our kids."
The 421a credit, which provided tax assessment relief to new construction before its lapse in January, faces an even more perilous path. Cuomo and Heastie have both vowed not to back a new version of the program without the approval of the Building Trades Council of New York, which has sought to get new prevailing wage floors installed in projects receiving the exemption.
The de Blasio administration has argued that a prevailing wage would badly depress new housing construction. The mayor hoped to use a revised version of 421a to power his mandatory inclusionary housing program, which requires new buildings to set aside a large percentage of apartments for below-market tenants.
But the mayor warned that, without the exemption, developers aren't starting new projects—meaning no new affordable units are getting built, leaving New Yorkers "scared to death."
"421a, done right, with the reforms we've proposed, is one of the best ways to continue to build affordable housing in the city," de Blasio told the Observer. "The housing market is slowing, okay? There's a lot of evidence out there that the housing market is slowing. We're not going to be able to build the kind of affordable housing we need in this city if we don't have a tax credit program that's appropriate."
Nonetheless, the mayor seemed to reject Flanagan's new proposal for reviving the credit, which would cover condominiums and establish a prevailing wage of $55 an hour on qualifying projects south of 96th Street in Manhattan.
"The proposal from the Senate, obviously, included some items we wouldn't agree with," he said, refusing to elaborate further.