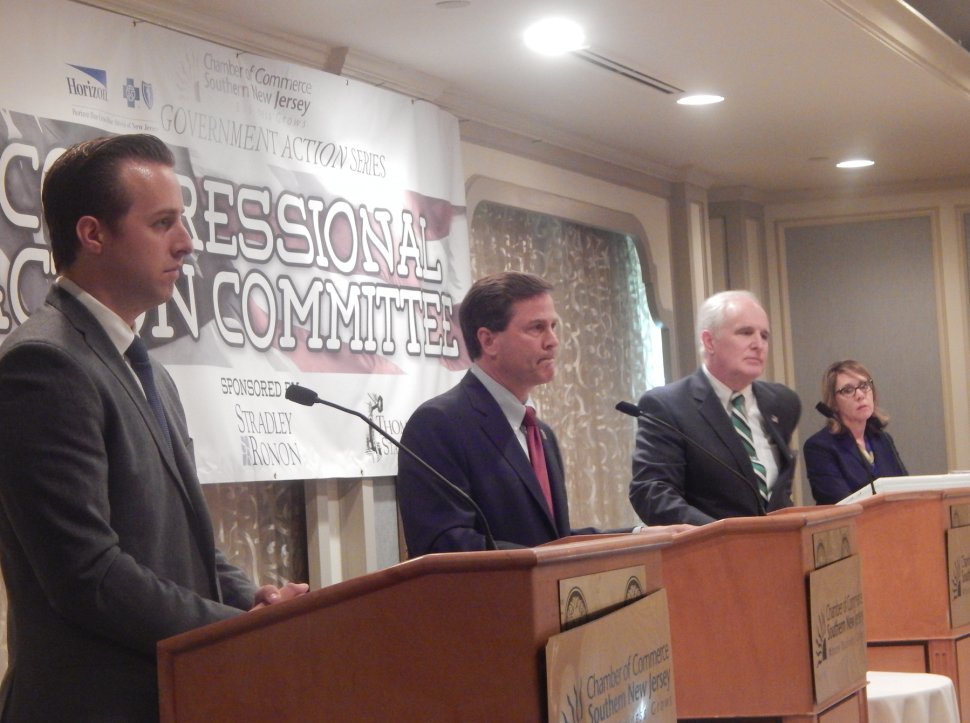 This column was supposed to be about a much-anticipated debate between Congressman Donald Norcross and his rival Alex Law to represent South Jersey in Washington. But the debate was cancelled at the last possible nano-second by one of the organizers Loretta Winters, who's also a staunch Norcross supporter (as evidenced by her ongoing presence at Norcross events, including his campaign kickoff).
So we're writing about the non-debeate instead. And that's a real bummer for political junkies like y'all and most especially for actual constituents (self included).
NON-Debate
Remember my borderline astonishment when
Norcross' minders agreed to let him debate
in the first place? I'm much less surprised the debate was nixed. Disappointed, but not surprised. You're probably not that surprised either. Officially Loretta Winters, president of Gloucester County NAACP, pulled the plug on the event. My hunch: Norcross knew he was gonna get his ass kicked, had an 11th hour freak out, panicked, and turned to his supporter Mrs Winters to give him political cover.
Mrs Winters' stated rationale for canceling? That she was "bullied" by Alex Law supporters who had the temerity to request debate tickets. Mrs Winters' ground rules were hardly welcoming: 1) she was irrationally stingy with press access and 2) her organization controlled the RSVPs. This limited access was exacerbated by Mrs Winter's choice of venue, a relatively small locale at Gloucester College. All this despite the Law campaign's successful efforts to secure a larger, more accommodating venue in a less remote part of the district.
But Mrs Winters roundly rejected any option that might allow more people to actually take part. Instead, voters were left with an 11th hour debate (held long after the vote-by-mail deadline passed) in a tiny, unaccommodating venue at
6pm
when most of us are driving home from work. It's like nixing the event was the next logical step for someone not particularly interested in a robust debate in the first place!
The decision to cancel represented a dramatic change-of-heart for Mrs Winters who, just days ago, played up the event while plugging her organization. "One of The NAACP's (goals) is to educate voters so that each of us can make an informed decision before voting. Rowan College in Gloucester County is the ideal venue for this forum, as its students will become our future leaders. It is vitally important for them, and for all voters, to see just how important it is to study the issues and then take action by voting."
Speaking in the third person (while using multiple fonts) Mrs Winters released a statement to justify her last-minute quash, "the Law's (sic) campaign repeatedly demonstrated that they are more interested in tearing down Mrs. Loretta Winters instead of debating his opponent Donald Norcross, Winters cites a barrage of bullying, harassment and intimidation from Mr. Law and his campaign." This while offering not a morsel of evidence to support her dramatic claims. No proof at all, just epic, breathless exhortations of butt-hurt.
So was it "bullying" when Mrs Winter's candidate Donald Norcross voted for a bill that opened the door for racial discrimination in auto lending?  Was it "harassment and intimidation" when, at a recent debate, Donald Norcross defended the failed War on Drugs that disproportionately and aversely affects people of color? Not according to Loretta Winters who's always quiet as a church mouse when Congressman Norcross' policies repeatedly run roughshod over her people.
Loretta Winters runs the local chapter of the NAACP. That stands for the National Association for Advancement of Colored People. But it's hard to "advance" when you're locked up for smoking a joint. Its hard to get ahead when you can't get a car- or house-note. So instead of brandishing her badly feigned martyrdom for the world to see, Loretta Winters and her organization would be better served by focusing on stuff that actually, you know, helps black and brown people. Norcross' defense of racist, predatory lending polices and the racist War of Drugs is a good starting point.
Black and brown people deserve an NAACP leader who's willing to stand up to the politicians who promulgate the very policies that oppress them.  And that's a far cry from what they're getting in Gloucester County.
Jay Lassiter is an iconoclast, tech savvy media artiste, street warrior for LGBT liberty and marijuana reform, and an un-intimidated presence if the halls of Trenton power as he aggressively pursues liberal causes. He's especially weary of the stale, tired brand of identity politics favored by Norcross and his crew. He's often at brunch and always on twitter @Jay_Lass. He'll be at the polls on

Tuesday June 7th

voting for Alex Law for Congress