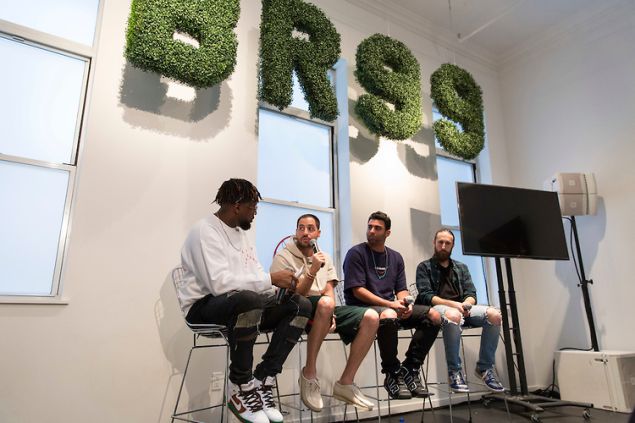 Though Monday night's three person panel was supposed to be about the state of streetwear, it ended up revolving around the state of Kith. "The rest of the year is very busy," Kith founder and creative director Ronnie Fieg said on the second floor of the company's BR99 pop up space with Bleacher Report. "We have some monumental projects coming with people I have wanted to work with my entire life."
Ever the elusive businessman–during the audience prompted Q&A portion, Fieg tried to renege on the Miami store opening he promised fans at the beginning of this year saying simply "Miami is not confirmed yet"–the announcement was big news. Fresh off of a collaboration with Colette (he featured Fabolous in the lookbook imagery), and having released his Team USA-themed Fourth of July day pack at the BR99 pop up, Fieg has already had a blockbuster year. And now, for the second half of 2016, fans can expect the fourth permenant Kith location, and more.
"We are going to open a Kith space in one of the largest spaces in fashion, globally, soon," Fieg revealed. That space could be the same as the pop-up shop the New York-native had spoken of earlier or a new endeavor all together. Our money is on Kith opening some sort of shop-in-shop with recent collaborator Colette. In addition to that project, Fieg alluded to an upcoming collaboration with a sports team affiliated with Queens, to follow up his collaboration with the Yankees. Could that be with the Mets?
When the topic wasn't Kith, Joe La Puma of Complex and Rob Marshall of Hypebeast joined Fieg in speaking about the mainstreaming of street wear culture at large. "Our culture was always super niche but now it's getting more mainstream, for better or worse, depends on how you look at it," La Puma, a director at Complex, said.
"Every day you hear about something we've been doing for a while in the mainstream", Marshall added. "It's kind of exciting but it's also pretty saturated in the way." And while some say that mainstreaming is ruining the culture, the panelists didn't necessarily agree. On one hand, it expands the reach of sites like both Complex and Hypebeast, which though self-serving, was important to note. For Fieg though, the growth as well as the widespread acceptance of e-commerce that happened alongside it has brought a distinct change to shopping habits.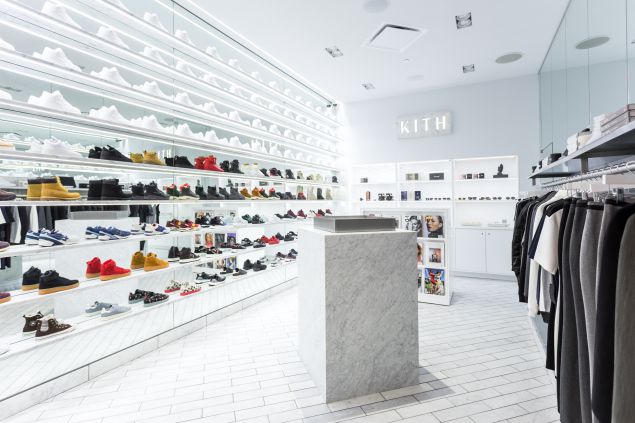 "I'm trying to bring it back to what it used to be," Fieg said after describing a scene in the '80s and '90s when customers went to sneaker shops looking to discover new product rather than having a list of specific purchases in mind. " I don't want people to feel [that] they know what they want when they get to the store. I want them to make decisions based on their own tastes." To facilitate that desire, Kith stores have become destinations. In addition to sneakers and apparel, Kith shoppers can pick up edibles from the Kith Treats business or just take in the aesthetically driven spaces that Fieg invests top dollar into. According to reports, the redesign of the sneaker maestro's Brooklyn store ran him $2 million.
"I think we are in strange times right now where people want the physical experience," Fieg explained. "They want to go pick up the product that they are buying. We invest so much into brick and mortar shops and the experience and figuring out what all we can do to make the consumer leave and not only think about the product but also the experience that they had and want to come back."