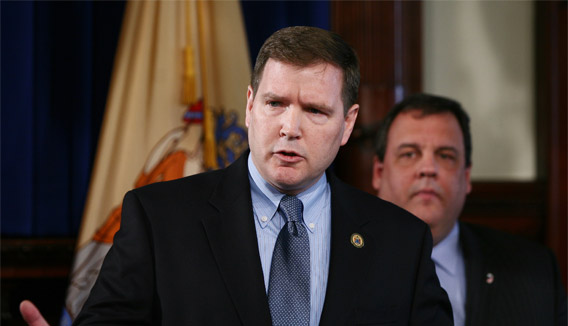 A longtime proponent of changing New Jersey's school funding formula is coming on as the Senate sponsor of Governor Chris Christie's plan to change the state's apportionment of school aid. Senator Mike Doherty (R-23), who has pushed his own plan to change the amount of tax revenue given to certain districts rather than the amount of state aid, will serve as primary sponsor of the governor's plan in the upper house.
"When some districts continue to fail decade after decade, it's clear that money is not the answer," Doherty said in a statement. "The only result of New Jersey taxpayers spending nearly $100 billion in a handful of school districts has been the highest property taxes in the nation. It's time that we end this failed Supreme Court experiment that favors some over others, restore fairness, and provide real property tax relief to overtaxed New Jerseyans."
Christie and Doherty have argued that the amount of state aid given to struggling districts in the state's poorest cities has contributed to the state's high property taxes, which are some of the highest in the country. Opponents of the proposed changes, like Senate President Steve Sweeney (D-3), say the drop in funding would leave already hard-up districts at an even greater disadvantage.
Senate Minority Leader Tom Kean (R-21), who will also be serving as a prime sponsor, called Doherty the ideal candidate for making the case for Christie's proposal. Christie's plan will be going up against a bill from Sweeney that would create a commission to devise changes to the school funding formula in order to address underfunded suburban districts.
"Senator Doherty has led a years-long effort in the Legislature to adopt a fairer school funding formula that treats all students equally and taxpayers fairly," said Kean. "Considering the great similarities between his 'Fair School Funding' plan and the Governor's proposed 'Fairness Formula,' there couldn't be a better person than Senator Doherty to take the lead on this new legislation."