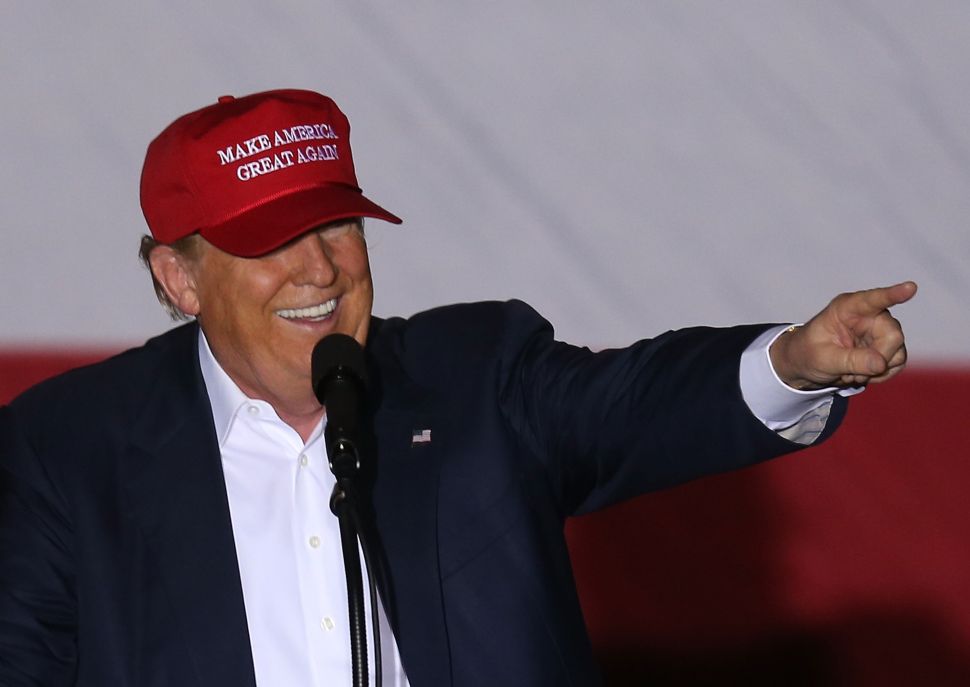 It appears that no treachery is too minor to be attributed directly to the presumptive Republican presidential nominee. Just as Donald Trump is responsible for the acts of those who show up at his rallies draped in confederate flags, so too is he accountable for the bad behavior of his self-professed supporters in the brave new world of sharing apps.
Or at least that's the contention of one well-known journalist, whose second rental of her vacation home on AirBnB turned into a scene from Animal House.
Debra Cohen, well regarded in the Jewish Press for her contributions to Ha'aretz and The Forward, as well as to mainstream publications including the Observer, described to her Facebook friends a sharing economy misadventure at the hands of a Trump supporter.
From the department of "Welcome to the Trumpian Future." Bear with me and read through this. We just started renting out part of our weekend house as an AirBnB.

Second 'guest' told me his whole family would be there (ranging in age from children through 40s). It was complete lie. He rented it for his 18-year-old son and his post-prom pals. They left a large vomit stain (and assorted others) on our carpet, stole a new beach towel and still have a car sitting in front of ourhouse. I call the 'guest' to discuss compensation for the damage. He yells at me "I could buy your house and pay cash for it!" I say "who gives a shi*t?" and he says "I'm rich! I can do whatever I want!" I say "I bet you're voting for Donald Trump, aren't you." He says yes.

Nice guy. Goes on to decline my request for compensation.

Today, when guests and hosts are invited to review each other, he sends me a threatening email warning: "Be nice or adverse, negative reviews will be forthcoming in a colossal manner. Trump for president 2016"

Welcome to the possible future, America.
According to Cohen, the guest was a fellow named Alexander Brancati, who ironically is listed in the yellow pages as having a carpet cleaning business.
Cohen's last three Facebook postings have all dealt with the candidacy of Trump and/or its intersection with Judaism. In addition to the AirBnB disaster he caused, Cohen also posted a story from Politico in which Trump advisor Jason Greenblatt says Trump is not responsible for anti-Semitic supporters (Cohen commented "Uh huh") and an "excellent piece" by Peter Beinart in Ha'aretz titled "Who cares that Ivanka Trump is Jewish."
On that Ivanka thread, one of Cohen's friends, whose name is written in Hebrew that translates to Eldad, says that Beinart, who has frequently criticized the Netanyahu government and policies associated with Israel's right wing, "hates Israel" and is an "awful human being." Cohen condemns Eldad's personal remarks and tells him she is willing to keep him as a Facebook friend because she values "a diversity of political opinion." Yesterday, Jordana Horn Gordon, also well known to readers of the Jewish press as a contributor to Kveller and the former New York correspondent for The Jerusalem Post, mentioned that she too is working on a piece about Ivanka Trump, who is married to the Observer's publisher Jared Kushner, and Cohen advises her to publish it sooner than later.
Cohen declined to comment for this story, telling this reporter she was uncomfortable discussing the details because they are "Still working out the compensation." She also said she'd prefer me not to mention this episode. "I don't want you writing about it at all." Cohen also expressed concern for the sensitivities of the Observer's publisher, Jared Kushner, who is the son-in-law of Donald Trump. Cohen told me, "I thought the NYO didn't publish anything that reflects poorly on Jared's FIL."
Nevertheless, she told her friends on Facebook that she "contacted Airbnb immediately … I've started the process of filing a claim to hopefully get reimbursed for the professional carpet cleaner etc….It is just a PITA. And they require a police report for a claim over $300, which I really don't understand." She said she had "captured the threats" made by her boorish Trump-supporting guest and that her ultimate goal is "I want this a-hole banned for life."
Ron Kaplan, another journalist well-known to readers of the Jewish press, posited that there might be a sock-puppeting scheme at work here. "I wonder if these are anti-Trump people trying to make him look even worse. Not that he needs the help."
But another friend of Cohen's, Norman Pressman, is not a Trump supporter but does not hold him accountable for the actions of those who are. "As much as I dislike Trump I don't think this has anything to do with him or the kind of people who follow him. You are learning what its like to run a hotel-not and easy job."