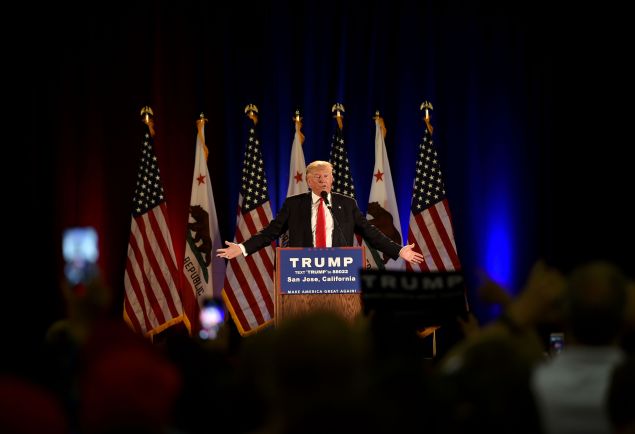 An ominous dusky rain falls on the blasted slopes of Mount Winchester, as the globe warms and America slowly dies. I gaze upon the coming storm from my turreted office. The democracy is being threatened, I can feel it in my rotting marrow. Soon, I must write an essay for the London Review Of Books, I think to myself, sipping my brandy and attempting to summon the auctorial power that has sustained me, like titty nectar, for so many decades. I warned America about Nixon in my bestselling monograph The Phalanx Of The Afternoon, about Carter in my Harper's series, The Hee-Haw Bilderberger, about Reagan in my three-volume novel Bonzo In The Seebees, about the second Bush in my unproduced TV pilot W. Ex, and about Obama in my interactive DVD series Barry, My Heart At Wounded Knee. Whither the days of FDR and JFK, Presidents who could provide a guy with some surreptitious yacht side-coochie? Away, ground into the idiotic American void like so much Five Guys forcemeat.
"Roger!" I shout. "Where are my toast points?"
My beleaguered manservant appears at my door, hesitant to enter the intellect-lined lair of The Greatest Living American Writer.
"Here sir," he says. "Sorry for the delay. I had to get another foie tube from the cellar."
"Well, chop, chop," I say. "I require nourishment. For fascism is coming to America, and I must warn the people."
"Of course, sir," he says.
There's a knock at the door. It echoes off the stones, reminding me of memories of my long-departed love, Anais Nin. The bell rings, insistently at first, and then very insistently. I adjust the tie on my velvet writing robe. The bell rings again.
Preventing the rise of Donald Trump, the most anti-literary of all Presidential candidates, sounds equally vital to me.
"What is the what?" I exclaim.
"Someone seeks refuge from the storm, sir," Roger says. "You must great them like a proper host, as befits your status."
Roger is right, as usual. I pay him well. Or at least well enough.
We go downstairs. Roger heaves open the oaken portal. There stands a bespectacled rat of a man. His visage is familiar to me, yet unfamiliar.
"Stephen King!" Roger gasps.
"The pulp hack?" I say. I met him once, at the DeLillo Centenary celebration thrown by my dear friend and mortal enemy Morgan Entrekin, but he barely left an impression, blathering most of the time about the Boston Red Sox, a lesser baseball team that never played a game in Brooklyn.
"Hello, Pollack," King says. "Can I enter your dark tower?"
A few minutes later, we're settled in my auxiliary study, the one I use to intimidate visiting dignitaries, a room that never fails to make Roth and Joyce Carol feel like shit. Roger wraps a warm blanket around King's shivering shoulders. The creator of such immortal characters as Pennywise The Monster Clown gazes around at my shelves.
"I love your complete bound Trollope," he says.
"Thank you," I say. "It was a gift from the author himself."
"How old are you?" he says.
"A girl never reveals her secrets," I wink. "Now, what can I do for you on this dreary night?"
"I need your help," he say. "To stop Trump."
"As you know," I say, "I was the first person to ever lambaste him, in my 1985 unauthorized biography, The Orange Menace."
"I'm familiar," he said. "That's why you're the linchpin of our efforts."
"Who's we, white man?" I say.
"The writers," he says. "We have a petition against him. More than 400 of us signed it."
I've only signed two petitions in my life, one to prevent the building of a nuclear waste dump on Martha's Vineyard, and the other, circulated by Norman Mailer in 1973, to "stop the scourge of feminism from invading the pages of Esquire." Both were successful. Preventing the rise of Donald Trump, the most anti-literary of all Presidential candidates, sounds equally vital to me.
"Who do you have?" I ask.
"Dave Eggers," he says.
"Don't know him."
"Jane Smiley."
"Pfft."
"Junot Diaz."
"Ah, yes, I quite enjoyed his debut novel, The Wonderful Life Of Oscar Woo Woo," I said. "A hopeful young pretender. What about Jim Harrison, did you get him?"
"He's dead," King said.
Another rival hits the skids, I think.
"Let me show you the petition," King says. He hands me a piece of yellowed, soggy parchment, signed by such unfamiliar-to-me names as Groff, Chee, and Egan, as well as my former wives Claire Messud and Maxine Hong Kingston and my former lovers Cheryl Strayed and Michael Chabon. I read:
"Because, as writers, we are particularly aware of the many ways that language can be abused in the name of power;
Because we believe that any democracy worthy of the name rests on pluralism, welcomes principled disagreement, and achieves consensus through reasoned debate;"
I spit out my brandy.
"Ptoo!" I say. "Who wrote this shit? Francine Prose?"
"Actually…" he says.
I've been activated. Authors Against Authors Against Trump Against Trump has been born. The Donald is doomed.
"I'm not signing my name to this 'Open Letter.'" I say. "Give me a call when you have something in English."
"But…" he says. "Authors must stop Trump."
I won't listen to any more of King's firestarting nonsense.
"Roger," I say. "Call this hack an Uber!"
Later, after sending Stephen King to his second-rate destiny, I ponder the future of America, and of literature. Both will be great, if we can stop Trump, but by we, I mean me, and by Trump, I mean I mean my literary rivals. Because politics comes and goes, like my prostate, but literature lives forever.
I return to my study. The tumescence of my intellect fills my pants. I've been activated. Authors Against Authors Against Trump Against Trump has been born. The Donald is doomed.
"Roger!" I shout. "Put on a pot of French roast! I feel a surge of greatness!"
I write:
"Because literary petitions are lazy lip service paid by writers who wouldn't recognize a true threat to the Republic if it hit them in the back of their MFA;
Because neither wealth nor celebrity qualifies anyone to speak for the United States, to lead its military, to maintain its alliances, or to represent its people, unless maybe Scarlett Johannsen;
Because the world is round, it turns me on;
For this reason, I, Neal Pollack, the undersigned, declare now, as a matter of conscience, that I am, and always will be, the Greatest Writer In The World."
Disclosure: Donald Trump is the father-in-law of Jared Kushner, the publisher of Observer Media.