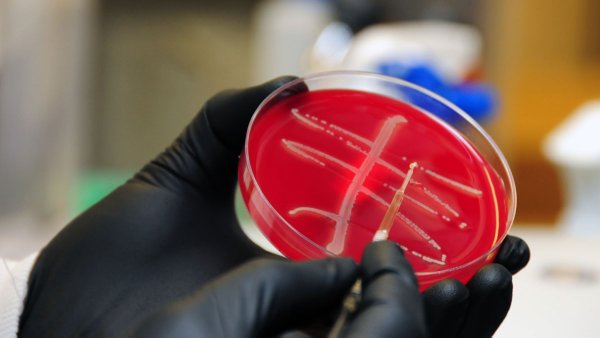 The name MCR may not sound threatening, but over the past few weeks those three letters have proven to be a super-sized headache for the science community.
A group of scientists at Walter Reed National Military Medical Center announced last month that a 49-year-old woman who went to a Pennsylvania clinic in April with symptoms of what she thought was a urinary tract infection was actually infected with a strain of E. coli carrying the gene MCR-1, an antibiotic resistance factor. 
The presence of MCR, a so-called "superbug," raised alarm bells because the gene is resistant to colistin, usually the antibiotic drug of last resort (though the woman was able to be treated with other antibiotics).
Since the news broke, scientists have redoubled their research efforts into superbugs. Among the most prominent researchers in New York is Dr. Thomas Russo, professor and chief of the infectious disease division at the University at Buffalo Jacobs School of Medicine and Biomedical Sciences.
"We try to identify factors in the bacteria that enable them to cause infections in humans," Dr. Russo told the Observer. "We hope they'll lend themselves as targets of new therapies and immunizations to treat infections."
"The possibility of something that's resistant to all antibiotics is real, and that's very concerning."—Dr. Thomas Russo
MCR will be particularly difficult to treat, because according to Dr. Russo the gene is carried on plasmids, or DNA molecules which can replicate independently and be transmitted to other bacteria.
"The possibility of something that's resistant to all antibiotics is real, and that's very concerning," Dr. Russo said.
While some news reports focused on the fact that the superbug was found in a UTI, Dr. Russo said that MCR could infect any part of the body, or the country.
"The location where the bacterium is isolated isn't as important as the fact that it's been identified in the US, which means it's in other bacteria that we haven't recognized," he said. "It could've been isolated from pneumonia or a wound, so it's only a matter of time before the next infection containing this element arrives."
If MCR is allowed to run rampant, the infections will increase not only in number, but also in severity—that is, unless the medical community finds a solution in the near future.
"If we don't have effective antibiotics, infectious diseases will be more uniformly lethal," Dr. Russo said. "This is a warning, and emphasizes how important it is to have a concerted effort to develop new antibiotics that can be active against these superbugs."
There are two measures physicians can take now to reduce cases of antibiotic resistant infection—the first is to simply wash their hands and use other good hygiene measures in hospitals and clinics. Doctors should also be cautious and only prescribe antibiotics when patients truly need them.
"We need to use the antibiotics that we have judiciously," Dr. Russo said.
While superbugs are certainly serious, the country is a long way from an MCR pandemic—Dr. Russo emphasized that these infections move slowly, and should not "create undue panic."
"There's ongoing research and development to find new treatments," he said. "There's cause for concern, but not panic."