Elle Fanning is finally having her moment.
With the forthcoming release of her first leading role in the Nicolas Winding Refn-directed thriller The Neon Demon, the younger Fanning sister has nabbed a coveted spot on V's most recent cover. The glossy released two covers for its pre-fall issue and the first is a solo fete for Fanning–her first for the magazine. The alternate second cover features a scarily seductive smize from a young Fanning and her Demon costars Abbey Lee and Bella Heathcote.
The trio pose as their would be-model characters from the glittering thriller, which was a Cannes Film Fest breakout. The flick, which stars Fanning in her grittiest role yet, chronicles the darker side of modeling for three aspiring girls at different points in their careers. Shot by Steven Klein, the covers also mark the magazine's 102nd issue. Klein, who is a longtime favorite of the fashion set, most famously shot Brad Pitt in anticipation of his movie Fight Club, Madonna for W Magazine and more recently Kylie Jenner, in the controversial wheelchair photographs for Interview Magazine.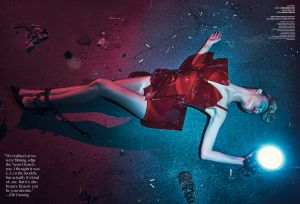 With styling by Patti Wilson and makeup from Kabuki, to match the characters in the film, the spread embraces the thriller's dark and twisted undertones featuring knives, sultry scowls and Fanning's "killer" legs.
The movie, which also stars Mad Men actress Christina Hendricks and Matrix alum, Keanu Reeves, marks Fanning's first starring role in Hollywood. Like her Demon character Jesse, Fanning herself moved to Los Angeles at a young age after her sister's success as a child star–though her time in glitzy glam land of Southern California has been nothing like the ruthless brutality her character experiences. Between working with director Winding Refn–a Ryan Gosling favorite–and channeling her inner Kate Moss, Fanning became hyper aware of the Los Angeles standard for beauty and celebrity.
"We realized, as we were filming, who the Neon Demon was. I thought it was L.A. or the models, but actually it's kind of…me," she told the mag. "But it's also beauty. Beauty can be your demise. And this is so prevalent now because of social media and apps that make you look a certain way. People really care about the way they look—all the time."
Fanning's V issue hits newsstands July 14; The Neon Demon will be released in theaters this Friday.