David Guillen Fandos's freshly hacked e-paper display.
We are all constantly checking information. Our email. Stock prices. The weather. These days, we primarily do that the same way: on our mobile phone (with a side helping of laptops). Every time we do it, we fiddle. We unlock the screen, fling app icons about, open the wrong one, see our notifications and forget what we unlocked the phone for in the first place.
"Checking your phone continuously is a bit of a pain," David Guillen Fandos, a hacker who had observed the same problem in his own life, told the Observer in an email.
Yet digital displays of information are better than old-fashioned alternatives because they can update in real time via the internet. Laptops can display digital information, but the light from their backlit screens is too obtrusive. So a hacker in the United Kingdom made himself a digital display which read by a room's other light sources.
"The main reason I wanted the display was to track certain things in my life easily," he wrote. He uses it to display the weather and exchange rates for different currencies. "It took me so much time (not continuous work, of course) to complete the project that in the end in defeated the purpose a bit."
A quick word about e-paper: most consumers think a screen is a screen is a screen, but this is not true. The LCD screens on your mobile phone  work by shining light out from behind it, changing the light's color with embedded crystals. E-paper is read by the light that bounces off the screen, like paper. Turn the lights off, and you can't see it.
E-paper has another mind-bending feature: once a pixel has changed color, it requires no power to stay that way. A black pixel will stay black until another tiny zap of electricity tells it to turn white (or gray or maybe even red). Tell an e-paper display to make a drawing of Bart Simpson and it will show Bart till the end of time. Take out its battery. Disconnect its board. Bart will remain.
Why this hacker forced Amazon's Kindle to display Google Maps
These properties are why e-paper screens make for nice reading experiences, but it is surprising how under-utilized they have been for public displays. That is slowly starting to change. E-ink, the leading e-paper company, has been pitching its products more and more for retail displays and signage, but those uses are not yet widespread. Displio has a tiny version, but it isn't shipping yet.
Fandos didn't want to wait. He liked what Jeroen Domburg had done hacking an e-reader, but it looked like too much bother. "It involved designing my own board, buying components, soldering them (they are quite small) and testing the whole thing. It is hard to get that right on the first iteration," he wrote. "So I went for an easier although more expensive approach: buy a random Chinese board that looked good and try to make sense of it."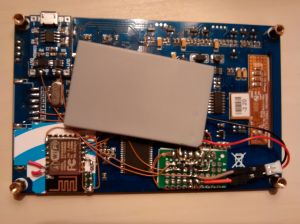 He got this 4.3 inch display for $56.99 from WaveShare and plugged an ESP8266 into it. The ESP8266 is a hacker darling that provides both a wi-fi access point and a processor for roughly $2, both of which previously had to be purchased separately at far higher prices before. "The ESP is standalone, you directly write your programs to run on the ESP and you also have wi-fi access," he explained. "It also features some things that only very expensive platforms have: true low power modes that work and consume almost no power, big programming memory (around 4MB) and cool peripherals."
He then had to reverse engineer the firmware for the screen because it wouldn't upload images and it wasted power. The retailer wouldn't share the source code, but it did send him some documentation. "With those files and that bit of information I was able to understand how the firmware worked," he wrote. "Once I got my firmware replacement in place, I could send images from my PC to the screen in approximately two seconds to be displayed."
He shared his software so that others could make their own widgets using other sources. One can imagine a lot of consumer uses for non-obtrusive displays of information that can update from the internet. Sports scores for superfans. Transit times for commters. Observer headlines for everyone.
Until someone builds a product to do that, though, people will have to make their own. To do it, check out Fandos's post and his software page on GitHub.