If you lined up a gaggle of brides from America and Europe on one big stage, would you be able to detect their nationalities? Do French brides display a certain je ne sais quoi? Do Greek brides dress with a Mediterranean breeziness? Can you pick out the Americans at a glance? This year's European bridal shows revealed that while love may know no boundaries, what a woman wears at the altar might just say something about the place she was born.
FRANCE
Though they can spend an hour getting ready for an evening out, chic French girls refuse to look as though they tried too hard. That's true even on their wedding day. Whether it's a body-skimming off-the-shoulder sheath, a knit top paired with a voluminous crinoline, or an unstructured gown that might have been constructed from grandma's handkerchiefs, the Gallic approach to bridalwear is more about a shrug and a wink than preparing for one of life's grandest events. The look extends to hair and makeup: a simple twist at the nape of the neck, a swipe of red lipstick, impeccably groomed brows. Who needs elaborate beading or a 10-foot train when you're skinny, cool and in love?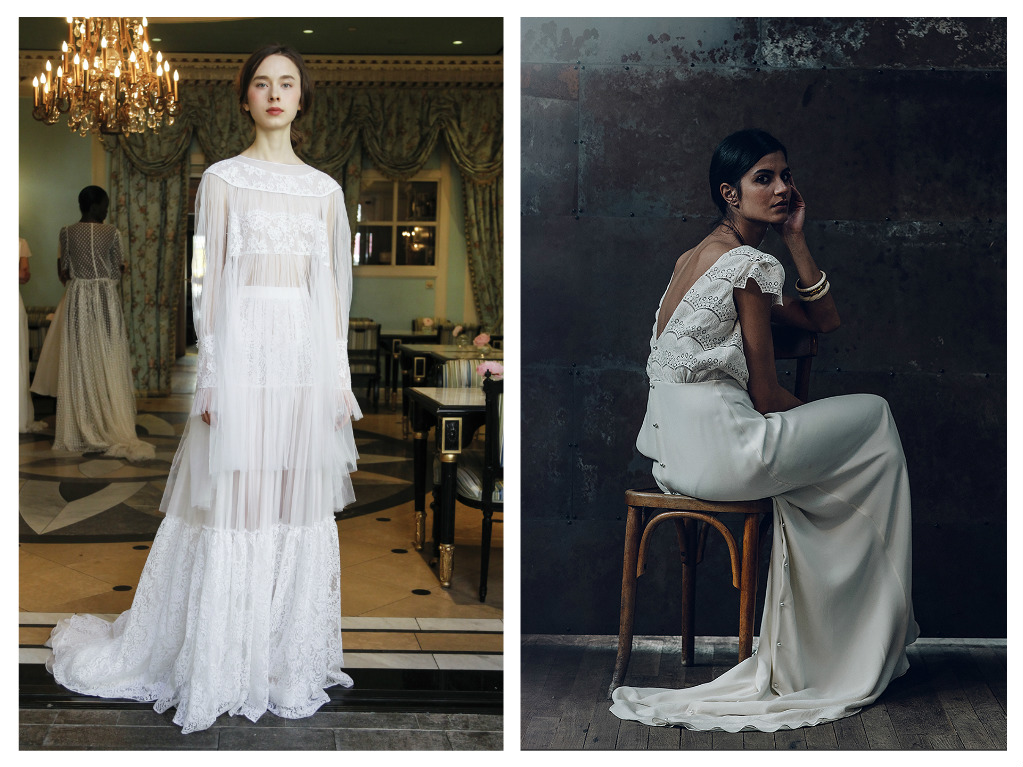 ENGLAND
When Queen Victoria wore a cream silk gown to marry Prince Albert, she started one of bridal's most enduring trends: the white wedding dress. Today, while even the country's most cutting-edge designers have a keen appreciation of pomp and tradition, British bridal houses are also known for wild displays of eccentricity. Which means an English wedding dressing is a tale of two directions. First, the kind of quietly contemporary elegance that a royal bride would embrace, with romantic fabrics, long trains, rich embroideries—and perhaps a naughty detail such a bare back, just to keep things interesting. And then there are period dresses with deep historic references—strict bodices, extreme peplums, and wide bustles. As much costume as wedding gown, these showstoppers guarantee the grandest entrance.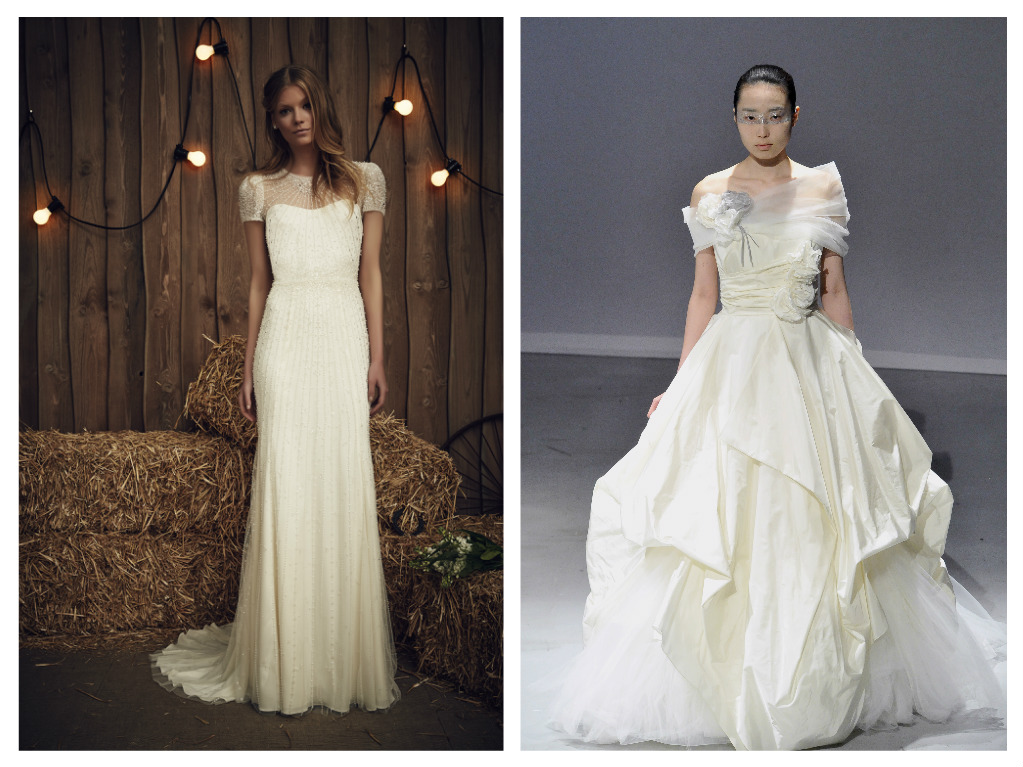 SPAIN
A folkloric approach to formality infuses the fashion-forward Spanish bride. Whether she's marrying in her hometown church, an ancient castle, or on a Mediterranean beach, she's drawn to the look of bohemian romance, represented by ruffles, layers of texture and organic fabrics—linen is particularly fresh this year. At the same time, "Spanish brides are very keen on a tight silhouette from bust to hips, but then they adore a very big skirt to allow them the right comfort for dancing," says designer Yolan Cris. Think of a flamenco dancer in bridal white and you get the picture. Another strong statement is the spare, tailored ensemble with a dash of equestrian flair—all the more stunning with a train that makes a romantic punctuation point as the wearer strides up the aisle.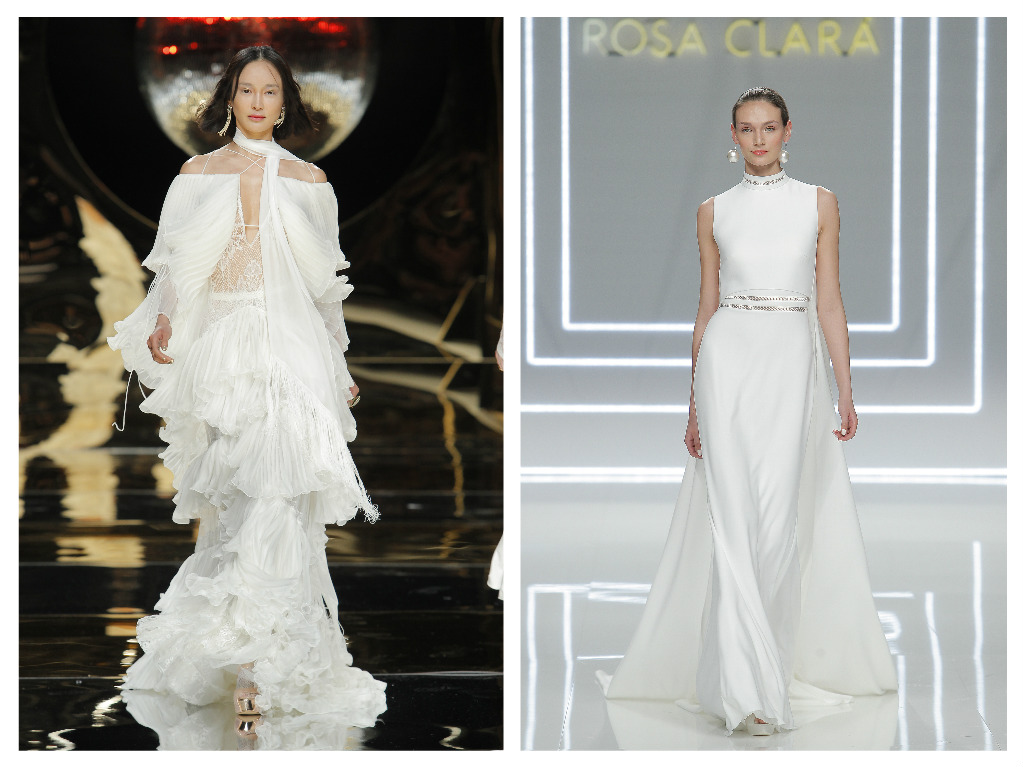 ITALY
Romance meets the Renaissance in Italian wedding gowns, which combine ultra-feminine silhouettes with exquisite craftsmanship, often with a firm nod to the country's religious tradition. Even German-born Peter Langner, known for his architectural gowns, finds it impossible to resist the Italian tendency toward purity and elegance, topping a voluminous tulle skirt with a long-sleeved overbodice of Chantilly lace. As the designer explains, "The 'nude' look never really had an impact here, as the family is still very much involved in the choice of the gown and the brides like to feel like a princess rather than a Hollywood star." Even edgier Italian brides are quick to embrace romance, stepping into a confection of undulating folds worthy of a Boticelli maiden.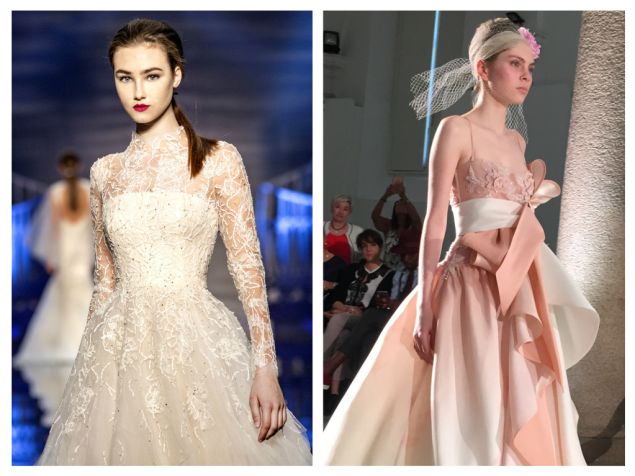 GREECE
With its cobblestone Mediterranean villages, white-domed churches, and rich tradition of artists, Greece is justifiably proud of its golden past. In keeping with their national identity, the country's most sophisticated brides often eschew the bigger-is-better wedding mantra and opt for dresses that strike a more artisanal note. From sunny beaches to country-chic villas, the mood is all about rustic embroideries and patterned lacework, simple shapes that show off toned figures, and three-dimensional accents borrowed from nature. With all, the finishing touches are a flower tucked behind an ear, a strappy sandal, and sun-kissed shoulders.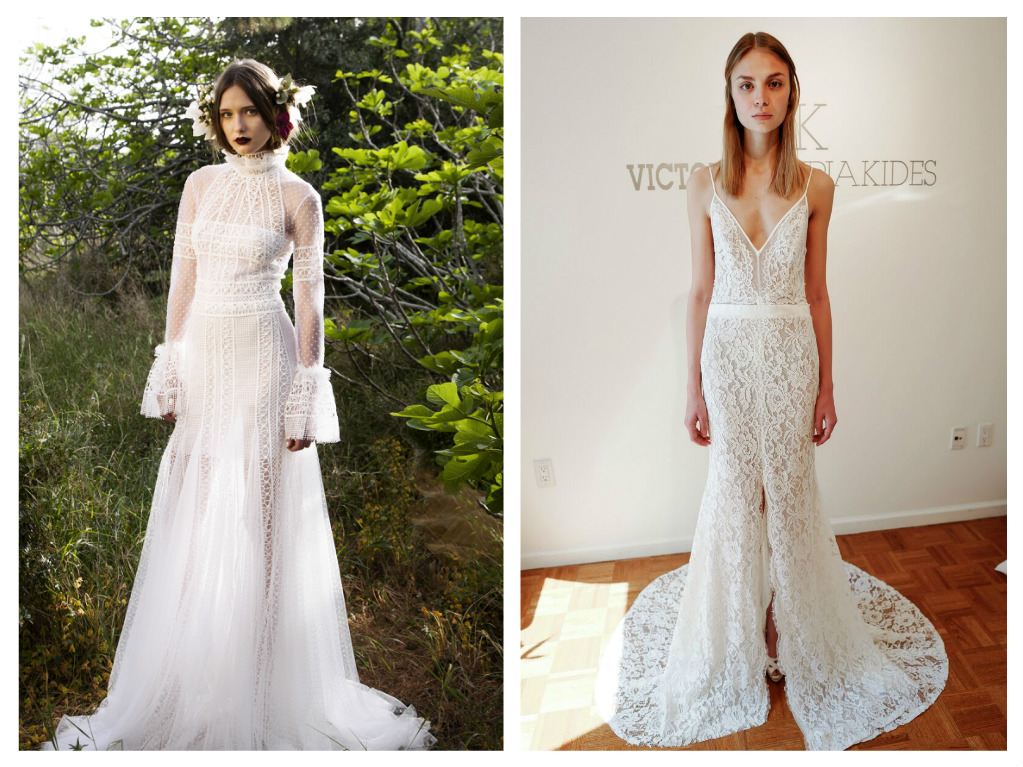 U.S.A.
We Americans get married wherever we want—on mountaintops, in penthouses, at yacht clubs, and in big white tents set up on the family compound. With almost 40 percent of American brides choosing to be married by a friend rather than a religious officiant, we don't bother much with religious convention, taking our cues from the red carpet as well as the world of fashion. Women who want to live the princess fantasy opt for opulent fabrics and full-skirted gowns (the most practical have hidden pockets for one's phone); those who want to make the cameras smoke steer toward cut-out bodices and skirts slip up to there. Regardless, the key factor in choosing a gown: How will it look on Instagram?