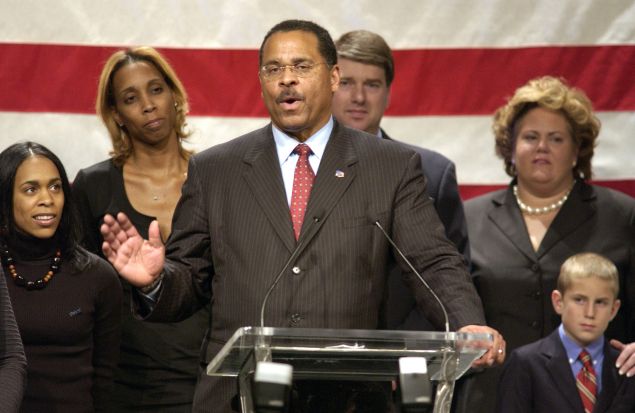 A top conservative Christian leader declared today that Donald Trump lacks both the staff and the cash to beat Hillary Clinton in November—meaning the presumptive GOP nominee will need the support of evangelical churches and social networks more than virtually any of his predecessors.
Ken Blackwell, the former Ohio secretary of state, one-time mayor of Cincinnati and a fellow with the Family Research Council, alluded to the dismal June financial statement the Trump campaign released yesterday—which showed the candidate with a measly $1.3 million on hand, a minute fraction of Clinton's $42.5 million warchest, and meager campaign operations across the electoral map. According to Blackwell, himself an unsuccessful one-time Republican candidate for governor of Ohio, Trump would have to rely on grassroots conservative networks to an unprecedented degree.
"Those of you that are following this campaign understand that Donald Trump has a mean, lean, vote—you know, election campaign machine, but it's about 70 to 100 people," said Blackwell, speaking at a panel discussion with other prominent born-again leaders following a meeting with Trump in Manhattan this afternoon. "That is woefully insufficient to go against a general election operation that is nationwide."
"That means that, as a consequence, he is more dependent than any candidate in my recent memory on the infrastructure of the party and, more notably, on the infrastructure of grassroots organizations, the church networks across the country," he continued.
Trump has had an uneasy relationship with the evangelical community, a core part of the GOP base. He outperformed his primary rivals among them in a number of states, but several prominent conservative Christian leaders endorsed Texas Sen. Ted Cruz for the GOP nomination—including the Family Research Council's Tony Perkins, who participated in today's panel.
Some social conservatives have expressed reservations about the thrice-married, verbally coarse, casino-building Trump's history of personal libertinism and political liberalism. Like the other half dozen speakers on the panel, each of whom represented a major evangelical group, Blackwell said he was as yet unready to endorse the Republican candidate after speaking with him today—and warned him against trying to move the GOP toward the left on social issues.
"This was not a negotiation, this was not a coordination, it was not an inquisition. It was basically a conversation about how we get to an objective together. As a consequence of today's conversation, I think we're on a good, on a good, we're on a great path," he said, pointing to the Republican Party's successes in capturing both houses of Congress as well as state legislatures and governors' mansions across the nation. "He is in fact grabbing the mantle, and grabbing the flag, of the GOP, a party that has principles and policies in place. He won the primary process fair and square, but he didn't get the signal that he is to remake the Republican party and the conservative agenda it represents."
But Blackwell also warned of dire consequences for the religious right should Clinton prevail.
"This election is about a third term for Obama, or a fresh start towards restoring those, I would say, those foundational values and policies that have made us an exceptional nation," he said. "This is a cultural war in which we are embattled, and which we intend to win."
A young woman interrupted Blackwell with loud accusations of hate speech at the panel, and a small group of protesters carrying a rainbow banner chanted "Republican hate kills" outside the Marriot Marquis in Midtown, where the press conference took place.
Disclosure: Donald Trump is the father-in-law of Jared Kushner, the publisher of Observer Media.