The premise of the 1984 film Terminator is that machines become so sophisticated that they are able to conclude that they are more advanced than their human creators. What happens next is the stuff of dystopian nightmares, but when you consider the rapid advances in technology we're seeing, these takeovers seem almost inevitable—and maybe even welcome—in many aspects of our human lives, including art.
Maybe it's this pervasive feeling that a transfer of power from human to machine is upon us that makes the artwork of Ed Atkins, which can be seen in a recently-opened solo exhibition at Gavin Brown's new three-story exhibition space in Harlem, so fearsome.
The 33-year-old Brit has been showing his elegiac CGI films ever since graduating from the Slade School of Art in 2009 and has shot to the loftiest peaks of the art world—shows at the Palais de Tokyo, PS1 and the Tate, Britain—in very little time, and rightly so. His both hyperreal and surreal narratives are as linguistically rich as they are visually hypnotic, containing moments that rival some of the most gripping scenes in recent cinema, from the bar scene in Goodfellas to the "milkshake" scene in There Will Be Blood.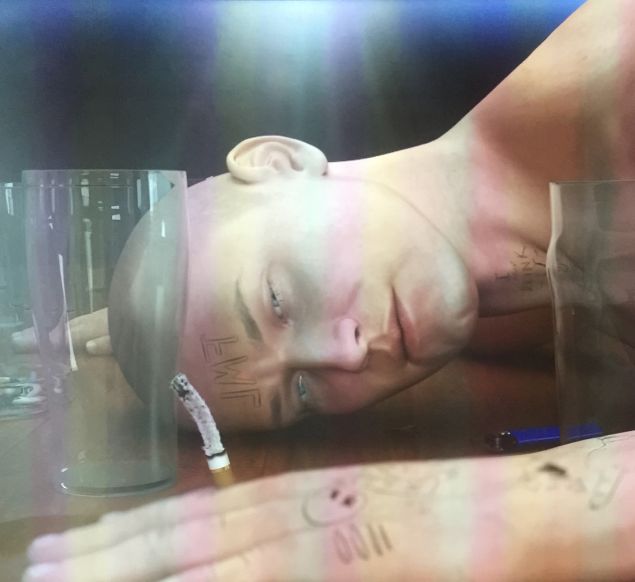 This is partially due to the high-definition animation Atkins uses, which allows the artist to replicate aesthetics that it's taken traditional film directors a century to perfect: the blurry haze of a drunk's eye view or the disconcerting rattle of a house during an earthquake. And while real human beings sheathed in high-definition video can look disconcertingly altered, CGI motion capture avatars are perfect for creating a seamless fantasy world.
But Atkins is also a talented writer and director, who peppers his films with psychological symbols, introspective monologues and witty punchlines. 
In Hisser, 2015, which one encounters on the gallery's ground floor, Atkins draws inspiration, according to curator Skyler Weiss, from an actual account of a Florida man whose room was sucked into a sinkhole. Supposedly, the man's body was never found.
This scenario becomes the stage for a dirge-like musical of sorts; a depressive and absurdist death march toward an embellished version of this phenomenon, presented in a deliciously exaggerated state.
Before his eventual demise, Atkins' unhinged male lead flounders around his darkened room, performing mundane—though simultaneously bizarre—activities, such as attempting to masturbate to a variety of Rorschach tests. When, in one scene, he lies on the floor and croons "I didn't know that life was so sad" to torpid chamber music, it's both dramatic and alien, as if this wholly computerized human was singing about how he'd been thrust into a the bewildering emotions of real life for the first time. It's an eerily self-referential sequence, inspired by the work of mid-20th century structuralist filmmakers like Hollis Frampton (who explored the boundaries of filmmaking within the film's narrative).
On the second floor of the gallery, Atkins' three-channel piece Ribbons, 2014, mines the lineage of one-man performance plays by offering us an archetypal young, white male named "Dave" who addresses the camera in various drunken and/or emotional states. Like many of Atkins' leads, Dave inhabits the form of a 21st century flâneur: someone possessed of the freedom and luxury to simply look about for entertainment. But Dave's infinite leisure becomes his jail cell, and the privilege he enjoys only leads him to further debase himself.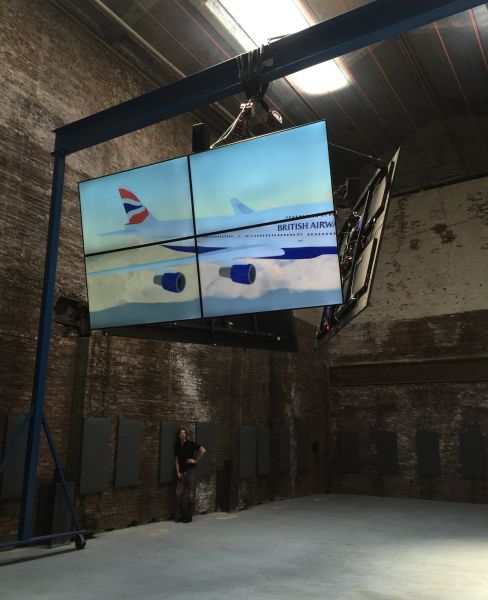 Dave navigates every corner of the pub he inhabits while smoking, drinking, singing a maudlin Randy Newman song a cappella and waxing philosophical behind a glory hole. Like the character in Hisser, Dave let's on that while he's able to mimic our rawest emotions, he's also just an automaton who eventually deflates like a balloon during a melancholy moment. Another reminder of this awaits just outside the video room, where twin flat screens each depict a severed head bouncing down a staircase ad infinitum—a violent yet clearly impossible cartoon of the human body.
The final artwork on the top floor of the gallery, titled Safe Conduct, 2016, presents a post-apocalyptic airport security station as a purgatory for its battered male lead. The terrorized actor, who is both prisoner and warden of this in-between space, moves around the checkpoint with unease until it becomes absurd—a state that's heightened by Ravel's Boléro intermittently playing in the background. Eventually, the man's focus turns to both filling and inspecting the plastic conveyor trays of the security station's X-ray machine. Horror after horror trundles past him, including a tray of limbs, a tray of eyeballs, a tray of genitals and a full tray of extracted teeth. It's a gruesome parade that's only occasionally interrupted by random elements (like a pineapple).
The ghost of Ravel's early 20th century Impressionist ode to what was supposed to be our bright mechanical future is perhaps ironic in a room where computers secure and control us, though it's one of many elements that resonates the message that the science behind what we're watching could—in the blink of an eye—proliferate evils beyond our comprehension. It takes absurdist theatre like Atkins' to show us the many ways technology already has us boxed in, and his beautiful yet horrific mirrors all deliver the same omen, with a smile and a wink: that one day we'll lose all control.