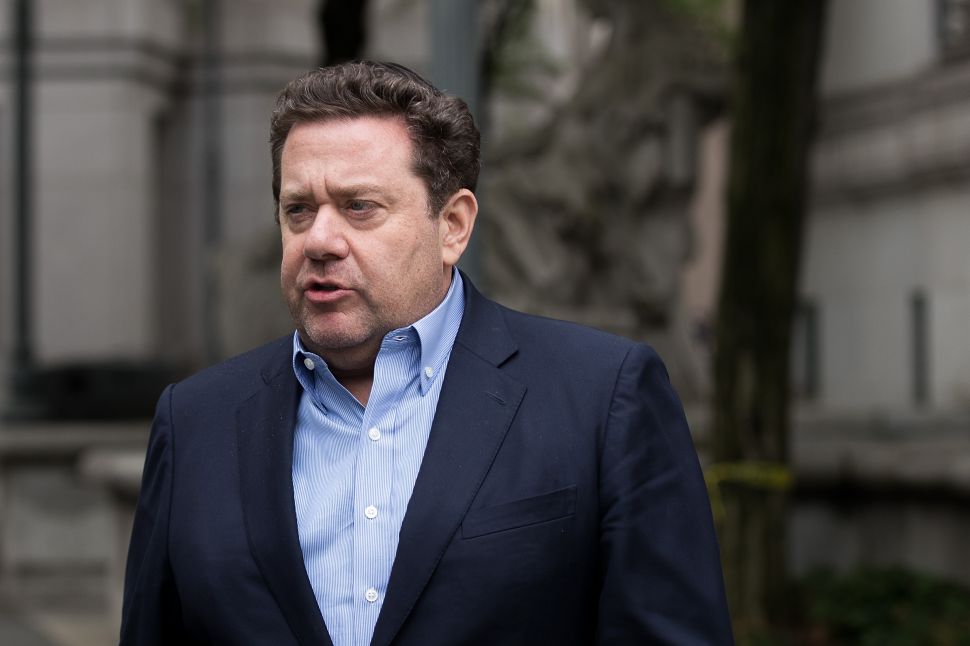 The scandals involving supporters of Mayor de Blasio, high-ranking police officials and the bribery of Correction Officers Benevolent Association officials gathered steam on Tuesday morning when the hedge fund operated by one of the accused bribe payers was raided.
The FBI stormed Murray Huberfeld's Platinum Properties hedge fund on Tuesday afternoon, but what's interesting is that the raid is being characterized as unconnected to the ongoing and growing investigation. As Reuters reported, it "is separate from a wide-ranging corruption investigation by the U.S. Attorney's Office for the Southern District of New York."
Huberfeld is at the center of the ongoing scandal rocking the NYPD, and was indicted on charges of raising $20 million from a New York City Correction Officers Benevolent Association through kickbacks.
The Observer can now report for the first time on a related Jewish-world scandal involving Huberfeld that reveals the depth of financial pressure the hedge funder was under. That pressure just might have led to the accusation Huberfeld faces of bribing Correction Officers Benevolent Association head Norman Seabrook in an effort to fund withdrawals being made from his flailing fund.
The Observer has exclusively learned that two prominent Jewish investors have gone to the SEC to report Huberfeld for non-payment of redemptions. The Fruchthandler family, real estate moguls whose holdings include the Woolworth Building, and the founder of one of the oldest and most well-respected Brooklyn yeshivas, Yeshiva Rabbi Chaim Berlin Fund, reported Huberfeld & Platinum to the SEC for non-payment of over $600,000 in redemptions dating back to 2014.
In a letter obtained by the Observer and dated November 4, 2015, counsel for the Fruchthandler Foundation and the Yeshiva Rabbi Chaim Berlin Fund wrote they would "file a complaint with the SEC's Divisions of Dnforcement [sic] and Investment Management in Washington, D.C., requesting they commence an immediate investigation into your dilatory practices, and (ii) refer the matter to our legal counsel for appropriate action."
The letter was sent just weeks after a run of good press for the fund seemed to suggest Platinum would have plenty of money to cover redemptions. On October 21, Bloomberg wrote a valentine to the fund headlined "No Blow Up Is Big Enough to Tarnish Platinum Partners' Returns" and crediting Huberfeld's strategy of investing in "payday lenders, Singaporean penny stocks" for its better-than-Madoff growth of "17 percent annually for 13 years." The Bloomberg article touts the acumen of Huberfeld and co-founder David Bodner, despite the pair having both been sanctioned at least twice. They admitted to misdemeanors in 1992 for a Chris Moltisanti-like scheme to have others take their brokerage-licensing tests for them in 1992, and then in 1998 paid a $4.7 million fine for illegally selling restricted stock. Still, the October Bloomberg article finds writer Zeke Faux showering praise upon their fund, calling it "on a par with the world's best-performing hedge funds, such as Bill Ackman's Pershing Square Capital Management and Israel Englander's Millennium Management."
The article wasn't entirely credulous and one intriguing passage quoted Nathan Anderson, founder of hedge-fund researcher ClaritySpring Inc., saying, "When you see nearly flawless returns, it's intriguing, but also potentially worrying. … Even cursory due diligence showed that a number of their dealings ended in death, litigation or handcuffs. Those are the kinds of red flags you can see from outer space."
Fast forward to summer 2016 and Huberfeld's arrest on June 8 for paying kickbacks to Seabrook. Then on June 15, a judge asked "whether Platinum Partners, the hedge fund holding $20 million in NYC corrections officers' retirement funds, has enough money to pay back a measly $30 million debt."
These questions arose after Platinum received a default notice on June 14 over a $30 million put option, which suggests serious liquidity issues. And again, the trouble that erupted this summer might have been visible to those watching closely back in the fall when Bloomberg was loving up Platinum. New Mountain Finance Corp., the investment management company that was stiffed by Platinum, actually issued the default notice back in December, when it got word that Platinum could not pay for $7.5 million of notes in November 2015 that it was required to repurchase. (A put option grants the buyer the right to sell securities at a certain price; the party that sells the put is required to purchase those securities.)
"Are they financially sound and capable of paying this debt?" Judge Saliann Scarpulla asked at a Manhattan state court hearing on Wednesday. "I haven't seen evidence that the fund is worth a billion dollars. For all I know the fund is worth 5 cents," an exacerbated Scarpulla said after failing to get satisfactory answers to her questions about the hedge fund's financial status. Platinum claims to have $1.3 billion in assets on its website. But it was in court Wednesday owing more than $30 million to private equity firm New Mountain Finance.
The Jewish community to which Huberfeld and all the players in this drama belong reserves special contempt for Jews who turn in other Jews. A moser—a collaborator or informer—is the worst thing a Jew can be. The Oxford Dictionary of the Jewish Religion defines informing as, "The most heinous crime in the Jewish community and the informer its most despicable character. Every step against him, even taking his life, was permitted in order to safeguard the interests of the community." In fact, the central prayer of every Jewish worship service—the Amidah, said by observant Jews three times every day—includes a prayer against informers: "But for the informers, let there be no hope."
For the Fruchthandler family to go to the SEC with its complaint against Huberfeld, knowing how that would be viewed by their peers, indicates an escalation to the point where they must have seen no other option to get their money back. Indeed, last week the Simon Wiesenthal Center pushed Huberfeld off its board on June 15 and it's fair to wonder what other Jewish organizations will now seek to untangle its financial or charitable relationship with Huberfeld and Platinum.
Huberfeld, who absurdly claimed to Reuters he was a "client" of Platinum in a 2014 story, clearly has more to worry about than stuffing cash into a Salvatore Ferragamo bag on behalf of a Correction Officers Benevolent Association official with posh tastes.