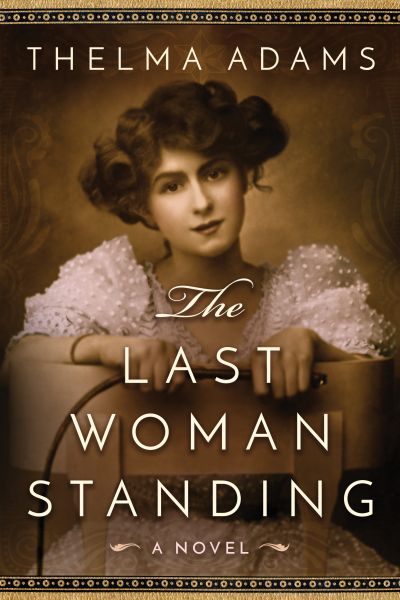 As a film critic, I endlessly criticize movies for marginalizing women – and that's particularly true of Westerns. So, when I read about Josephine Marcus, the gutsy Jewish beauty who captured Wyatt Earp's heart in 1881, the year he fought the legendary Gunfight at the O.K. Corral I started hatching the Kindle Bestseller THE LAST WOMAN STANDING: A Novel of Mrs. Wyatt Earp (on-sale July 1st).
In this excerpt, when a lynch mob intent on hanging gambler Johnny Behind-the-Deuce threatens, Josephine, 19, takes cover in the nearest brothel. Tucked away on a balcony overlooking the action, she watches Wyatt Earp singly stave off the agitated Arizona vigilantes. When the smoke clears, Josie rushes to leave — but not before the infamous Madame Mustache makes Josephine an unsavory offer:
"Entrez, Josephine," called the diminutive madam from her parlor sofa, a cello leaning against its arm. She was doll-size, with a pompadour of crimped purplish-brown hair. Her pale-gray eyes were hooded by dusky half-moons covered in powder. A Japanese kimono revealed her slim neck, bare shoulders, and deep cleavage.
The tiny woman's mustache was her most unsettling and obscene feature. The auburn bit of fuzz, waxed left and right, didn't make her appear manlier but heightened her femininity. She introduced herself as Eleanor Dumont, but I'd already heard of Madame Mustache, Tombstone's infamous French bawd. I never thought I'd see her but I'd taken refuge in her house to escape a lynch mob, and had just watched the events unfold from an upstairs balcony in terror.
Miss Dumont smiled, her pointed teeth tinted green from crème de menthe. She motioned me to a chair. "Having a look around our establishment? There's a bedroom available for you."
"I'm staying with Mr. and Mrs. Jones until I wed Johnny Behan. Do you know Johnny?"
"We all know Johnny." She licked green liquor from her lips. "Do you know our Mr. Behan?"
"I wouldn't be foolish enough to travel from San Francisco without knowing my fiancé."
"I retract my question, Miss Marcus." A sugar cube–size emerald flashed from her ring finger. "But he is a man."
"That's for sure." I preened, displaying my diamond engagement ring.
"But what kind of man is he?" A memory appeared to slide across her hooded eyes. "I think, Josephine, you don't entirely understand your precarious position."
"It's not the least bit precarious, as if it's any of your business. We're engaged and will soon be married. He's deputy sheriff, you know."
"Pardon me if I don't salute. My experience with men has left me skeptical. And, trust me, my little bunny, my experience has been substantial. So let me ask: Are you married today? Certainly there's a justice of the peace to be found, and you have that itsy-bitsy ring on your finger that you repeatedly attempt to flash in my direction, if only it had power to shine. So, Miss Marcus, why not today? Cook makes a wicked angel food cake so light it flies into your mouth on wings of sugar. Poof! If that seems a bit of a rush on a day that has already had so much excitement—compliments of that rascal Johnny-Behind-the-Deuce—and you don't want the blessed event upstaged by violence, why not tomorrow? Why delay? Will Johnny love you more in a week?" She leaned forward, staring directly into my eyes. "Will you love him more?"
I flinched as this freakish foreigner pressed my most vulnerable spot. I felt like we were playing cards and I'd lazily discarded the knave of clubs my opponent desired.
"I love him with all my heart." Even as I spoke, I imagined Wyatt Earp as I'd seen him from the balcony only minutes before: holding firm against the lynch mob, protecting Johnny-Behind-the-Deuce from their rope. Suppressing that image, I said, "Johnny loves me. I have this ring on my finger, and he says I have a silver rope around his heart."
"Oh, that is pretty talk but ask Johnny: What's the difference between a silver rope and a silver noose? And if you pull too hard on your silver rope and ask him to marry you tomorrow, what will happen? Where is his last wife, and how could she have let this treasure go? Oh, little bunny, all this talk of true loves, of rings and silver ropes, is way too fancy for a poor French girl like me, raised on goat milk and rancid cheese."
Shimmying her shoulders, Miss Dumont's breasts broke against each other like waves. She feasted on my discomfort. "You're a pretty little thing: The creamy skin, dark curls, dark eyes, those endless lashes. That is all good, if you lean toward the naturalism of a prize mare—and I know some men that do."
Taking another sip, the madam said, "The brows could use a mow, the cheeks, rouge—and you must spend more time on the hair. You are no longer a schoolgirl memorizing your multiplication tables; if you don't know nine times nine by now, you never will."
"Eighty-one," I said.
"Good for you but you're not nearly as calculating as a frontier boomtown requires. One always needs an alternate plan, a back door or a saddled pony waiting in the alley for a quick escape."
The madam continued: "A ripe beauty needs to be a step ahead of all those men with their smoking six-shooters before she's not so ripe. I can hardly see your shoulders or arms in that nun's habit you insist on wearing, much less your legs to see how you're put together. But you have a full bosom and the benefit of youth without the weight of disappointment. The men aren't lying when they tell me that Josephine Marcus is the prettiest girl to see Tombstone since Ed Schieffelin found silver at the Lucky Cuss. Find silver and pretty girls will follow; find gold, and you can't keep them out of your pockets."
The heavy, sweet scent of Miss Dumont's tobacco made me light-headed. "Miss Josephine, I'm surprised that the men haven't revealed your greatest asset, probably because they're not an objective judge of female flesh like I am. Your gift is not your lips or your eyes or your cheeks, but your vivacity, the way your spirit lights up your skin right through the pores, lifts you up so you're almost not walking on the same boardwalk as we poor mortals. Your optimism sends your hips floating as you trod the street, expecting the best, protected from the worst. You have dancing hips, little bunny, and there is nothing practiced or put-on about your gait; it is who you are for now. Keep that, and your health, and you'll have more than a few years on you."
I was at a loss for words, unsettled as much as pleased by Madame Mustache's flattery and the notion that men discussed me in town. "All right," she said, "you've convinced me, Lady Josephine. I am overcome with remorse for wrinkling your brow, wrinkles that will immediately fade, unlike my hard-won creases. I surrender to your optimism. You know the world better than I, I'm sure. I see you and your faithful, love-besotted Johnny together in a little cottage, picket fence, villains jailed, a bun in the oven, an orange cat on the hearth with mice in her tummy, and a sudden silver bonanza. But please, just hear a foolish, frightened old Française out. What if something happens?"
Miss Dumont raised her eyes to the ceiling. "Suppose Johnny rides off on a posse and catches a stray bullet or his breast stops the shrewdly placed arrow shot from a distant cliff by one of those rude Apaches?" She reached over to her cello and twanged the strings to mimic the bow's lethal sound. "What then, little bunny? What will happen then?"
"That won't happen," I said, my voice tight in my throat. "Why think the worst?"
"Expect the best, prepare for the worst: isn't that the English expression? Always so practical and dull, like my mother's second husband! I could never love a man who smells like cabbage. God forbid, something happens to Johnny. Big tears! There is an outpouring of sympathy; the church league brings you casseroles for a week. Oh, maybe not. You're Jewish, no? All right, The Fireman's League helps out with blankets and coffee. Other men step up and offer their protection, but they smell wrong and you're heartbroken. Très désolée. The only man in the world for you has been slaughtered. You are true to the one, the only, the Johnny. You are inconsolable and,in two weeks' time, broke, down to your last petticoat."
Beginning to sweat, I said, "I think I'll have one of those green drinks."
"That's a girl," Miss Dumont replied, summoning her maid who dispensed my drink, then vanished. "You must learn to live in the moment yet plan ahead. Where was I? Oh, yes, you were crushed, and I wondered: What shall we do, we who care so much for your welfare? Will we put you on the next stage home to your parents, happy to receive their favorite daughter like a Union soldier back from Chickamauga? But isn't that really just running back to Mummy and Daddy? I can't imagine that would be your first thought, otherwise you wouldn't have traveled all this way over thistles and thorns.
"And then there's the question, Josephine: Will they have you? You're no longer the little girl in pigtails who skipped off into the wild. Will they look at you the same, now that you've run off with a man? Will they introduce you to potential suitors as only slightly used goods available at a discount? Can you return to your little bed by the dark stairs after you've seen the moonrise over Tombstone?"
"You don't know my parents," I stammered, although she did seem to have a pretty good fix on my mother. "They'd welcome me with open arms."
"Open arms and worried looks, I expect. Of course, there are other alternatives. You could resume your glorious singing career. Find aPinafore troupe and go backstage and see if they'll have you. If that fails, perhaps a magician will come to town and you can be his lovely assistant onstage, pick a card, any card, get cut in two in his Chinese box, show a bit of knee and a length of arm as you dismount to keep the gentlemen returning for a second show. I see in your eyes that won't do; perhaps you want something more respectable. Can you sew? No. Even if that were an option, you would need to make three shirts a day, a twelve-hour task, and that would only earn you one dollar a week, maybe two dollars if you do really fine work. That would barely keep you in flour and butter."
Madame Mustache leaned forward, her powdered breasts visible from collarbone to nipple. "Or, my little bunny, should lightning strike, you could take the large room upstairs to help me entertain. Nothing would make me happier: très contente."
As I rose, I said: "Never."
"Be reasonable. Fine gentlemen would line Fifth Street, freshly bathed and pockets larded with bills, checking their golden watches as they waited to call on the lovely, lively Miss Josephine Marcus, formerly of San Francisco, star of the stage and famous heartbreaker, the silver queen of Tombstone."
Miss Dumont reached for her cello. Opening her kimono, she settled the instrument between her thighs, revealing the naked flesh beneath. I fled, vowing never to return, but return I did.