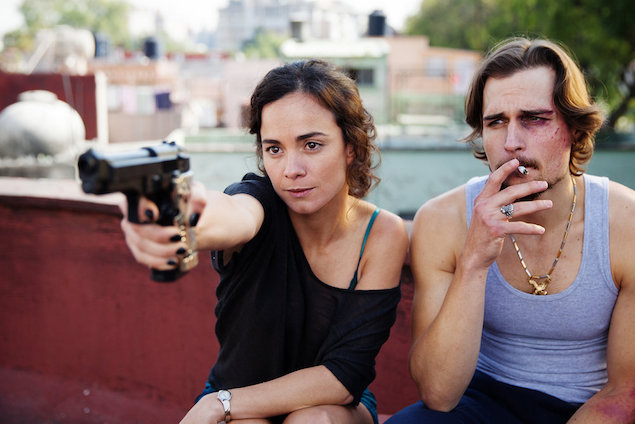 "I'm sitting here, outside my place, looking up at this big billboard of my first TV show and it's an overwhelming feeling. It took four years to get to this place and now I'm realizing that when the billboards are up, it's really real."
This is David T. Friendly, a successful a film producer, (Little Miss Sunshine, Courage Under Fire) talking about his new series Queen of the South, his first foray into television.
Well, this isn't exactly his first attempt, he admits. "It's not for lack trying! I've had things in development before but I've never gotten anything on the air, so this is a big deal to me."
Queen of the South is an original drama series based on the global best-selling novel "La Reina Del Sur," by internationally acclaimed author Arturo Pérez-Reverte. It tells the story of Teresa Mendoza, a woman who is forced to run and seek refuge in America after her drug-dealing boyfriend is unexpectedly murdered in Mexico. In the process, she teams with an unlikely figure from her past to bring down the leader of the drug trafficking ring, as she rises through the ranks of the cartel.
Friendly was draw to the material for very specific reasons, he reveals. "As a producer, whether you're doing movies or TV, you want to find an underserved audience and tell a story that they'll be interested in. By that measure, there are 55 million Latinos in this county who don't have a lot of programming to watch. I thought, 'this is a no-brainer' – you take this classic novel, set it in America, and there's a big audience for this show."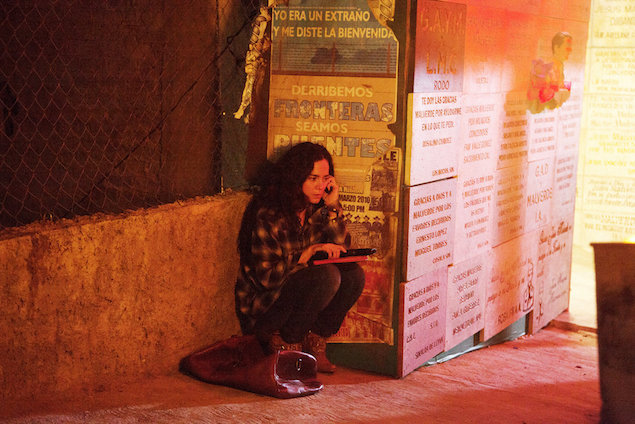 Because the series is set in the violent world of drug trafficking, Friendly is aware that the subject matter might be off-putting to some viewers. To this he responds, "Yes, there are drug shows on but almost none of them feature a female at the center. This is different look that the drug trade – with a female protagonist in a very male-dominated world."
As for the violence that is prevalent throughout the narrative, Friendly says, "We're not creating a world here, we're mirroring a very real world where violence is a part of the drug culture. That aspect has to be a part of this for it to be authentic. The bar has been set very high with shows like Narcos so we can't come in and have a 'fairytale' version of this story. That just wouldn't work."
He goes on to explain a bit more, saying, "We don't shy away from how dangerous this world is. There are many people whose lives are destroyed by this world and that's a very important part of the story that we're telling here."
As for his lead character, Friendly explains how she's ended up in her present precarious situation. "Teresa didn't chose these circumstances, she was forced her into this world, so at first it's really about her just trying to survive. The arc of her character will take her all the way up the ladder to a place of power in one of the biggest cartels in the world, but that journey will take multiple seasons. Right now, it's about having to prove herself in many different ways by taking on risky assignments to show that she can survive in this world."
A unique factor to the narrative is that the present day Teresa often sees her future self with the latter encouraging the former to take specific action. Friendly says that finding the right balance for this interaction was key. "It's almost like two separate characters really – the gritty Teresa right now and the future coiffed Teresa," he explains. "We only have some glimpses of Teresa as what we call, 'The Future Queen.' Initially her struggle is difficult and we needed those looks at the future to encourage her and explain her actions a bit. Then it became like creating a perfect cocktail. The ratio of showing 'Teresa Now' versus 'Future Teresa' was in flux for a time, but then we found the right proportion and it really works."
Friendly credits the diversity of his writing team with the critical creation of the series overall narrative. "We had a team of males, females, Latinos and Americans in this wonderful melting pot of humanity that gave us all these various points of view and that's what makes this so authentic. I use the word 'authentic' a lot when I talk about this show, but above all that was our goal and I really think we achieved that."
Another element that Friendly feels raises the caliber of the series is the original score. "The music is all done by Giorgio Moroder. As we say in the business, 'that's a good get.'"
Moroder is a three time Oscar winner, having scored such films as Midnight Express, Scarface and Flashdance.
"He was techno before techno really existed," says Friendly. "He came in and scored all 13 hours of the show and it just really adds that extra layer of what can only be called, 'a cool factor' to the series. This amazing music really helps tie everything together into this incredible package."
In a final pitch to get viewers to tune into Queen of the South, Friendly says, "There are two things that wake me up in the middle of the night – clutter and disruption. How do you disrupt the audience to come to your show? I think you tell a story about a strong female in a male-dominated world and you build that story in a way that appeals to underserved community and I think that combination could be a recipe for success. You can't count on anything but that's what I'm hoping is our disruption in this extremely cluttered world."
As a final thought, Friendly offers, "Getting a television show on the air is probably the hardest thing I've ever done so if I'm going to go out and work on something and bring it to market, I have to believe in it. I absolutely believe in this story and watching this woman, who not only survives but also becomes victorious, is really something. It's a journey that's action-packed, thrilling, and empowering. In my opinion, that's pretty much a perfect mixture for a series."
Queen of the South airs Thursday nights at 10e/p on USA.