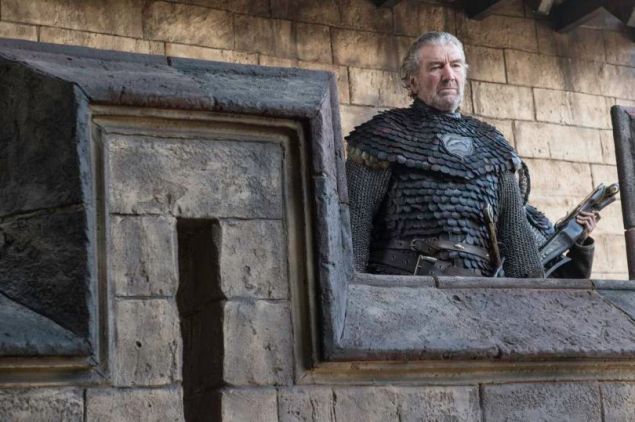 After last night's considerably more epic than usual episode of Game of Thrones, we're itching for next week's fix six days too early. Luckily, the show's major drawback this season–too many plot lines, spread out over a whole world's worth of characters, forced into a 2 1/2 month long arc– also means that there are so many more actors currently earning their "whatever the UK equivalent of  SAG is" credit! And for most of the cast, this isn't their first "whatever the UK equivalent of a rodeo is." In fact, check in the background of your favorite shows, and you'll start finding Westerosi wherever you look.
We've compiled a list of some of our favorite secondary characters from this season of Game of Thrones where they make an appearance. If you've got a great imagination, pretend that all these shows are related and exist in a weird multiverse scenario where everyone is basically playing some version of their GOT selves at all times. That's what I like to do, and because of this skill, I never get lonely or need friends.
If you're a fan of: Davos Seaworth (Liam Cunningham)
You might want to check out: Let Us Prey (Netflix)

[youtube https://www.youtube.com/watch?v=k2fnLntATUo]
and
Outcast (BBC)
[youtube https://www.youtube.com/watch?v=OM_-eFLJkSE]
Poor Ser Davos might be Westeros' third most loyal underdog (after Brienne and Jorah, but before the Hound), but Irish actor Liam Cunningham has had a pretty successful career playing various types of badasses. My favorite role of his, which I accidentally stumbled upon during a post-GOT Netflix binge last night, has him playing an anonymous drifter who may or may not be the devil in the Irish horror film Let Us Prey. He was also one of the leads in Outcast, a BBC show about space travel that should not be confused for the new Cinemax show about supernatural possession or the band with Andre 3000.
If you're a fan of: Ramsay Bolton (Iwan Rheon)

You might want to check out: Misfits (Hulu)

https://www.youtube.com/watch?v=aizVTnkd_WE
and
Residue (Netflix)
[youtube https://www.youtube.com/watch?v=8oFUjKxK3CI&w=560&h=315]
Hands, anyone? No? No one is still a fan of Ramsay Bolton, as portrayed by Welsh hottie Iwan Rheon? No one else has the Bolton house sigil hanging on their bedroom wall? Seriously? Fine. I guess it's just me. Still, check out Misfits for a pre-evil (though no less creepy) Rheon as super-shy superhero Simon, or as the prime minister's spokesperson dealing with an act of supernatural terrorism in Residue. Bonus: Residue also stars the actress who played the wildling Osha, and despite the fact that Ramsay killed her on GOT, the two are a cute couple on this program. Speaking of which…
If you're a fan of: Wildling Osha (Natalia Tena)

You might want to check out: Black Mirror's White Christmas (Netflix)

and
Peep Show's Sanctioning episode (Netflix)

[youtube https://www.youtube.com/watch?v=5mlQNICoLRY]
Sure, most people recognize Ms. Tena as Tonks from the Harry Potter series. But she's also had a healthy career playing batshit crazy ladies, both in Channel 4's Peep Show (one of my all-time favorite programs) and 2014's special episode of Black Mirror with Jon Hamm.
If you're a fan of: The Queen of Thorns (Dame Diana Rigg)

You might want to check out: Extras (Amazon)

and
Doctor Who episode "The Crimson Horror"
Dame Diana Rigg was sexy and sultry as the O.G. Emma Peel in The Avengers (the character later played by Uma Thurman in the forgettable movie adaptation), but she's had a great run playing salty old broads in recent years. Besides being Highgarden's resident badass, she also took Daniel Radcliffe to school whilst wearing a condom on her head in Ricky Gervais' Extras, and she played the sweetly venomous moral crusader Mrs. Gillyflower in the creepy Doctor Who episode "The Crimson Flower." (What is it about Riggs that just brings to mind a good English garden comparison?)
If you're a fan of: The Blackfish (Clive Russell)

Check out: Outlander (Starz)
[youtube https://www.youtube.com/watch?v=ofdWM37mSMI]
and
Ripper Street (Amazon)
[youtube https://www.youtube.com/watch?v=IPHs765LvLo]
Look guys: full honesty? I've never seen either of these shows. I know, I'm the worst. I'm not even sure I could pull the Blackfish out of a lineup either; I just spent five minutes squinting at that Outlander clip because I thought Lord Lovat looked too much like Walder Frey and not the guy who escaped getting murdered by him. Ooh, you know what though?
If you're a fan of: Walder Frey (David Bradley)
Check out: The Strain (FX)

[youtube https://www.youtube.com/watch?v=-CVthUBgHlI]
and
Broadchurch (BBC)
[youtube https://www.youtube.com/watch?v=oazt8aUv-CE]
Another Harry Potter alum, Mr. Bradley is used to playing cantankerous old people, but at least on The Strain he gets to be on the side of the angels as vampire virus hunter Abraham Setrakian. He plays a pedo shopkeeper in the British crime series Broadchurch…still, he's more sympathetic as Jack Russell than as the guy responsible for the Red Wedding. (I couldn't find a clip of Mr. Bradley in Broadchurch, but here he is winning the BAFTA in 2014 for Supporting Actor.)