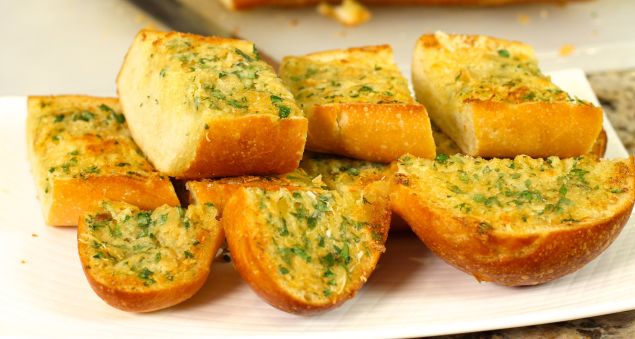 If you ever needed proof there is indeed a Facebook community for everyone, check out Garlic Bread Memes. The page is exactly as simple as it sounds—just a bunch of hot, fresh memes about everyone's favorite gooey carbohydrate.
The site has a decent following (240,000 fans) of friendly garlic bread enthusiasts, and attracted very little notice until Sunday, when an admin posted this photo:
Soon after the post went up, the commenters pounced. Some people seemed genuinely hurt by the meme's suggestion that there were only two genders, especially in an era when transgender rights are so often in the news:
"It shouldn't take some shitty, transphobic, bigoted and ignorant joke to make a quality garlic bread meme."
"I didn't know garlic bread was an asshole who cares too much about shit that probably doesn't even affect their personal life."
"Transphobia = two pieces of garlic bread. Being a decent fucking human being = more garlic bread."
Another group of commenters pounced on these so-called "social justice warriors," mocking them for being "butt hurt" by a garlic bread meme:
"Sorry science is real."
"You have all been baited by memes of garlic. Consider yourself fucking idiots."
"These SJW are getting more whiny, triggered and offended every day about something."
The vast majority of comments, however, were just plain sarcastic—the current top comment (which has over 1,000 likes)  is from a man who "sexually identifies as Garlic Bread" and wants to be "covered in garlic butter all day…If you can't accept me you're a garliphobe and need to check your bread privilege."
Among the other notable observations from Facebook's comedians:
"As a non binary gender fluid wolf trapped in a pan-sexual mocha frappuchino, I am offended by this."
"This offends me as a vegan transgender atheist who vapes and Crossfits 4times a week and I'm also a male feminist as l identify myself as a pastafarian apache helicopter dog mega multi combo god of hyper death and if you don't agree with me you're an ignorant arrogant globaphobic sexist lesbian."
"The divide between garlic bread and banana bread partisans is frankly tearing this country apart and destabilizing the entire region."
The admin of the page, a man identified simply as Boaz, told BuzzFeed in blunt terms that the post was funny and not transphobic.
"Trans people are not a gender," he said. "They are people that move from gender A to gender B. If you're a manly female you're a tomboy. It's not a gender."
Garlic Bread Memes is now using the controversy as a marketing opportunity—the site is collecting money on Patreon to pay for new content, merchandise and a garlic bread restaurant.