Facebook (META) is already the center of your social life online. Now it wants to hijack your Netflix (NFLX) queue.
The site opened its Messenger platform to developers in April, and chatbots have been released at a steady clip since then. The social media titan, which seemingly wants to move all the world's communication to its servers,  is betting that Messenger chatbots will replace many types of smartphone apps.
"We think that you should just be able to message a business in the same way you would message a friend," Facebook CEO Mark Zuckerberg said at April's F8 Facebook Developer Conference. "You should get a quick response and it shouldn't take your full attention like a phone call would and you shouldn't have to install a new app."
One chatbot that you can message like a friend is And Chill, a new movie recommendation Messenger bot. In spite of the rather sexually charged name, And Chill isn't for finding movies to stream in the background while hooking up, but rather discovering movies you actually want to see.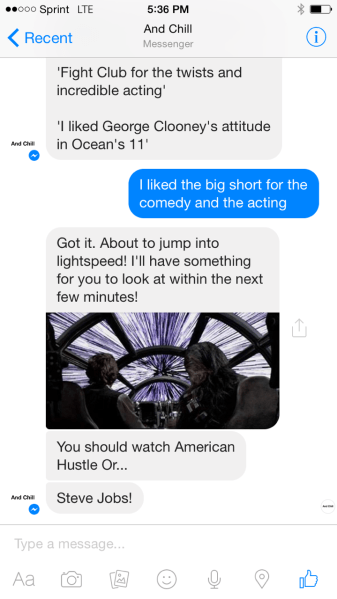 As anyone with a Netflix account knows, finding something decent to watch can be surprisingly difficult. The average American viewer is constantly inundated with movies to watch and surrounded by platforms to view them on. While this should make it easier to pick a movie, Exstreamist found that the average person spends 115 hours per year selecting a movie.
"We feel that's sort of doing work in order to get to your leisure time," And Chill founder Jake Cohn told the Observer. Part of the problem is that recommendations from streaming platforms are notoriously bad or just plain silly. And Chill is seeking to change that.
Just message (or text) And Chill a movie preference to get a recommendation—according to Mr. Cohn, you can be in-depth and specific as you like. The bot provides examples when you first message it, which include "Fight Club for the twists and incredible acting" and "I liked George Clooney's attitude in Ocean's 11."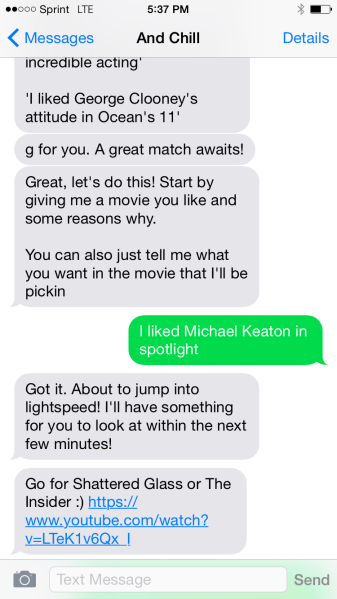 A few minutes after you send it a preference, And Chill will message you back with a movie recommendation or two, as well as a link to an accompanying trailer. I told And Chill that I liked Michael Keaton's performance in Spotlight (sorry, I'm a journalist), and six minutes later I was told to see Shattered Glass or The Insider, both movies I haven't seen. This was by design. And Chill is more likely to recommend movies that you haven't watched.
"Netflix will show you the most obvious movies," Mr. Cohn said. "We kind of play with the probabilities, we know which are the more seen movies and which aren't."
And Chill will also learn about a user's individual preferences over time, a process the company will seek to continuously improve. "It's not perfect yet, not even close to perfect," Mr. Cohn said.
Mr. Cohn is elusive about how his technology works (there is some human curation and review of recommendations), but he emphasized that while other sites are designed for the algorithm at the outset, his team researched why people like the movies they like and built technology based on the insights they found.
"We have a few different frameworks," he said. "We're checking patterns, attributes and other factors to give people great movie recommendations."
What And Chill can't do is provide a Rotten Tomatoes score or tell you whether a movie is on Netflix or not. It also may or may not work. On Wednesday, And Chill was experiencing technical difficulties, which Mr. Cohn attributed to a surge in traffic. Still, I did get a recommendation for American Hustle and Steve Jobs based on the fact that I "liked The Big Short for the comedy and the acting."
But what about that name? Mr. Cohn doesn't want people to associate And Chill with sex or hook ups. In fact, he's hoping his company will change the association entirely.
"We really think we are going to outlive the 'and chill' meme and we are going to make it our own," Mr. Cohn said. "It's going to symbolize what we are doing with recommendations."