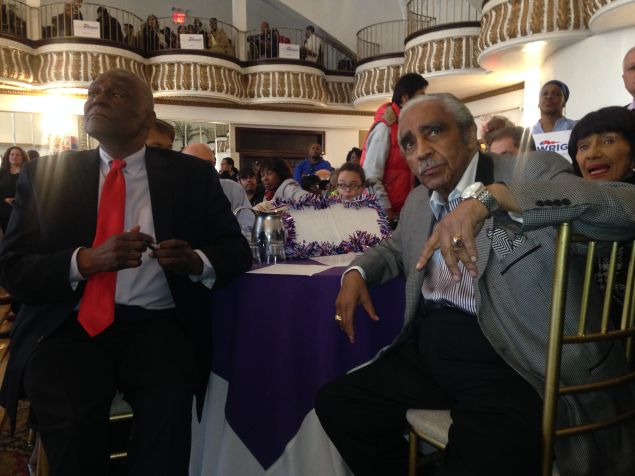 Congressman Charles Rangel was swift-footed and savvy enough to stay ahead of demographic and geographic changes in his district during his 46 years in the House of Representatives—but in the end, he just didn't have enough juice to anoint an heir.
Harlem Assemblyman Keith Wright lost his bid to replace his retiring 86-year-old mentor to State Senator Adriano Espaillat, who challenged Rangel in 2012 and 2014 but fell short. After a bitter Democratic primary campaign—one with heavy ethnic overtones—the Dominican Republic-born Espaillat beat the African-American Wright in the upper Manhattan-based district by approximately 1,200 votes.
Former White House aide Clyde Williams, another black candidate based in Harlem, placed third with more than 4,600 ballots and 11 percent of the overall vote. All told, 37,542 Democrats showed up at the polls in the low-turnout primary, and divided their votes among nine total contenders for the soon-to-be-vacant seat.
Wright lagged behind Espaillat by several hundred votes most of the night. But Rangel played coy when speaking to reporters before his handpicked candidate appeared at the gymnasium of the New York Mission Society on 142nd Street and Lenox Avenue. He refused to even comment on the possibility of somebody not from Harlem holding his seat, which has been based in the neighborhood since Adam Clayton Powell Jr., New York's first black congressman won it in 1944.
"I've never thought about that ever happening in all of my years. 72 years, it's always been. How could that be?" he told the Observer with a wink.
The contest turned explicitly racial the last weekend of the campaign, when the Rev. Al Sharpton endorsed Wright—and railed against insidious "outsiders" looking to "control this area." He referenced  memo that leaked from one of the Espaillat-backing PACs, which argued the Dominican-American candidate would benefit if fewer African-Americans turned up at the polls.
"They are planning on suppressing our vote. And they're planning on you not showing up. Because after 65 or 70 years of leadership of Powell and Rangel, they think you too dumb to stand up for yourself," he said. "They betting on you being stupid. They want to suppress us, they want to distract us."
"They want to control who speaks for us. It's all a matter of control," he continued.
James Brown tunes blasted over the PA system in the gym tonight while supporters watched the numbers come in and waited for Wright to arrive. Finally, the assemblyman stepped out onstage with his family, and made it clear that—thought the city Board of Elections had called the contest for his opponent—he was not willing to admit defeat yet.
"This campaign ain't over," he said to applause, noting that the 2012 contest between Rangel and Espaillat came down to paper affidavit ballots. "No candidate can declare victory tonight, not until every vote is counted."
He too alluded darkly toward "evidence of voter suppression," and called for formal federal oversight of the final vote count—though was weak on the details of what nefarious activities transpired.
"Now, I'm not an expert on voter suppresssion. But I can tell you that all of the ghosts of the civil rights movement, all of the ghosts of Jim Crow-ism, all of the ghosts of poll taxes, started to emerge. So I think that has to be looked at," he told reporters offstage.
Espaillat—who will be the first Dominican-American in Congress—has long represented the largely Hispanic neighborhoods of Washington Heights and Inwood. But roughly 1,000 votes of his lead came from the fragments of the Bronx grafted onto the seat after redistricting in 2012, even though Wright had the backing of that borough's Democratic Party machine.
The state senator's triumph marks the ascent of the Latino population in the district—which now makes up more than half its population—and the declining influence of the once dominant black community. In the deep-blue district, the winner of the Democratic primary is virtually assured of victory in November.
Wright and Espaillat apparently recognized one other as the main contenders early on, and traded fire in the press for much of this year. The assemblyman slammed the state senator as a "hypocrite" for promoting a Farmworkers Bill of Rights in Albany while his congressional campaign accepted cash from Florida sugar growers with a history of labor violations. Espaillat retaliated by attacking Wright for taking donations from an Ohio businessman who has donated to Donald Trump, and from a Harlem landlord who has rented to multiple methadone clinics on 125th Street.
Wright raised more than Espaillat up until the final leg of the campaign, and also spent more. But a pair of political action committees have circulated multiple pieces of literature promoting the state senator's candidacy, even though they have failed to properly file with the Federal Elections Commission.
The Harlem assemblyman dominated in endorsements—from unions and elected officials in the district, from much of the rest of the New York congressional delegation and from Sen. Kirsten Gillibrand. He even snagged the support of the Bronx County Democratic machine, which reigns over the northernmost provinces of Rangel's turf and which backed Espaillat in 2014.
But Espaillat secured the support of the Transit Workers Union and several smaller labor organizations, and garnered endorsements from Mark-Viverito, two overlapping councilmen and from several of his fellow state senators.
Among the other candidates dispatched were Assemblyman Guillermo Linares, former Assemblyman Adam Clayton Powell IV, former ambassador Suzan Johnson Cook, former White House aide Clyde Williams and stay-at-home dad Mike Gallagher.