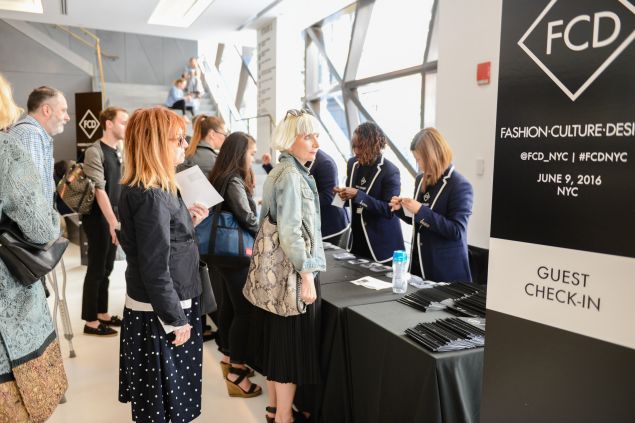 Fashion Culture Design was the debut of Simon Collins' first "unconference." The 12 panels were held at Parsons The New School for Design and featured awe-inspiring speakers from the design, beauty, modeling, sustainability industries and beyond. However, it wasn't about the star-studded lineup, nor did it include branded pitches to please shareholders. FCD was a raw, honest, up-front conversation; a two-way conversation between the audience and speakers. The goal of the unconference was for people to challenge their thinking, shine light on a newfound stance, and walk away with answers (or at least a start) to the 12 panel questions. Simon Collins admitted, "I truly want to know the answers myself. This is all very actionable, none of this is passive. The message is 'let's do it better'–whether that's fashion, communication, politics, or the environment."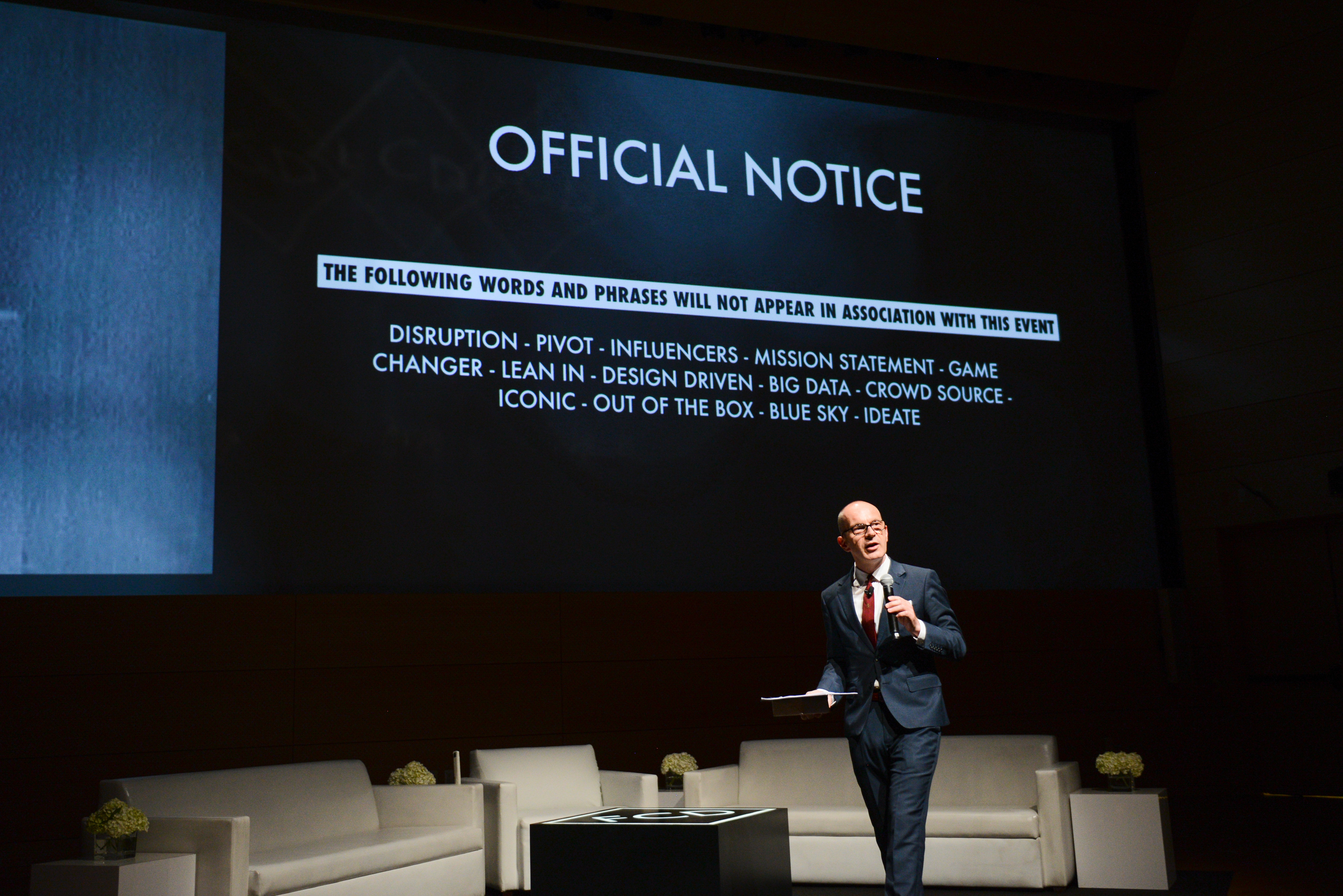 Further proof that this was not your conventional, corporate conference was the almighty swear box. The small white box was placed on stage when a speaker accidentally let one of those predictable buzzwords slip. Among the group of  "swear words" were disruption, influencers and out-of-the-box. Their punishment? A generous donation to MSF, Doctors Without Borders. FCD covered a myriad of topics to get everyone's wheels turning. "What Does Beauty Look Like Now?", "How Do You Solve A Problem Like Fashion Week?" and "The New Renaissance Creative" were a few from the agenda. One in particular,"Can Sustainability Be Sexy?" confronted the negative stereotype of eco-friendly fashion. When many think of sustainable fashion they don't think stylish, sexy, and cool; they think organic, "granola-type" goods in muted hues with a high price tag. The industry is plagued with the dilemma of whether to conceal their environmental efforts, due to the drab eco-image, or promote sustainability and educate their consumers, even if it is the right thing to do. John Moore of Outerknown believes, "Clean living is sexy. Smart living is sexy. It's all a romance." Not all brands and consumers resonate with the topic of sustainability like Moore. "Brands need to do a better way of telling their story," urged Matt Scanlan, founder of Naadam. " To further his point Matt revealed his modern-day, Indiana Jones story of how he retrieves Naadam's raw material, a rare cashmere yarn from Mongolia.
Every year, Matt proceeds to drive 20 hours through the Mongolian desert (think no roads, no internet, no pitstops) stocked with about 2 million dollars in cash in the backseat of his car, all to source Naadam's yarn. That got the crowd's attention. "I first went there (Mongolia) when I was 23. Now, seeing everything come to fruition has been so gratifying…These herders are my family." That story–the adventure, drive, and passion– in itself is alluring and sexy. Storytelling is just one way to entice consumers to buy with the environment in mind. The term "sexy" is different for every person, every brand. Consequently, each company must discover how they can successfully deliver their own, unique message in a way that motivates purchase. This is not a one-size-fits-all marketing tactic, but it is an industry-all effort. Not all of the questions were definitively answered, but it seemed that both the audience and speakers walked away learning a great deal. With the first unconference under Collins' belt, he seeks to spread FCD's influence to Sao Paulo, Seoul, Paris, and Beijing. Stay tuned!