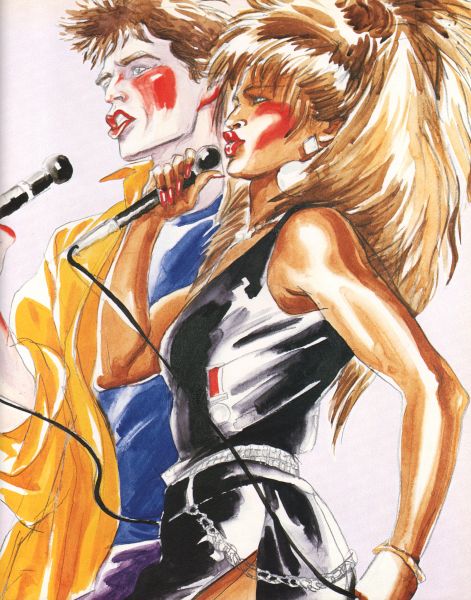 El Museo del Barrio's exhibition, Antonio Lopez: Future Funk Fashion, which opens tonight at 6 p.m. for the Museum Mile Festival, explores the work of the influential fashion illustrator. Co-curated by Rocío Aranda-Alvarado, Curator at El Museo del Barrio, and Amelia Malagamba-Ansótegui, a scholar from Arizona State University and University of Texas San Antonio, the exhibition has more than 400 works on display, 80% of which haven't ever been exhibited publicly. Antonio Lopez was born in Utuado, Puerto Rico on February 11, 1943. When he was seven, his family emigrated to America and settled in the Bronx. He attended P.S. 77 on East 104th street. His mother, a seamstress, had him draw flowers for her embroidery-work. His father, a mannequin-maker, had him apply makeup and stitch wigs onto the figures. This early exposure to the creative arts fostered a fledgling talent that earned him a scholarship, at the age of 12, to the prestigious Traphagen School of Fashion in New York's Saturday program for children. He then attended the High School of Art and Design and, after graduating, was accepted into the Fashion Institute of Technology.
It was at FIT that he met Juan Ramos, and soon afterward began a relationship. But their relationship went beyond romantic love; it became an inseparable professional partnership. When you talk about the work of Antonio Lopez, you're also talking about the work of Juan Ramos. Juan Ramos was the "ideas" man, the art director who brainstormed and conceived the image. Antonio Lopez would draft and then draw the image, with Mr. Ramos occasionally performing the color-work. And then there was the constant stream of people – people he thought looked interesting, people he found on the street (he discovered Grace Jones while she was riding the subway) people who performed and danced in the park – who would pass through the studio doors, influencing and collaborating with Mr. Lopez.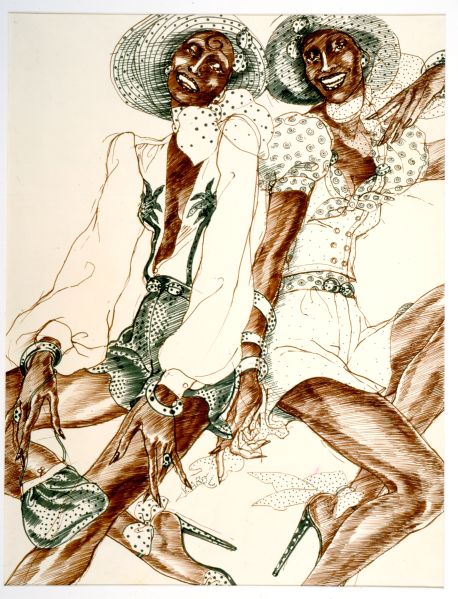 The exhibition is organized thematically into four parts: the body, the street, music, and Afrofuturism. Despite the breadth of works shown, the exhibits do not overwhelm; you are immersed in the world of Antonio Lopez. It is interactive too; there is a room dedicated to multimedia displays, a slide projector flipping through photographs taken by and of Antonio Lopez and Juan Ramos and video screens. But the most intriguing part of the exhibition is the focus on Antonio Lopez's process, giving you a peek into the mind of a creative genius. "We wanted to address the creative process of the artists. There is this evolution of experiences that they brought to the illustration world that were not addressed before," said Ms. Malagamba-Ansótegui.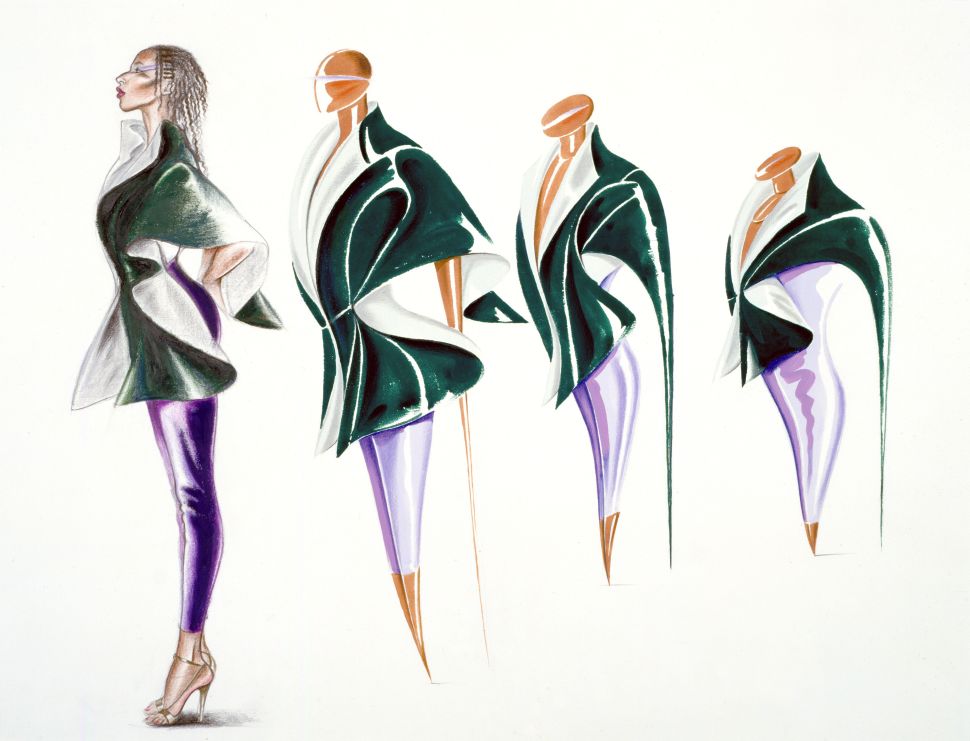 And it's a tactic that works beautifully. An illustration for a Versace campaign featuring a deconstructed and dismembered male figure and a woman dressed in a power suit is surrounded by dozens of drawings, showcasing the many different compositions and ideas for the campaign that Mr. Lopez and Mr. Ramos toyed with. Focusing on the process also brings to light a key part of Antonio Lopez's work: giving proper attribution. From the fashion illustrations superimposed on photos of laborers from the garment district, to the portraits of DJ's and dancers and models that inspired him – Antonio Lopez was shining a light onto the problems with Western cultural appropriation.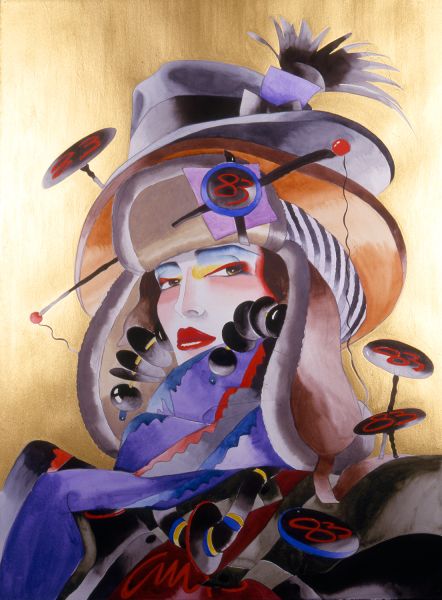 Since the 19th century, art has borrowed liberally from the aesthetic sensibilities of the "other," namely its exoticism. But noticeably absent from fashion illustration during this period were depictions of this "other," these men and women of color, whose curvaceous figures and raw sexuality were too visceral for "polite" Western society. But, in the 70's and 80's, on the heels of the Civil Rights movement of the 60's, Antonio put the "other" front-and-center into his work. Mr. Lopez did not glorify high fashion's rarefied inscrutability, rather he subverted it and made it dynamic and fun; he put unconventional models in unconventional poses. He helped foster a vision of beauty that was more inclusive, more modern. He wasn't just a fashion illustrator, he was a social critic and commentator, using his illustrations to highlight racial inequality, cultural appropriation and sexual identity. He manipulated racial stereotypes and made them his own. And, in doing so, made demeaning depictions of minorities into celebrations of pride.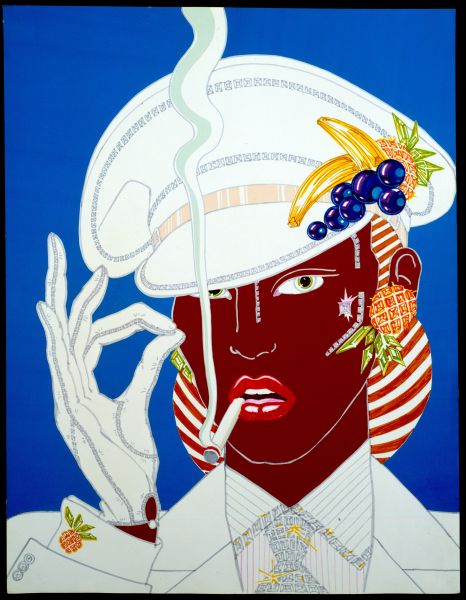 In a time when the fashion industry has been criticized for its lack of diversity, this exhibition is all the more apropos. He died too soon, too young – he was 44. On March 17, 1987, Antonio Lopez succumbed to AIDS – the insidious disease that stole the lives of many of fashion's brightest. But, through his work, Mr. Lopez brought a new, exciting visual lexicon of beauty to the rarefied world of high fashion. And, as the fashion industry has taken steps toward true diversity, it is a visual lexicon that continues to influence and shows no signs of going out of fashion any time soon.   Antonio Lopez: Future Funk Fashion will be on view until November 26 El Museo del Barrio is located on 1230 Fifth Avenue and is open Wednesday – Saturday from 11 a.m. to 6 p.m. and Sunday from 12 p.m. to 5 p.m.