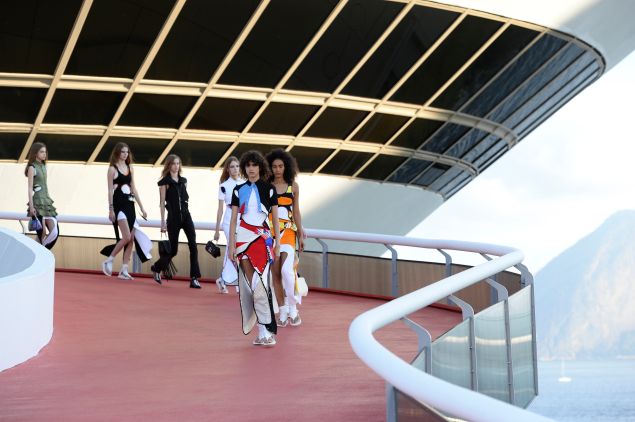 Start your weekend informed with a dispatch on the top fashion news of the moment.

Haute heist: Merely two days after Louis Vuitton unveiled their Resort 2017 collection along the shores of Rio, the brand's store in the same city was the target of a robbery. Nearly $140,000 of goods was taken from the shop at 2 a.m., in what looks to be a strategic job. via The New York Times.
Those new shoes: Adidas has announced that on June 11, a new round of Yeezy Boosts will drop. Prepare your wallets for some Kanye-approved kicks that may or may not be glow in the dark. via Footwear News.

Ad hoc: For their latest campaign, Burberry taps two rather different artistic talents: interior designer/artist Luke Edward Hall and photographer Mario Testino. While the lensman snapped pics of model Edie Campbell in iconic trench coats, the 26-year-old artist offered up some sketched renditions of the brand's signature print. via The Cut.
Shrouded in mystery: The Rodarte label has been an industry darling since its debut in 2005, but it's surprisingly hard to purchase one of their designs. How does the brand afford to stay afloat in such a competitive market? via The Washington Post.
Athleisure, again: Another day, another athleisure line is launching. This time, Under Armor has tapped Tim Coppens to become executive creative director of a new range, called Under Armor Sportswear. Expect some premium, functional gear from this particular line. via Business of Fashion. 
West coast style: Hood By Air is the latest designer to be added to the roster of Made LA's fashion show extravaganza. Customer can pre-order looks from the runway directly following the show, but designer Shayne Oliver would prefer if you didn't refer to this collection as direct-to-consumer. via Vogue.
Better than a goodie bag: At Gucci's resort showing in London this past Thursday, editors and celebs perched on cat embroidered seat cushions which were total Instagram bait. In fact, the stars were so enamored by their seating situation that they took home as many as they could hold, including French Vogue editor Emanuelle Alt. via Page Six.