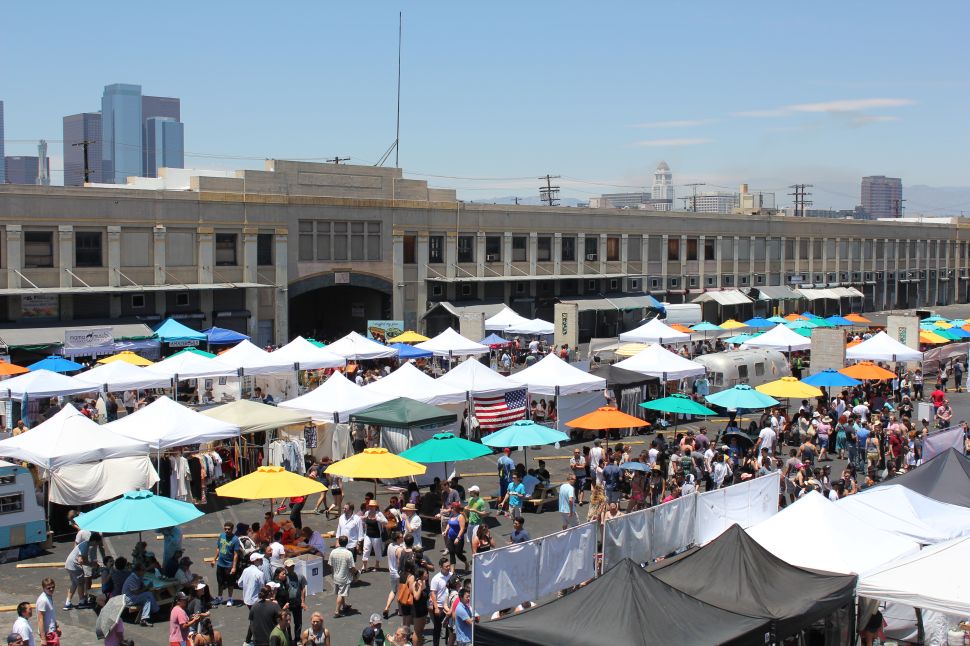 The Los Angeles outpost of outdoor food market Smorgasburg unlocked the gates for its grand opening just a little past 10 a.m. on Sunday. By that time, there were already more than 100 people—Snapchatting millennials and families with strollers and gray-haired, tattooed food scenesters and camera-strap-toting tourists and everyone in between—in an orderly, mostly single-file line.  We were there, too, ready to eat as much as we could before the day's crazy heat wave, which hit 95 degrees by noon and felt even worse on the concrete, melted everyone into a raindrop-cake puddle. (Alternate headline: Smorgasburg Is Scorching!) Despite the ridiculous weather, close to 10,000 visitors came by Sunday's opening. Anyway, here are five, uh, hot takes from Day One of Smorgasburg, which will be open from 10 a.m. to 6 p.m. every Sunday.
1) Smorgasburg in Los Angeles is better than Smorgasburg in New York. That's because the street food and the ethnic cuisine that L.A. does so well far surpasses what's in New York. This isn't even that much of a hot take. New York wins for white tablecloths and tasting menus and wine pairings and silly culinary awards, but Los Angeles has Carnitas El Momo, Burritos La Palma and Guerrilla Tacos, all of which were slinging their spectacular Mexican food at the new Smorgasburg. That means, respectively, tacos resplendent with pork belly and skin; stewed beef inside perfect flour tortillas; and former fine-dining chef Wes Avila's market-driven dishes like beef-and-foie-gras tacos, crab tacos, ahi tuna tostadas and mushroom quesadillas on an always evolving menu.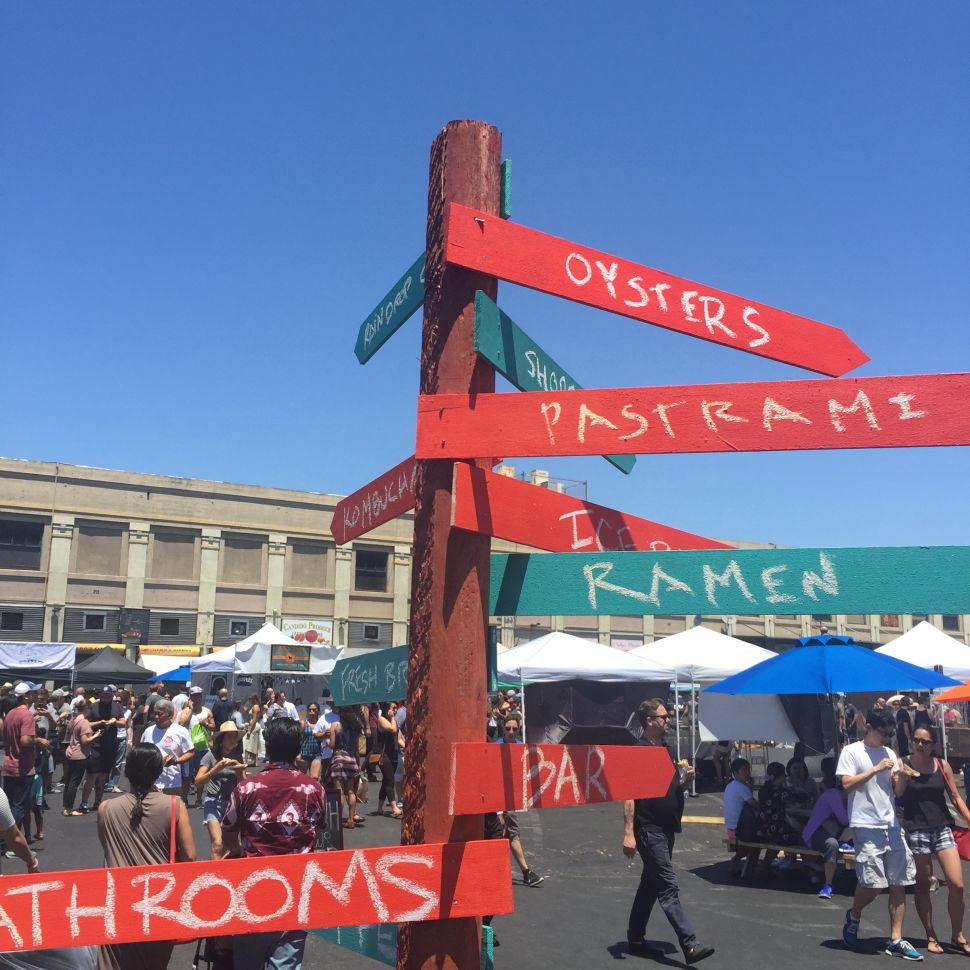 2) The manna for the Instagramming masses is here, too. We're big fans of the Smorgasburg experience in Brooklyn, but beyond being able to eat Dough donuts and Solber pupusas on the water, what we remember about many visits to those markets is the long lines for gimmicky bullshit. Good news for L.A. people in search of social-media engagement: That kind of nonsense is at this new Smorgasburg, too, in the form of Ramen Burger and Raindrop Cake, the latter of which will no doubt scan in L.A. more as something that looks like a breast implant than something that resembles cake. Neither Ramen Burger nor Raindrop Cake is actually terrible, but their appeal is much less about food and more about the hipster horde mentality. Which is fine. When the gates opened at Smorgasburg, dozens of people ran straight to Raindrop Cake, which meant there was nobody in line ahead of us for former Gjusta and current CoFax pastry chef Nicole Rucker's new Rucker's Pie. So if you feel like paying $8 for a blob of sugar water instead of $6 for a fantastic slice of chocolate chess pie or $7 for strawberry or apricot hand pies that gloriously celebrate the best of local produce, we won't stop you.
3) More Asian food, please. Given that the Mexican food is on lock here, it would be nice to see some vendors that represent the diversity of L.A.'s Asian food in the San Gabriel Valley, Koreatown or even Sawtelle Japantown. We have a feeling that some of this might be coming soon, given that market manager Zach Brooks (the blogger/podcaster behind Midtown Lunch and Food Is the New Rock) frequently Instagrams from those kinds of places. In fact, Brooks tells me that he is actively working to bring in SGV vendors. He also stresses that anyone is welcome to apply. "Eventually, this market will be the perfect slice of L.A.," Brooks says. For now, there's mango sticky rice from Grand Central Market's Sticky Rice; We Have Noodle's riffs on Vietnamese/Korean/Thai/Japanese dishes (the pho mazemen with beef tendon chicharrones we tried was a genius idea but could have benefited from fattier meat and heat from jalapenos or Sriracha); the resurrection of Porridges and Puffs; and the Filipino rice bowls at Kalan among the Asian flavors at Smorgasburg. But we'd love to see something from a Monterey Park or Western Avenue strip mall too.
4) The best ideas are often the simplest ideas. Prediction: The fresh mozzarella sticks at Big Mozz are going to be a big hit. This is small-batch, hand-stretched mozzarella for the food-trend-chasers, but it's also mozzarella sticks with red sauce for everybody else who probably didn't even realize they wanted a better version of this childhood snack/drunk food. Also, Big Mozz was born at Smorgasburg in Brooklyn, so we guess this qualifies as New York red sauce coming to L.A., which is something to cheer. Other things we expect to eat again and again at Smorgasburg include the lobster rolls from Brooklyn's Red Hook Lobster Pound and the raw oysters from The Jolly Oyster.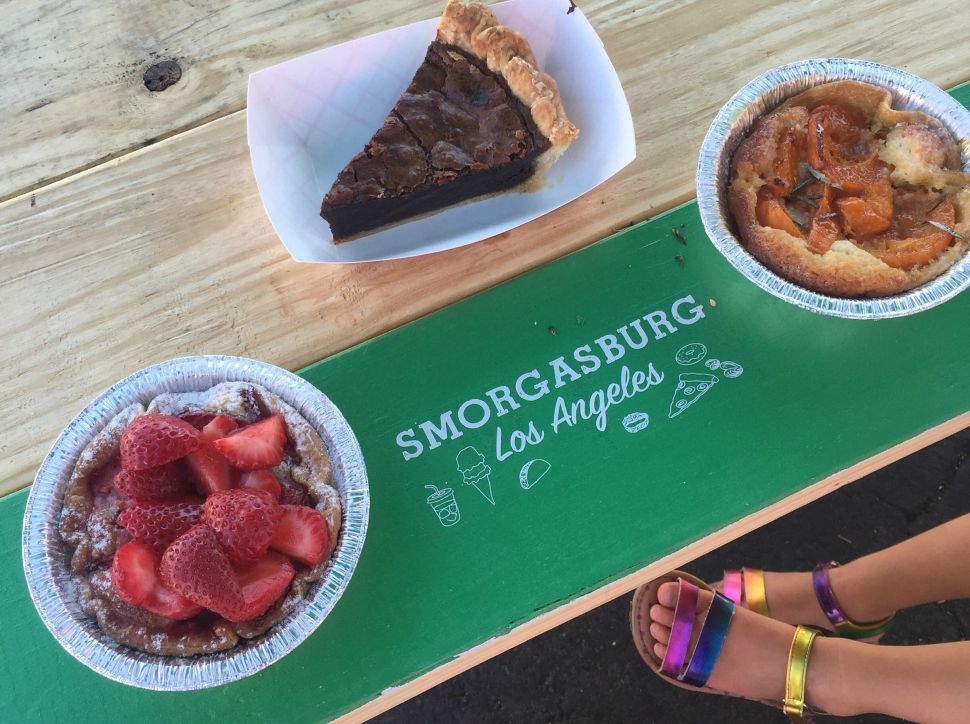 5) This isn't part of a real neighborhood yet. Like it's done in New York, Smorgasburg has partnered with a real estate development (in this case, Row DTLA) who hopes the food market can help turn an emerging area into a destination. But unlike Williamsburg, there's probably not going to be much foot traffic for the L.A. Smorgasburg—and not just because almost nobody walks in Los Angeles. There is, however, a two-hours-free parking garage with room for more than 5,000 cars. (Bikes and dogs, meanwhile, are not allowed in the market.) Also unlike Williamsburg, there's no waterfront, no nearby music venues, no overpriced thrift stores, no gentrifying bodegas, no indie-rock-T-shirt-wearing trust-fund-kids living in luxury rentals or new-construction condos who can quickly stroll over for an iced coffee. What there is here is the promise of a shopping/dining/office district for creative professionals. But for now, this isn't industrial chic as much as it's just industrial. (Actually, that part isn't so different from what DUMBO used to be, so there's no doubt potential here.) Of course, this is now industrial with game-changing tacos and $6 slices of pie. "We're building a destination for all of L.A.," says Brooks, who's proud that this Smorgasburg isn't a rehash of what's in New York, that this new market is a place you have to make an effort to visit. "We want people to get in their cars and come here for Smorgasburg." So crank up the AC, show up hungry and curious, and know that, unlike so many of L.A.'s hot spots, parking won't be a problem. Even when nearly 10,000 people show up on a single day.