This story was reported by the American Media Institute.
Sen. Charles Schumer spent $292,000 in public money flying private airplanes last year. His protégé Sen. Kristen Gillibrand spent more than $150,000 on charter travel.
The two New York Democrats were the top spenders on private air travel between October 2014 and September 2015, an analysis of Senate office-account records shows.
Third place is held by a lawmaker from the other side of the political aisle and the other side of the country: Republican Sen. John Barrasso of Wyoming spent more than $75,000 in the last fiscal year flying charters.
Frequent charter flyers are the exceptions in the current Senate. Few senators regularly sprung for luxury corporate travel in the 2014-2015 period. Schumer and Gillibrand stood out from their colleagues in another way: by racking up the largest credit card late fees in the world's greatest deliberative body.
Neither Schumer nor Gillibrand responded to calls and emails seeking comment on the spending from their Senate office accounts. Barrasso's staff emailed to say the intrastate travel was justified in his sparsely populated district.
A review of flight information suggested the lawmakers in many cases could have flown commercial–even at the last minute–for a tenth of the cost of the private jets. But lawmakers face few restrictions on how they spend their multimillion-dollar budgets.
Each U.S. senator receives an annual appropriation for expenses of the office, ranging this year from $3,008,288 to $4,760,211, based on a formula that considers the state's population and distance from Washington, D.C., according to a Congressional Research Service study of office accounts released in February.
A review of flight information suggested the lawmakers in many cases could have flown commercial–even at the last minute–for a tenth of the cost of the private jets.
Much of the roughly $390 million total appropriated annually for the 100 senators, committees and other purposes is used to pay staff, maintain offices in D.C. and lawmakers' home states, and travel to see constituents.
Senators have fairly wide latitude on how to spend the money – as long as it's not used for campaign or personal expenses. The most frugal senator was Alabama Republican Richard Shelby, who regularly sends an unspent portion of his annual appropriation back to the U.S. Treasury, keeping his staff small and his travel to a minimum. The taxpayers' total cost for Shelby's upkeep in 2015 came to about $1.7 million, records show.
"Senator Shelby has always made it a priority to spend only what is absolutely necessary to effectively serve his constituents," wrote Shelby communications director Torrie Miller Matous in an email. "The result is a lean and efficient office with a robust constituent services operation that has been able to return more than a million dollars to taxpayers every year."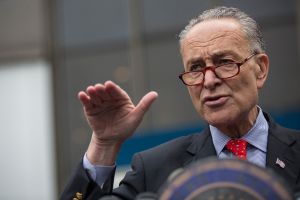 The Congressional Research Service study showed that in 2012, the last year studied, 16 percent of lawmakers also didn't spend 15 percent or more of their allocation.
The top overall office-account spenders in the Senate are from large states. California Democratic Sens. Barbara Boxer and Dianne Feinstein; Texas Republican Sens. Ted Cruz and John Cornyn; Schumer, and Sen Bill Nelson, a Florida Democrat, all exceeded $4 million in office-account spending last year.
Cruz's high rate of spending is necessary to make sure Texans receive needed services, according to a spokesman.
"Sen. Cruz is committed to serving the needs of 27 million Texans with everything from IRS and passport issues to Veterans Affairs and the EPA in a fiscally responsible manner that reflects careful stewardship of taxpayer resources," wrote press secretary Phil Novack.
The private flights stand out in senators' office accounts because the travel is so much more expensive than commercial flights used by the majority of lawmakers. Schumer spent $4,707 in taxpayer funds to fly round-trip from New York to Albany in March of 2015, but United Airlines regularly makes that flight for less than $600 even if the ticket is purchased a few days before the trip.
Even more complicated flights – such as New York to Syracuse, Albany, Rochester and returning to New York in one day – cost $1,000 to $1,500, but Schumer regularly spent between $5,000 and $6,000 on such trips, records show.
Schumer is widely expected to win a fourth term in November and become Senate Democratic leader with the retirement of Harry Reid. In campaigning, he seems to be a more responsible steward of his donors' money than of tax dollars.
New York's senior Senator uses a small charter company, Air Charter Express, LLC, out of Rome, N.Y., for both his taxpayer-funded Senate travel and his donor-funded campaign travel. The company appears to have one airplane: a six-seat Piper Navajo Chieftain.
But a review of flight costs between the campaign and office accounts shows the flights billed to Schumer's campaign, on average, cost about half of the ones billed to taxpayers. The 37 flights listed on his campaign documents dating back to 2009 averaged $2,531, while the flights picked up by taxpayers from his Senate account last year averaged $5,524. The records do not list locations of travel, so a direct comparison is not possible.
Schumer's campaign only paid for nine flights that cost more than $3,000 while the office account shows all the flights cost more than $3,000.
Air Charter Express owner and pilot Michael Ezzo did not return a call left at his business to explain the cost differences.
Taxpayers also paid big money for Schumer's travel when he didn't even fly. His Senate expense documents list a $3,269.50 flight in May 2015 with the notation that the flight was cancelled due to "scheduling conflicts."
Gillibrand flies Zen Air, which bills itself as the "Ultimate in Executive Travel" and has everything from Cessna turbo props to Gulfstreams and Boeing 737s. The disclosures do not list the type or types of airplane she flew in.
New York's junior senator regularly charged taxpayers more than $10,000 a trip, although the disclosure documents show the cost included flying staff members with her.
A trip in April 2015 for Gillibrand and two staffers from Washington, D.C. to Plattsburg, Rochester, Buffalo and back to D.C. cost taxpayers more than $15,000 – about $5,000 for her travel and $10,000 for staff. A similar itinerary on a travel website shows an economy fair of about $1,600 per person, a total of $4,800 with just a two-day advanced purchase.
Schumer disclosed $2,600 and Gillibrand $3,474 in fees and charges to JP Morgan over the past fiscal year – usually a sign that the offices were late paying their credit card bills.
Barrasso also took private flights when commercial airlines would have saved taxpayers money.
In the year ending last September, Barrasso charged taxpayers for $75,411 in charter flights. The charges included a $10,760.75 bill for a March 2015 flight around a half-dozen small cities in Wyoming and a $5,219.13 flight from Cody to Casper and back in September.
While the flights to towns like Sheridan, Gillette, Riverton and Rock Springs might have been challenging to accomplish in two days without a private plane, travel websites show regular flights between Cody and Casper for less than $800 last-minute and even a direct flight by Linear Air Taxi for less than $2,000.
Barrasso press secretary Laura Mengelkamp said the charter travel was necessary in the vast state.
"In Wyoming, our wide-open spaces and long distances sometime require using in-state air service to attend multiple events or meetings," she wrote in an email exchange. "Senator Barrasso is one of the most conservative members of the U.S. Senate with his office budget, and returns nearly $400,000 back to the U.S. Treasury each year."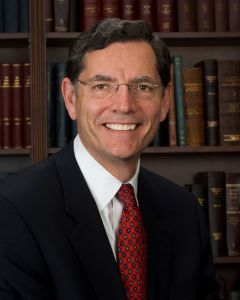 But the Equality State's other senator, Republican Mike Enzi, flew private planes only a few times, for a total cost of about $10,000, the records show.
The spending by Schumer, Gillibrand and Barrasso is "huge," said Pete Sepp, president of the National Taxpayers Union.
"That's a fair amount of money to spend on travel," Sepp told American Media Institute, "especially in New York, which is not an underserved state."
Sepp also took exception to Schumer and Gillibrand's expenditures on credit card penalties, which were not regularly listed in any other lawmaker's account.
Schumer disclosed $2,600 and Gillibrand $3,474 in fees and charges to JP Morgan over the past fiscal year – usually a sign that the offices were late paying their credit card bills.
The Empire State senator's offices did not respond to an inquiry about those charges. But Sepp said extensive and regular penalties suggest poor management.
"If this is a habit that seems relatively confined to the New York delegation, taxpayers have every right to know what's going on here," he said.