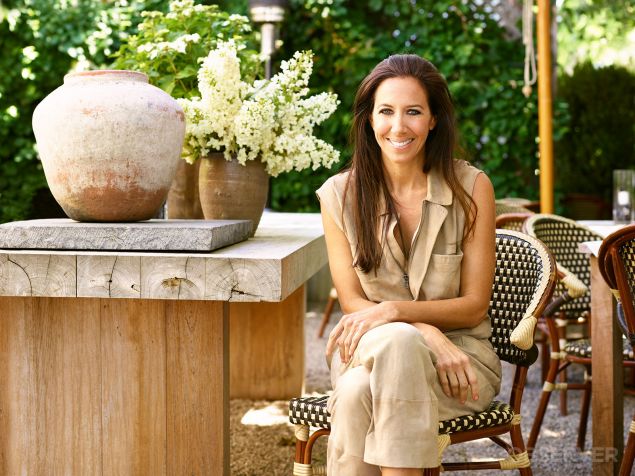 "Should we have a glass of rosé?" Gabby Karan de Felice asked. It was well past noon on a Friday and we were seated in the backyard garden of her Southampton restaurant, Tutto il Giorno. Guarded from the public by a wall of fastidiously pruned hedges, we were in the proper setting to indulge in some day drinking; which is, after all, the most Hamptons-like activity imaginable.
For Karan de Felice, being on the East End isn't  about flashy indulgences of the $100 lobster salad variety or flaunting big-ticket purchases on Instagram, #Hamptonslife. Instead, the doyenne is busy running her various businesses, hosting hordes of guests and finding time to squeeze in the odd Aperol spritz. On an early Friday afternoon in June, she was plotting for the evening  ahead, anticipating the needs of the 300 diners her restaurant expected to serve. All while sipping on the aforementioned glass of rosé, dressed in a printed jersey dress designed by her mother, with a pair of simple white sneakers and not a single speck of makeup.
Her mother, by the way, is of course the iconic fashion designer Donna Karan. In fact, Karan de Felice was the reason why DKNY was founded in 1989; it was a range that was casual, cool and age appropriate for Karan's 15-year-old daughter. Also, the designer hoped it would prevent her daughter from raiding her personal closet of fine cashmere and couture. But fashion was never in the cards for Karan de Felice, who studied at NYU's Gallatin and used her Soho loft after college as a hospitality experiment of sorts. Back then she was writing and styling shoots for The New York Times' Style Section, under the late editor Amy Spindler, and she had a prop styling gig for Red magazine. "All my friends would come over and I would have another friend who was a nutritionist cook a lunch and we would shoot it. Or we would do a yoga thing, with juices after, and we would shoot it all."

"My husband was dragging me to Italy every summer. I asked him if we could just bring Italy to the Hamptons, so we did."

It was actually through her media career that Karan de Felice met her husband, Gianpaolo de Felice, in 2000. She was styling a story for The New York Times about the home of Andrea Pfister and Jean-Pierre Dupre on the Amalfi Coast. She happened to stop by a seaside restaurant, where she met de Felice. The couple's love story began then and there.
And it continues to this day. This summer marks the fifth anniversary of the Southampton outpost of Tutto il Giorno, the Italian eatery Karan de Felice started with her husband. The duo opened their first Tutto location in Sag Harbor in 2009 as a simple, authentic ode to Italian cuisine. "My husband was dragging me to Italy every summer. I asked him if we could just bring Italy to the Hamptons, so we did." They also flew his mother over from Napoli. Nona Caralina, as she is known, spent the entire first season in the kitchen, perfecting recipes and crafting a tangible Italian identity for the sequence of eateries to come.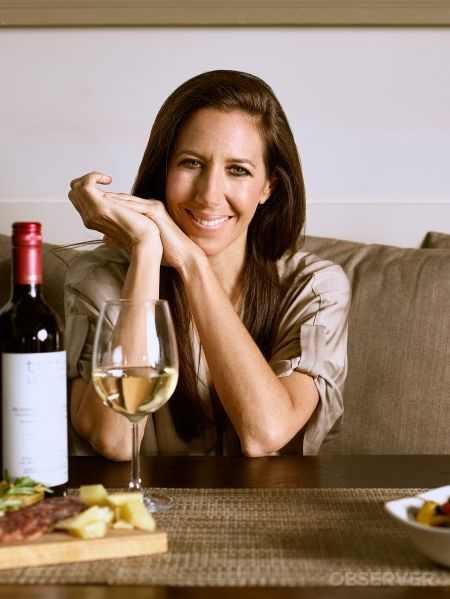 "My husband's in aviation," Karan de Felice explained, pointing out that he does not technically work at the restaurants. Regarding his absence from our wine-fueled chat, she noted: "He has a little plane and he just had it chartered to Russia." As one of Alitalia's youngest pilots, de Felice catapulted his aviation career into a business in 2009 when he bought Zen Air, a private jet firm. In November 2015, the company hit some turbulence, when The New York Post announced that de Felice's business partner, David Zara, was suing him for withholding profits and using company money to buy a pricey sports car. Karan de Felice seemed unfazed by these stories and steered smoothly around the subject of her husband. She has a relaxed air that matches her easy almost-perfect glamour; it's hard to imagine her getting ruffled about much.
Back when the couple's first Sag Harbor restaurant opened, the summer crowds were smitten with its European approach, which paired well with Karan de Felice's knack for rustic interior design. It helped that the eatery was located next door to Urban Zen, the feel-good luxury boutique created by her mother. In no time, a Friday reservation at Tutto became more covetable than a non-resident parking permit for East Hampton beach. This, Karan de Felice pointed out, was due entirely to word of mouth; she didn't hire a publicist or create a slew of dedicated social media handles.
In 2014, the Tutto family grew to include a Tribeca outpost, which she described as the "urban" one of the bunch. "Tribeca is industrial, it's darker and there's no garden," she explained, but maintained that this location still has charm. As proof, Trudie Styler chose the space to throw a party in early June of this year. Sting put on an impromptu private performance that Karan de Felice reminisced on, beaming while noting it as a major highlight of her already-celebrity-packed life.
***


Despite the many reasons to celebrate, there's one thing missing from the original Tutto il Giorno recipe: the Sag Harbor Tutto location is no longer. Yes, there's still an Italian restaurant at 6 Bay Street, but it's been renamed Dopo La Spiaggia. Chef Maurizio Marfoglia, who Karan de Felice quietly parted ways with earlier this year, is running this new eatery.
"I think they'll do something different," Karan de Felice said diplomatically, when pressed for further details about the split. "It was time [for Tutto] to move to another location and that's why we have to open up more restaurants."
Up next, the Tutto brand will be heading further east, to Montauk. At press time, Karan de Felice was still negotiating a lease for the cozy seaside shack that once housed Dave's Grill on West Lake Drive. Should the deal go through as planned, her restaurant there will open in summer 2017. But there's more to come.
"People have tried to get us to open in Aspen, people have tried to get us to Miami," she said. "L.A. I would love to do, but I like being able to visit our spaces. They become more than a restaurant; they become a place to do charity events, private events and a fashion show here or there. I feel like they've become more than just dining experiences; they've become something special, something close to people's hearts."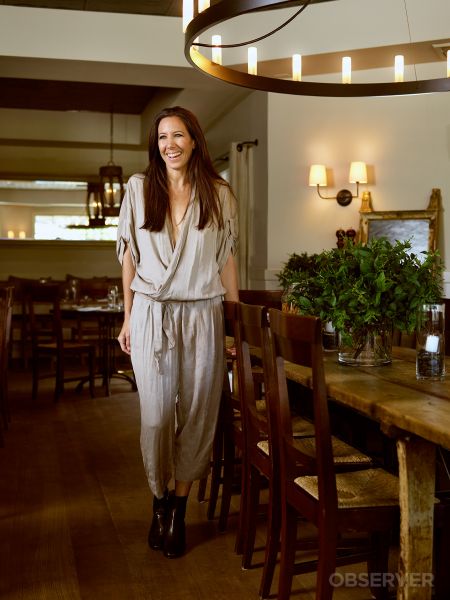 Part of that has to do with Karan de Felice's aptitude for designing homey dining spaces with an underlying elegance, pieced together from flea market finds and antiques from Europe. While mom Donna has the whole classic American fashion scene covered, the younger Karan knows her way around a vintage marble-topped console from Belgium or a teak table made in Haiti. "Growing up in it, fashion doesn't interest me. I'm all about mirrors and lifestyle pieces," she admitted. Each of her Tutto locations has a similar aesthetic, with dark Italian Fontana Arte light fixtures contrasting nicely against faded wooden tables and neutral upholstery. The ambience has an organic and healthy feel, exactly like the local menus that Tutto boasts.
Her restaurant empire aside, Karan de Felice is also working on an unnamed hotel project in Bridgehampton. Back in 2013, it was reported that she and her mother bought a dingy property, otherwise known as the Enclave Inn. The duo spoke to several local magazines, discussing plans for a luxury spa retreat, but that dramatic revamp has yet to materialize. While the property still remains without a name, the entrepreneur maintained that they are "working again on the design process," and says a reveal is "on the horizon," possibly this fall. If all goes well, she alludes, it will join the Tutto brand. With her trained eye, it's believable that the shabby tourist trap could be transformed into the rustic Hamptons version of the Ace Hotel.
But her work doesn't stop there. Where Karan de Felice really shines is as one of the low-key, pivotal key-holders of the Hamptons social calendar, with plans to take part in the chintzy polo match at the Piaget Hamptons Cup and play host at a luncheon with Cristina Cuomo to benefit the Voss Foundation. This summer, Karan de Felice has also signed on as a co-host of Super Saturday, a shopping event her mother began, to support the Ovarian Cancer Research Fund. First started in 1998, it was a simple backyard sale at the Harper's Bazaar editor Liz Tilberis' Hamptons house, who succumbed to ovarian cancer a year later. For that first fundraiser, designers such as Ralph Lauren, Betsey Johnson, Diane von Furstenberg and Carolina Herrera personally donated gowns and cardigans for the cause. Over the past dozen or so years the event has ballooned in size, but lost its exclusive luster. So the mother-daughter duo has decided to get reacquainted with the cause, as Super Saturday approaches its 19th year. For 2016, they will have over a dozen new designers involved, including the new DKNY label, which is now designed by Dao-Yi Chow and Maxwell Osborne of Public School. Of course, Tutto will have a presence, serving up sangria and rosé, which will surely keep husbands entertained as their wives spend an entire day swiping credit cards.

***

It's clear to see that Karan de Felice's entertaining sense trickles down into every facet of her life. She lives with her husband and their two children, Stefania and Sebastian, right off of East Hampton's Gardiners Bay. Her mother's abode is two lots down and the family also owns the property that sits between their respective abodes. Naturally, there is a steady stream of visitors from June until the end of August.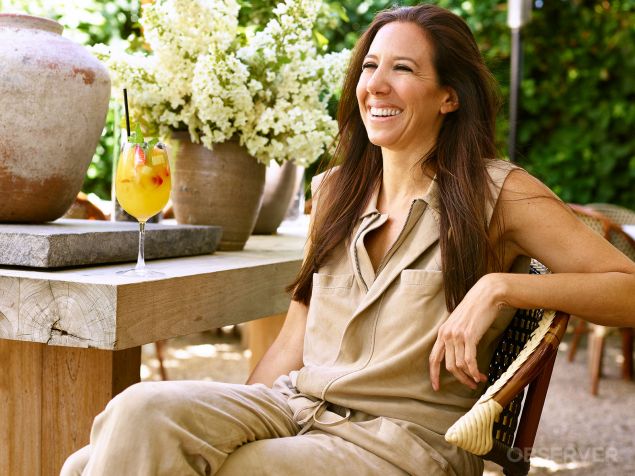 "We basically run a hotel. If I'm not entertaining at my restaurant, everyone's at our houses," Karan de Felice said.
Even when relishing the arrival of boating season, one of her favorite activities of the summer, Karan de Felice has her hospitality charm turned on. "My husband has a wooden boat that he brought in from Italy and the start of summer, we take it out to Shelter Island." They often meet up with other boating friends, tying up 12 vessels to make a little floating island, replete with all the amenities of being on shore. "We have rosé and we make pasta. We even have a miniature barbecue where we do mini-hamburgers."
There are times over the summer months when the natural hostess isn't catering to others: she takes yoga classes with her mom at Yoga Shanti, goes for bike rides in Northwest Woods and sometimes just hangs out by the beach outside her home. The all-rounder also shepherds her daughter Stefania to the stables, where her jumping horse Sugar is boarded. The whole family does manage to get out of town though, dragging Karan de Felice away from her work: "I really try to take the kids to Europe for a month each summer. I've been taking my son to Spain for soccer camp; it's our third year doing that. This year we're also doing Sardinia."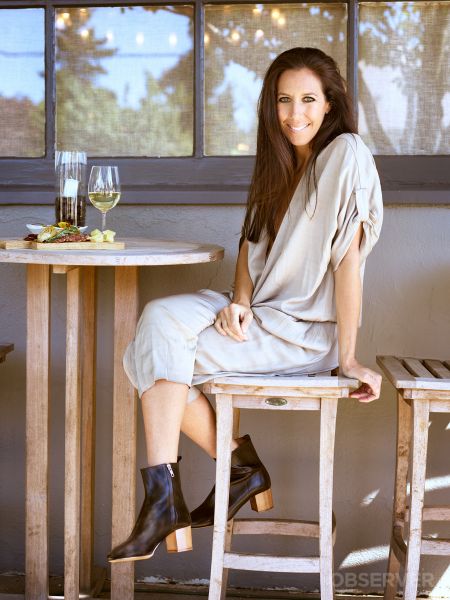 But then again, her life seamlessly circles back to her work. "My husband always comes into the restaurant with friends and my mom is probably our best face here; she and her friends always fill it up. I really feel like that I found my passion. Even the other night, to have Sting play the back of your restaurant that you designed, I was like, 'Wow, this is as good as it gets.' It's not just about a restaurant; it's about creating a place where people are  happy."
When asked for her go-to tips for Hamptons entertaining, Karan de Felice suggested all the usual suspects: great florists, good food, plenty of candles, specialty cocktails and easy company. But then she paused and came up with an even better idea.
"You know what?" she said. "Just have your party at Tutto."