While many chewed over plot nuances or cringed in horror, others applauded the styling on the penultimate episode and season finale of GOT.
Best dressed by far was Cersei Lannister. Her black, fitted gown with silver shoulder epaulettes and high-backed collar was reminiscent of outfits worn in period portraits of Mary, Queen of Scots. So far though, she seems to be having better luck than the murdered, innocent Mary but let's not go into that now.  The 'Widows of Culloden' collection by Alexander McQueen may have inspired costume designer Michelle Clapton in this series, let's hope for more in the next. McQueen's 'Highland Rape' collection has definitely emerged in darker moments, costume-wise throughout the whole series. The shoulder epaulettes on Cersei's dress for the none-trial scene and the decorative detail on the form-fitting fabric compensated for this season's hairstyle, which despite the obvious passing of time elsewhere in the Seven Kingdoms, does not seem to have grown in tandem. It must be assumed that there was some kind of upstairs decision made by the producers not to help her out, head-wise, though it seems unfair.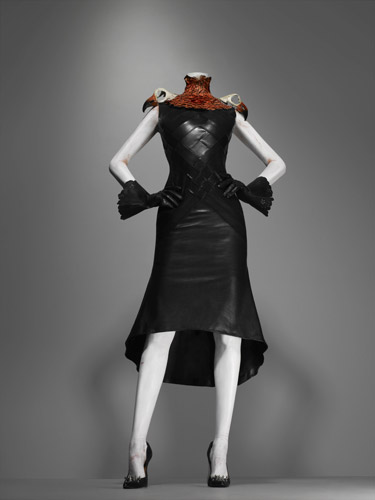 The Avenger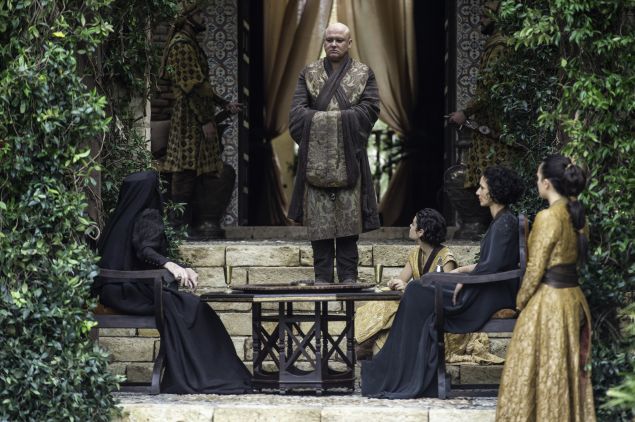 Diana Rigg as Granny Olenna Tyrell  nailed it with her all-black mourning weeds. There was more than a touch of Alexander McQueen circa the mid-90s, here. The wimple, veil and matching bodice showed off Olenna's still-slender frame and amazing bone structure to perfection. This is the sort of headgear modern royals could embrace, far more dignified than the fascinator.
Punk Black Tie Princesses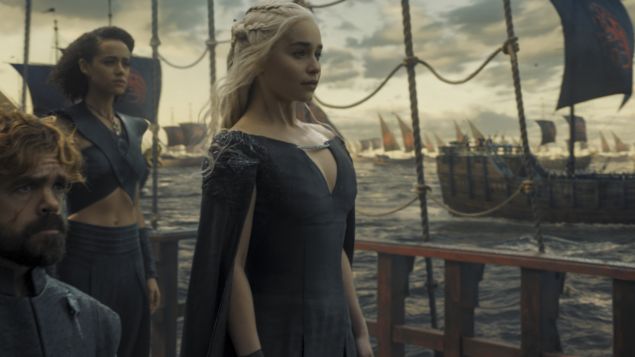 Daneayrs got a couple of new dresses for the finale, praise be. Her recent, second capture by the Dothraki  saw off the blue dress she wore practically all the way through last season, leaving her fashion future wide open. Last night's black, Grecian number worn over some kind of clumpy high-ish heels for her chat with Tyrion was the perfect black tie outfit for a punkish princess. Even better and more on-season for Spring Summer was the cape-backed gown she wore to lead her ships to Westeros. Chief serving maid Missandei rocked definite overtones of McQueen with added punked up accessories in the form of hard girl leather wrist cuffs and cut-away leather straps.
Speaking of leather, fur and bone, gothic princess Sansa Stark is heading for fashion icon status. Her fur collars, deep black hues with the odd stud here and there, are more than elegant enough for a future Queen of the North. Oops! Excuse the spoiler…