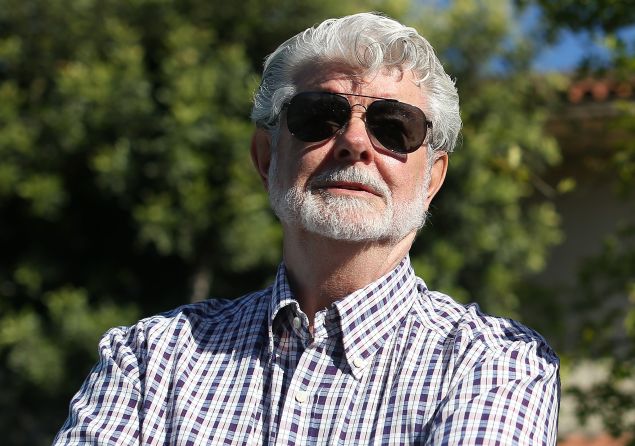 George Lucas withdraws plans for Chicago Museum. On Friday, the director announced he would no longer be pushing forward with his ambitious designs for a museum on Chicago's lakefront. The Chicago Tribune blames Lucas' "arrogance" for the project's failure. "George Lucas didn't court Chicagoans," wrote Blair Kamin. "He never made the equivalent of a visit to the front parlor to ask if he might build his narrative arts museum (whatever that was) in the city's front yard. He seemed to consider city approval a matter of entitlement."
Italian group to file complaint against Christo's Floating Piers project for wasting public funds. The local environmental group Codacons says it will file a complaint with the Lombardy region concerning spending for Christo's massive public art project on Lake Iseo, which features an installation of several miles of temporary floating orange piers that allow visitors to walk from the shore to a remote island. "We want to know how much taxpayers' money has been spent on a project which, until now, seems to have generated enormous publicity for the artist without bringing direct benefits to local entities and citizens," said Codacons in a statement.
Sculptor Tony Feher dead at 60. The artist was best known for his subtle and minimal sculptures featuring found everyday objects such as bottles, metal hangers, string and blue painter's tape. He died of complications from cancer.
An immersive light installation by James Turrell will be the talk of this year's Frieze London. Organizers of London's premier contemporary art fair, Frieze London, have announced this year's show in October will feature a large-scale work by light artist James Turrell and a new sculpture by Philippe Parreno done in conjunction with his upcoming Tate Turbine Hall commission.
Museums turn to focus groups to learn about their audiences. The Minneapolis Institute of Art recently used a focus group to see how visitors of different religious backgrounds engaged with their recent exhibition "Martin Luther: Art and the Reformation." What did they learn? On average, non-Lutherans have little knowledge of the Reformation and Lutherans remain unfamiliar with the Protestant leader's anti-Semitism.