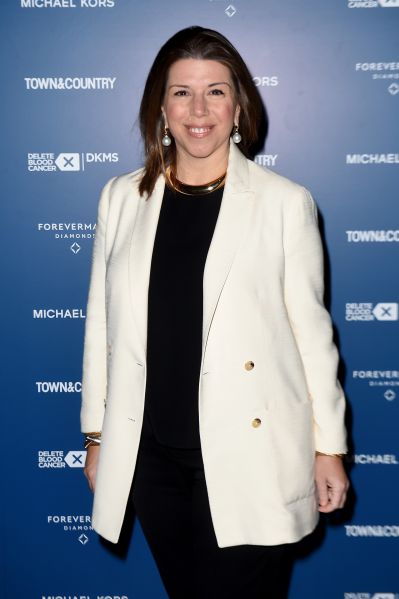 Observer chatted with Ms. Volandes in her new office, recently redecorated by the magazine's senior market editor, Will Kahn. The space is a study in all things Town & Country—there's a pair of black bamboo arm chairs, a garden of orchids in ceramic chinoiserie vases, clusters of vintage costume jewelry, and a stack Slim Aarons photos, yet to be hung.
Tell me about your New York roots—you were born and raised here.
I always like to say I grew up in the old Brooklyn in Bay Ridge. I went to high school at Poly Prep and I even stayed in New York for college and went to Vassar, and came down to the city often. Then I went to Columbia for grad school. There are definitely places that I feel like are my second homes, LA is one of them and I go to Greece every summer, but I am 100 percent a New Yorker.
You're also a social fixture—what are some of your favorite New York haunts?
I live on the Upper East Side, so I have a few neighborhood canteens. I would say it's a good chance that if you went to Sant Ambroeus on Madison for breakfast or dinner you might see me there. I do also say that if I stayed at Sant Ambroeus from morning until night I would have T&C stories for a year. I also love Amaranth, where I've known the manager Alberto there for many years, so it feels like home, and of course drinks at The Carlyle, where you feel like nothing is really wrong with the world. I'm out almost every night, and out all over the city, so I love these classic pairings. When I'm going to The Public Theater, it's sort of not complete unless I go to Indochine for dinner. Nora Ephron once said dinner at Orso and the theater is the perfect New York night, and I agree. I like creating these package evenings for myself and my friends in New York. My new favorite is the Park Avenue Armory, their cultural program has become so impressive, paired with the lounge at Daniel, which is a great secret, and a great New York bargain. It's a way to go to Daniel without investing a huge amount of time, and a huge amount of money—four courses, four figures. I also think that Shakespeare In The Park should be something required of everyone, no matter what's on.
Does that mean we'll be seeing more theater figures in the magazine's content based on your love of theater?
Arts & Culture has always been so important to Town & Country, we have a whole section in the front-of-book, Out & About, dedicated to it. That will definitely continue. I think theater right now, in New York and across the world, has so much energy and amazing talent. Really across all media you're beginning to see those faces and names, even producers and playwrights are getting the attention I think they deserve.
How do you feel about the celebrity cover, and how is that molded to the Town & Country reader base?
The thing with Town & Country covers it that we cover a whole world, and the representatives of all of those worlds we cover end up on the cover. You will see that continue. Our philanthropy cover is Matt Damon. Yes, he's buzzy and an actor, but he's also a true blue philanthropist in the truest sense.
What has this transition from style director to editor-in-chief of Town & Country entailed for you? Was it a big jump?
Well I'm still in transition I think! A lot of it feels like second nature though, because I love the magazine so much and know it so well that some of it feels second nature. I travel a lot for the magazine and represent the magazine at trunk shows with readers or to clients, and you feel a sense of responsibility because you realize how much this magazine means to people. It's been apart of their lives, and they feel like it belongs to them. They feel very protective of it, and close to it, so I take that responsibility seriously. I remember seeing this hotel in Santorini, The Perivolas, so I ripped it out the page, and it's become the hotel I go to Santorini. I had dinner with Nina Griscom not too long ago, and she had, on her iPhone, a folder of all of her T&C covers, and an amazing photo of her and her mom that Slim Aarons took. Some people have this history of T&C because they've been in it at some stage in their lives, and for some people it's just been a constant presence in their lives. So I feel a great responsibility to protect that legacy, and to keep it evolving as we have over the last five years.
What other concepts do you have in mind? Any big new ideas you want to introduce to the magazine?
For me, the key to this success of T&C over the last five years is that it's been very clear about who it is, and what it represents. A lot of what it represents has never been more important, because they are things that people fear are vanishing from the landscape—things like good values, philanthropy, good taste, the rules of civility. I think we stand for those things, and will continue to always to stand for those things. What has been so successful over the last five years is that in keeping that tradition we have kept evolving. We react to what we hear over dinner at Sant Ambroeus. We react to where Aerin Lauder went on vacation over spring break. So we keep tradition, and keep things moving and changing at the same time.
Who do you think gave you the tools for this new job? Aside from your predecessor, who were your guiding mentors?
I think for this particular job, the person who prepared me most for it was Jay [Fielden]. Working so closely with him over five years was a wonderful education, and you know, as far as being prepared for this particular job, no one prepared me better. I was lucky enough to have another great mentor in my other longtime boss, Richard David Story at Departures. Working so closely with him at Vogue, and as an editor at Departures really introduced me to this whole world if not just magazines, but what we call the luxury world and understanding how to really look and define what that word means. So, career-wise, Jay and Richard are the two most important men in my career. As far as the way I approach any story, I had two teachers that taught me how to create a story and how to connect stories, and that was my history teacher at Poly Prep in Brooklyn named Susan Beiles and an English teacher as Vassar, Patricia Wallace. They really taught me how to string ideas together, and make connections. I think when I write, whether it's about a piece of jewelry or a piece of real estate, I try to make it just not about that thing, but to think about how it connects to the world at large.
What about the state of print? How does that dictate the content of the magazine?
Again, I think being specific and having a really clear point of view is the key to success in any medium. I think that's where Town & Country, especially in print, has a great opportunity. I am someone who devours magazines. There's a magazine store on 71st & Lex, and I am greeted with open arms. People love reading magazines. It's an experience. You sit down, you open the book, and you feel the pages.
Do you worry about a backlash against the 1 percent—arguably Town and Country readers—given the wave of populism in the country?
Town & Country is growing, so I think that answers the question in one way, but I think why its growing is that we cover the world that we cover in a way that is discerning and intelligent. The idea of the 1 percent is one that we cover with a sort of anthropological eye. We cover they feats and also their follies. When we cover the trappings of the 1 percent, I think we do it with an intelligence and an appreciation of what their cultural value is, whether it be jewelry or cars or real estate or fashion. The word luxury is probably the most used term in our industry over the last five to 10 years. I think that what is happening right now is that people are really, really thinking about what that word means.
When you aren't editing the magazine, how will you be spending your summer?
I go out to the North Fork on the weekends. I've been going out there my whole life, so a party out at my parents house on the North Fork with friends from the city and from outside the city. All of us there with home cooked food and great wine is a pretty perfect summer party for me.
When you were taking the job, what sort of advice came your way from these friends and family
Someone told me that people will laugh at my jokes more loudly now, and to remember that I'm really not that funny. I can't tell you who said that, but it's great advice.