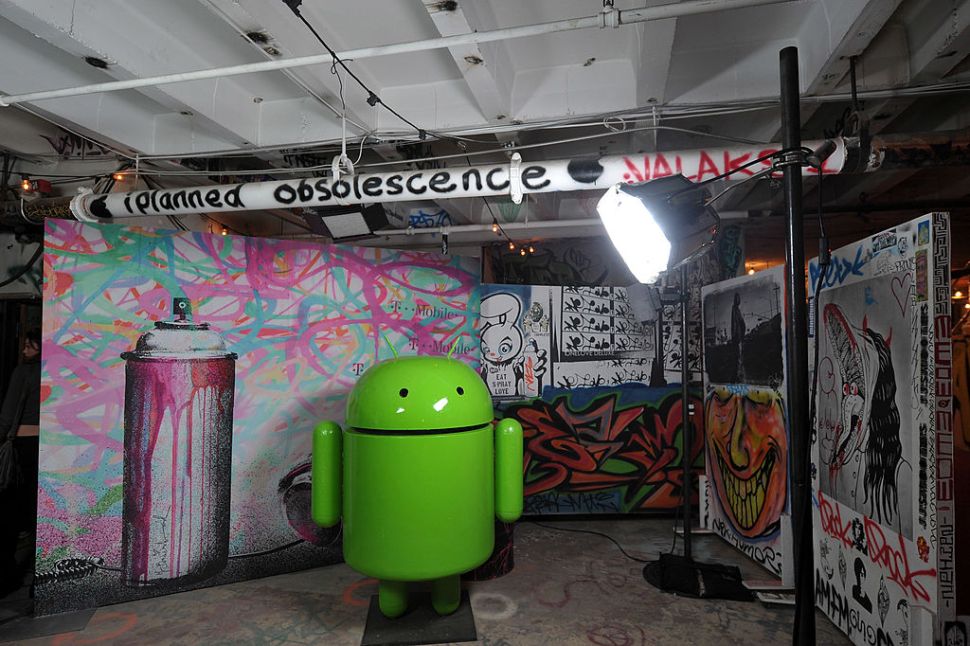 A new service turns your face into a credit card. As futuristic as that sounds, the more compelling story is the nudge it could give consumers to permit its vendor to keep a record of where they go.
Google's new "Hands Free" payments system has been seen live in the wild in the South Bay area of California. According to the company, the system is available now as a pilot in McDonald's, Papa Johns and other local businesses. Hands Free lets users quickly pay using facial recognition, but it's not just about your face. Hands Free double checks you're really present at the store using Google's various location services, Bluetooth Low Energy and other sensors.
A Facebook user named Pavel Cherkashin shared a photo in Sunnyvale, California, of one of the in store cameras on Friday. They look like a white Monopoly house on plastic stilts with a camera lodged in its roof.
Cherkashin saw the system at Off The Stick Kabob in Sunnyvale, California, but not until he'd already paid. He then downloaded the app. "Somehow it recognized my Google profile and suggested to use my existing credit card that I use to pay for Google Apps services (not sure how it worked, but I didn't have to type in password or enter a credit card number)," Mr. Cherkashin wrote the Observer in an email. He has not yet had a subsequent chance to actually pay for something with his face.
First announced last May, the Hands Free app is now available on Google Play or iOS. Once enabled, the consumers can tell the cashier in a participating store that they want to use the system. To make the payment, they only need to look into the camera. The Hands Free FAQ and a post on the Google Commerce blog explains that Hands Free verifies your face against the profile photo you used to set it up and then verifies your mobile's presence.
Google is pitching the function both as increased convenience and increased security. The convenience comes from speeding up in store payments. The increased security can be attributed to the fact that your credit card information never touches the point of sale device in the participating store. Point of sale systems have been vulnerable to malware. For example, the fast food chain Wendy's in-store payments system has been breached, and Krebs on Security reported Thursday that the malicious software might not yet be contained.
While the Hands Free app is separate from the company's mobile payments service, Android Pay, and it is still only an experiment for the company, it stands to reason that a wide deployment would benefit Google's larger business model in two ways. First, it should generate some amount of revenue for arranging the payment. Second, it gives users an incentive to permit Google to monitor their location via their mobile device.
As we previously reported, by volunteering information about everywhere they go to the search giant, consumers make its ad network much more attractive to marketers. Knowing exactly where consumers are and where they spend their days gives Google mobile ads a competitive advantage. If Hands Free really does reduce friction for consumers at retail stores, it will make it that much less likely mobile users will block the company from making a record of where they go.
It's also important that Hands Free is available on iOS. Google may not be able to track iOS users very well, because they may not have downloaded Google Maps in favor of Apple's native wayfinding services. Hands Free would be a new way to give Mountain View information about what places iPhone users visit.
The Hands Free FAQ explains that none of the photos taken by the system are saved, and the sales data is not used to better target advertisements, according to a spokesperson. It's also not clear whether the app requires access to location services (though no doubt it will offer users the opinion that that they should). It might be enough for the user to enable Bluetooth.
If you want to prevent Google from watching where you go, we explained how to do it.
Updated: With comment from Google, June 13, 2016 12:58 PM.