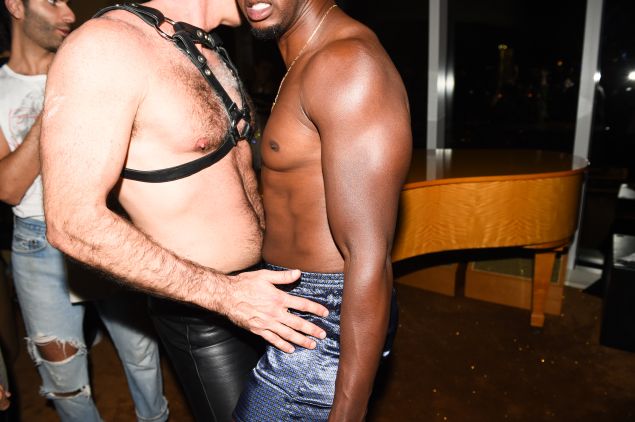 Walt Cassidy, the jewelry designer and hunky man on Instagram, had someone pinned against the glass wall of The Top of The Standard Sunday night. His trademark platinum blonde crew cut was visible in flashes through the crowd. It was just as perceptible as his hands, which were busy flitting around the body of his companion. It's not without reason that Grindr brought these two together, but in spite of the op-ed pieces that said that the "gay social networking app" is killing nightlife, this time it was facilitating it.
"I think this party is the perfect way for Grindr to expand in a new direction," Lars Byrresen Petersen, digital director of Visionaire told the Observer of the Pride event. "But for [Visionaire], I think it's a way for us to work with a different generation of artists. The artists that we feature in the issues are more recognized but we do extensive research all the time and we see a lot of incredible, young artists and we want to work with them too."
Sunday night's party, Slumbr, was a collaborative project that sourced Grindr's connections in nightlife, PR Consulting's fashion pull and Visionaire's art credibility to pull off an event where Alexander Wang and Jason Wu brushed by bare chested, silk gowned men on the way in and out of hotel rooms curated by the likes of Juliana Huxtable and Stewart Uoo. With the latter applying temporary tramp stamps to the backs of attendees, it was definitely a wild mix, in addition to being the largest freestanding Pride event Grindr has thrown in the history of the company.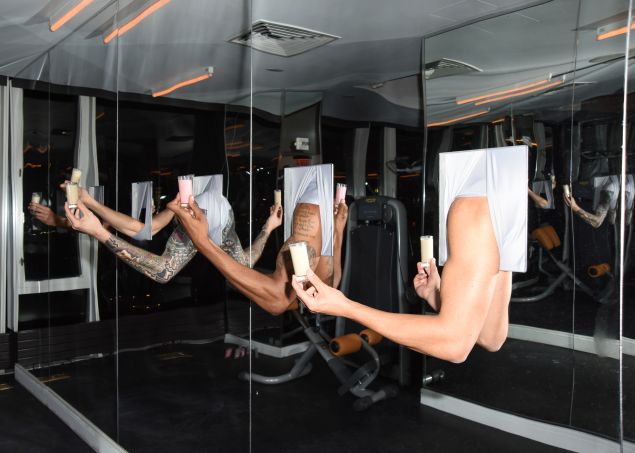 "They are licking their arms," someone from the hotel staff said leaving one of the installations. Whip New York chef Jake Brodsky had created the ultimate scene of vanity in the hotel gym. In one corner, a model wearing abbreviated silk shorts and a shiny layer of sweat pumped out reps with barbells while ogling himself in the mirrored walls. Around the corner, muscled arms were emerging from holes in the wall holding protein shots that partiers could actually take. It was here that the licking had apparently started, in some sort of twisted but oddly tame version of an '80s glory hole.
Needless to say, the night was extensive. Across three floors of The Standard, including various guest rooms, the roof and The Top of The Standard itself, the party seemed a never ending exploration. If watching a recreation of Helmut Newton-style imagery on a green screen, complete with chaps and a bare chested woman wasn't your thing (an idea courtesy of digital artist Jacolby Satterwhite), maybe cutting a rug between Zachary Quinto and Hari Nef was. For those running a little hot – between the heat and incessant glass dropping, everyone needed a break eventually — the roof provided a view of the Pride fireworks and enough space for a smoke.
***
For Grindr the event was the first of its kind, following a string of firsts in 2016. This year alone, the company helped London-based designer J.W.Anderson live stream his fashion show, Paper Magazine used the dating app to cast an editorial and Visionaire publicized a scavenger hunt of sorts in New York for their free art project.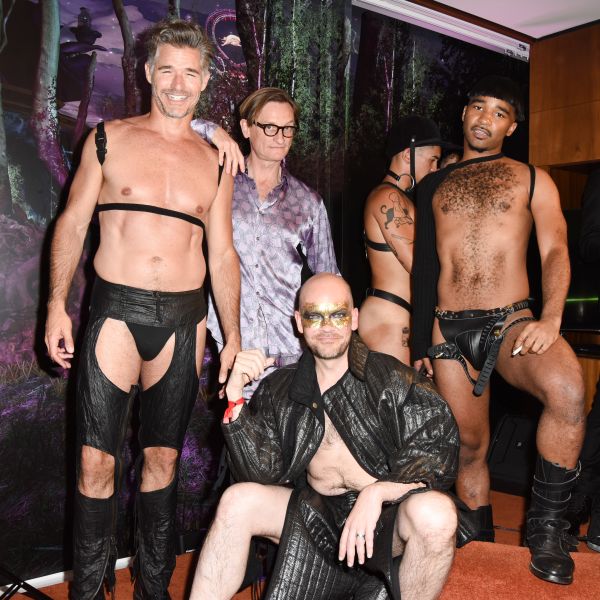 "We've been looking for ways to evolve the brand across content, product and experiences," said Grindr Vice President of Marketing, Landis Smithers, who came into his current role back in September. "One of the reasons that I joined the company is just the staggering scale that we have and the engagement. I kept looking at it and thinking, knowing the community, there's so many interests out there. There's so many things that people want to do and we have their attention; why would we not be offering them up a constant stream of surprises."
That scale helped J.W.Anderson's runway show this past February go from it's average views of 5,000 on YouTube to about 150,000 views in one week, thanks to the Grindr stream. With the scavenger hunt, Petersen agreed that publicizing the event through Grindr brought in a flood of attention from the public. It was that first project that set up the relationship between the two companies, allowing their partnership to segue into Slumbr, for which At Large editor, sometimes model and man about town Eric Rutherford played host. But this is only the beginning. "I want to take [Slumbr] globally" Smithers admitted. The creative has worked for the likes of Old Navy, Pepsi Co and Playboy in the past.
"We've got people all over the world, I want to take this to Germany, I want to take it to Rio, people want to engage with this. But that's just in the event space; I want to get into music, I want to get into sports. Whatever it is that the gay community wants to do, we want to be the channel that always helps them find it."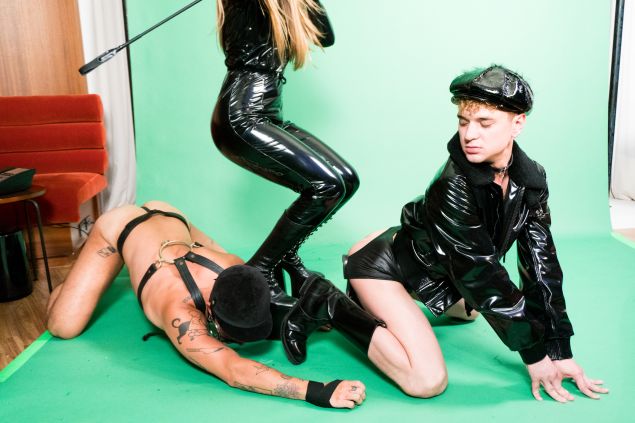 "Within the next 8 to 12 months, there's going to be a really nice back and forth within the app where if you want to find out what's happening around you, you'll have access to it," he continued. "If you want to participate and share your talent, we're setting up a platform that will be debuting this fall, where that will be a possibility." It's a bit of a dizzying proposition for an app known most commonly for it's reputation facilitating hookups.
***
Back at Slumbr, things were an overwhelming success, bodies milling in and out of the artist's rooms until they were closed around midnight and lounging on the rooftop couches for a bit of chatter. In The Top of The Standard, the DJ spun Cassie's 2006 "Me & U" record and three guys were up on furniture, one in nothing but a white terry cloth robe, twerking for all who wanted to see. Nearby a pack of guys danced  in compression shorts and leather harnesses, their backs to Cassidy, who was still entangled with his companion.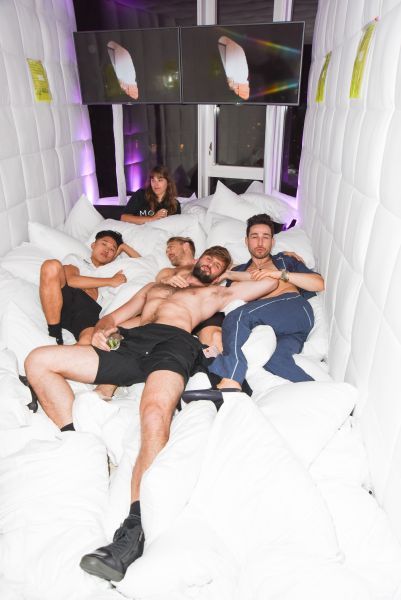 When the bedtime story came up on the screen, voiced by the likes of Rose McGowan, Alan Cumming, Hari Nef and Binx Walton, it was clear the night was approaching it's end. Bonnie McKee's heartfelt version of "When Doves Cry" earned her a fair share of applause as she made laps around The Top of The Standard's circle bar. When the music finally queued back up and the dancing started, the idea of Grindr as hostess with the mostest didn't seem too obscure. But based on the hot and steamy makeout session that overturned a table on the roof at about 12:30, shaking those "hookup" beginnings won't be happening any time soon.