I, like most art world types, have a passing familiarity with the art of László Moholy-Nagy. Though, like most art world types, that familiarity was a bit fuzzy, until Wednesday night.
It's even possible I thought he was of Russian descent (not a preposterous idea, considering he was so highly influenced by the Russian Constructivists early on), but no: Moholy-Nagy was in fact a Hungarian Jew, one who has been wildly embraced and celebrated by Hungarians both in and outside of Hungary.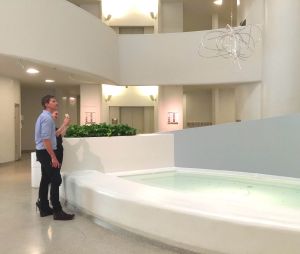 That's why the Magyar Foundation of North America, a group that promotes Hungarian art and culture throughout our continent, was so eager to spread the word to the Hungarian diaspora and their friends about the artist's retrospective "Moholy-Nagy: Future Present" during an intimate event at the Guggenheim Museum.
The evening began with drinks and traditional Hungarian fare in the Guggenheim's adjacent dining room before breaking off into tour groups to see the exhibit.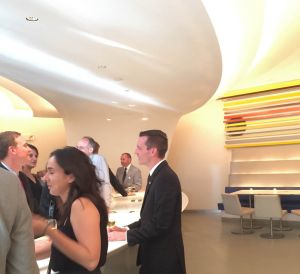 Opening remarks were given by the show's curator, Karole P.B. Vail, who noted that this was the first Moholy-Nagy retrospective in the U.S. in over 50 years, despite the fact that he "is one of the founding artists of the Guggenheim collection," and that Hilla Rebay, the original director of the museum, "began collecting [his work] as early as 1929 and continued to buy throughout her tenure."
Surprisingly, there were even a few "stars" to be found at the event, most notably the half-Hungarian Governor of New York, George Pataki. "I'm a fan of Hungarian art," said Governor Pataki to a group of press, "and I think it's great to have it here at the Guggenheim for Americans who don't know about the tremendous art history that Hungary has."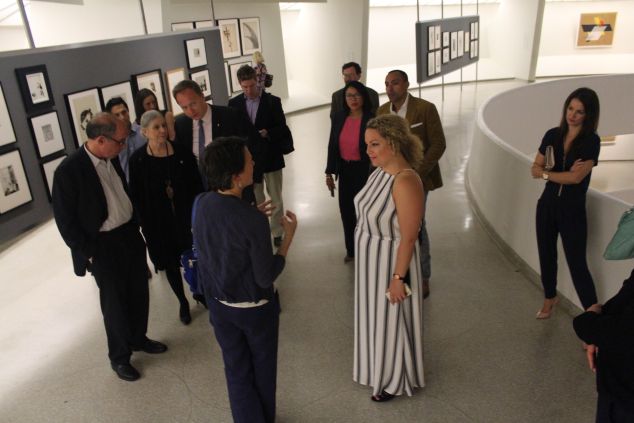 The Governor's enthusiasm seemed to rub off on everyone else—Hungarians or otherwise—and once we'd finished devouring our sausage, cabbage and potato hors d'oeuvres, the group was ready to learn more about Moholy-Nagy.
Though he was a proud Hungarian who served in WWI and was politically involved, Moholy-Nagy eventually left for Vienna and then Berlin after the war in search of the most cutting edge art, leading him, of course, to the Bauhaus school.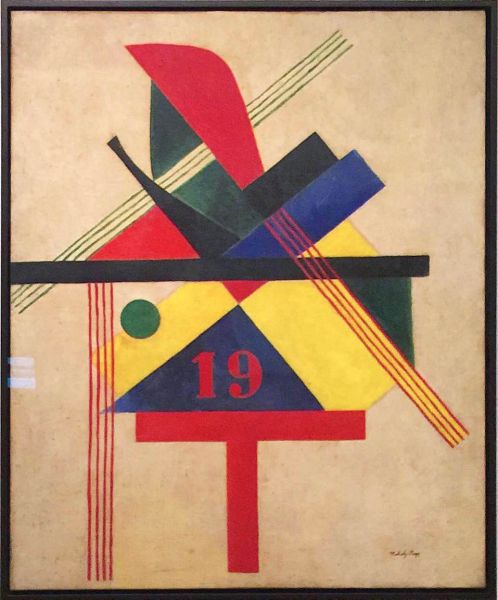 His early works were a dramatic dance of boldly painted shapes and colors that embraced the aesthetics of Russian Constructivism, as in the painting 19 from 1921. But Constructivism was only a jumping off point for Moholy-Nagy, who would go on to experiment with almost every style of art—in both the fine and applied arts—and investigate as many new materials as he could find.
Our guide for the evening, the show's curatorial assistant Ylinka Barotto, gave profound insight onto Moholy-Nagy's multitudinous artistic developments, the first of which was his joining the Bauhaus in 1923, an innovative German school that prioritized the principles of design across all fields of artistry. There Moholy-Nagy's meticulous painting style bled into graphic design, photography and more, culminating with his Room of the Present, a Gesamtwerk (or total work of art) concept that was never actualized but planned to incorporate art and technology across all the surfaces of an entire room.
Amazingly, this room was realized for this exhibition, and it is a marvel to behold.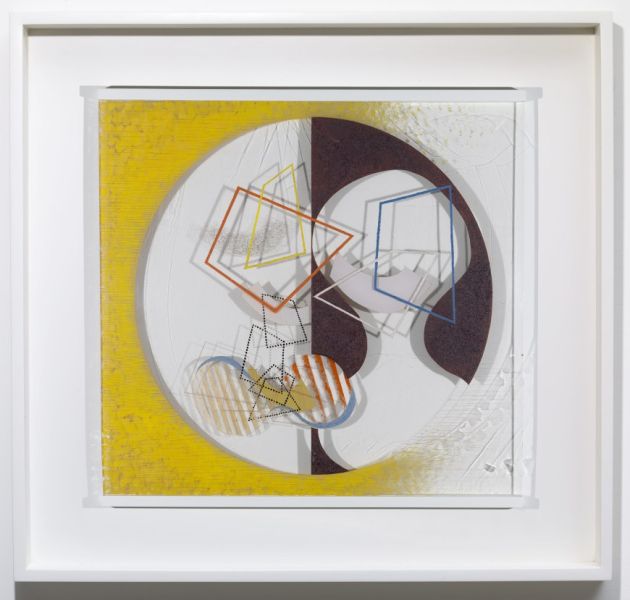 In 1937 Moholy-Nagy moved to the United States—Chicago, specifically—to help found the New Bauhaus, which would eventually become the Illinois Institute of Technology. This era of his life saw even more experimentation: for the first time we see biomorphic shapes and painterly brushstrokes, but also experiments with incised and painted lines on Plexiglas, slideshows and other experiments with new technologies of the time.
By the end of his life, Moholy-Nagy was as much American as he was Hungarian, and this sorely needed retrospective on his work was a great opportunity to let both cultures honor him.