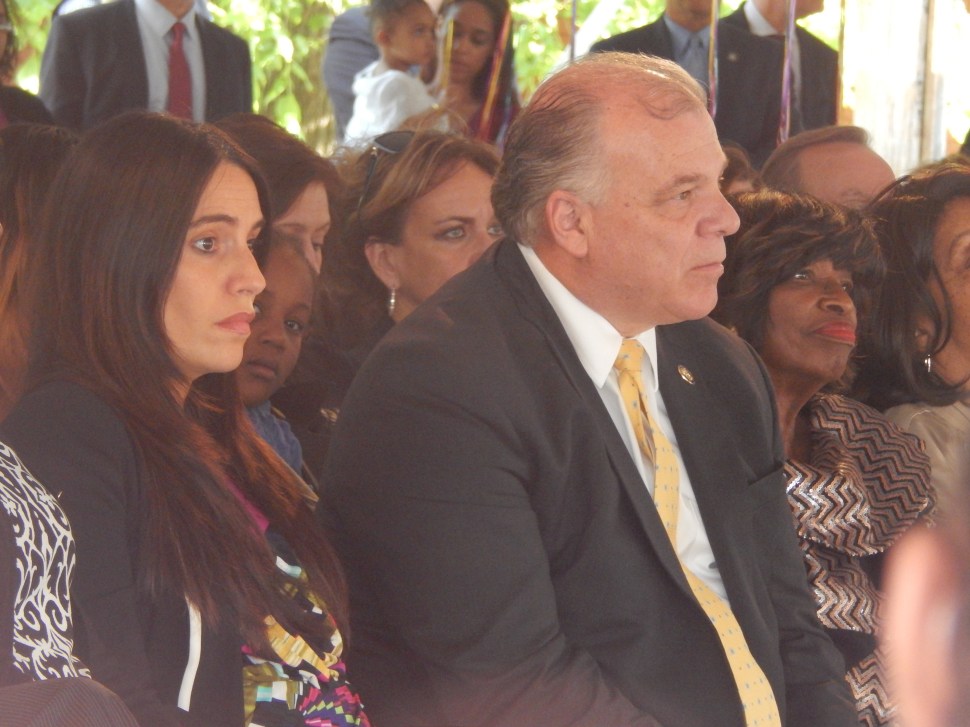 Steve Sweeney
An insider at the edges of a press event earlier this week remarked that the senate president's residence here in the belly of the beast during the Christie years might make Sweeney a 2017 non-starter in a Democratic Primary. The proximity of Sweeney to the fetid political carcass of a Republican like Christie should be reason enough to sink the ironworker in the eyes of those public service workers and progressives eager to put Christie behind them.
Humiliated by Christie's finest moments during his first term and buoyed and emboldened now by his anemic second term poll numbers, the hardest line Democrats don't want to enable the man they say has been Christie's chief enabler.
Given Sweeney's and Christie's tandem optics on public sector pensions and benefits overhaul, the insider also noted how skillfully the senate president and his handlers have kept their suspenders-wearing big guy on his feet and in the game, this week's Sweeney reaction to Christie's schools funding proposal serving as no exception.
Christie's announcement earlier this week to change how the state apportions state aid energized Republicans. From the disparate likes of Senate Minority Leader Tom Kean, Jr. to Senator Mike Doherty, GOP lawmakers celebrated Christie's decision to take on the issue as a rallying cry for their beleaguered party.
They see it as a chance for Christie to recast himself as better than simply the governor who had a good first term and then went off the rails in the second half.
Chrisite's stance also, of course, serves as a rallying cry for Sweeney, whose status as loyal Christie co-pilot are at once revealed and denied in his seemingly synchronized response to the governor's announcement. Welded to an equally concerned-looking state Senator M. Teresa Ruiz  (D-29) (chief acolyte of powerful Essex County Executive Joe DiVincenzo, a Democrat who endorsed Christie's 2013 reelection), the northern county support-seeking Sweeney has a sponsored message on Facebook about the school funding formula. He thinks it's a monstrous idea. "The governor's proposal is a direct attack on the core principles of equality for all of New Jersey's communities, denying too many schoolchildren the opportunity for an equal education," Sweeney and Ruiz said in a joint statement of outrage. "The plan is unfair, it is unjust and it is blatantly unconstitutional."
A jaded insider who still recalled Christie choking back tears at Newark's North Ward Center the day after he won the 2009 governor's race read the words with glazed eyes.
"Christie gets to run town hall meetings 'fighting for taxpayers,' and Sweeney gets to try to peel away urban base for the primary. On a bill that will never happen," the insider groaned. "These two working together continue to be a scourge. …Sweeney is going to keep working with Christie to boost both of their fortunes."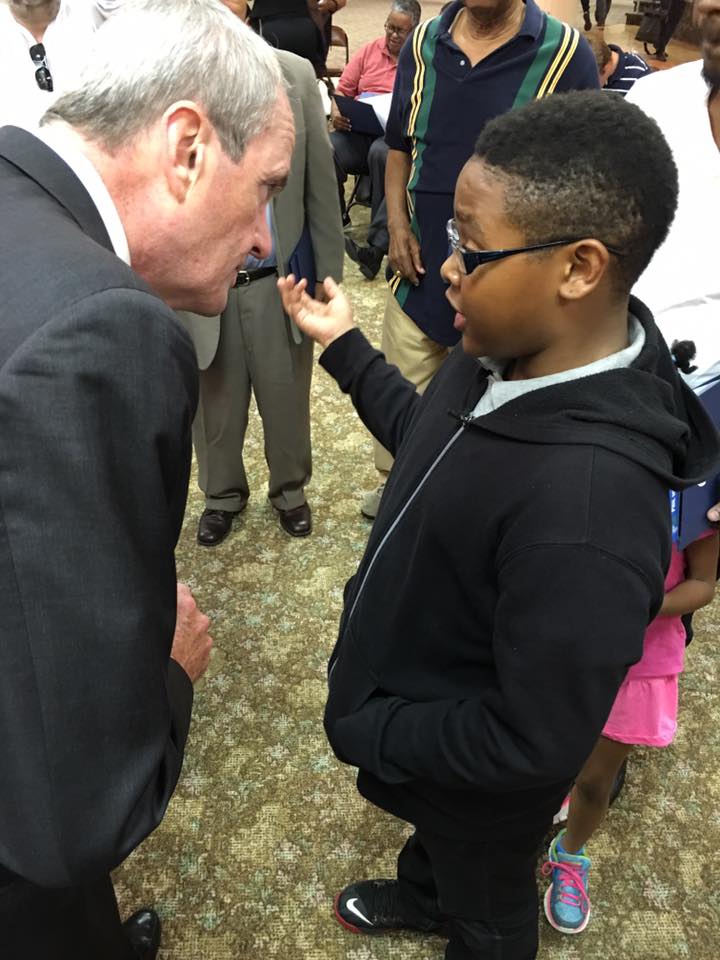 Phil Murphy
In the span of a few months, a mostly unknown entity with two decades of experience as a Wall Street executive in an alternative universe from the Bernie Sanders phenomenon has turned himself into the most affable and likeable presence in New Jersey politics.
He's positively adored mostly on the strength of having better than average retail politics skills.
The only officially declared candidate in the race for governor, Murphy stuns supporters and simultaneously unnerves his detractors. The former call PolitickerNJ to say that they've just met Murphy and make the case that he's outstanding in every way and "not Jon Corzine." The latter seem convinced that Murphy's candidacy has revealed – more than the presence of any other single individual with the possible exception of Cotrzine – the depth of dullness among those establishment Democrats who need merely to be buttered up with praise, slapped heartily on the back and told how great they are in order to believe that Murphy is the best person for governor.
If Sweeney and Fulop have a big jump on Murphy in the inside game of pursuing those county organization lines required to win a Democratic Primary, Murphy wants to try to turn that into an asset as he routinely rails against political insiders. "Here's what this campaign is not about: serving the political insiders," he said in his debut ad; while an email blast just this afternoon cleaved to the same theme: "Political insiders shut folks like you out of the process."
If Sweeney and Fulop continue to wage an old school Greco-Roman wrestling match in the backrooms of places like Essex, Middlesex and Union, Murphy continues to keep a rapid pace and double down on the nicest guy in politics narrative in the event that one of his two main rivals finally pins the other.
At any moment, Murphy can conceivably step in and assume the role of champion where either Fulop or Sweeney failed.
Murphy is working very hard. He held a town hall in Paterson last week (pictured above) where local politicians gave him a grand reception. He has an in with popular Ward 6 Councilman Andre Sayegh, foil to Fulop backer Mayor Jose "Joey" Torres; and apparently has the attention of Councilwoman Maritza Davila: two local building block personages in Paterson politics.
He's inserting himself into county battleground contests in places like Somerset, where veteran Chair Peg Schaffer wants to capitalize on a presidential season to drive the freeholder candidacy of Dr. Maria Rodriguez of Bridgewater. Murphy is co-hosting an upcoming fundraiser with Schaffer for Rodriguez.
If Fulop has already signaled his unwillingness to kiss powerful Democratic establishment leader George Norcross III's ring, Murphy appears to stand his best shot of advancing as the replacement in the event that his party's establishment becomes convinced that Sweeney has not convincingly made his case as an entity independent of the Christie years.
Steve Fulop
Since taking on the state's Democratic Party establishment, or at least that half of it concentrated in South Jersey, the Jersey City mayor (pictured above at a fundraiser for Assemblywoman Shavonda Sumter) has kept a lower than usual backroom profile.
He keeps hitting those required political events.
Since getting into local politics he has always maintained strong relations with the Muslim community, and he kept that streak alive just last night by attending a community iftar or community fast in Paterson with Al Abdelaziz.
Abdelaziz this year ran unsuccessfully for Sayegh's ward 6 council seat, but came closer than expected and impressed people in the loss. An ally of the mayor's, Abdelaziz by the looks of it will be a Fulop point person in the 6th to counter what seems to be Sayegh's growing Murphy alignment.
Bergen holds so much of Fulop's aspirations for governor right now, if not all of them.
If Fulop starts with Hudson County almost as convincingly as Sweeney starts with South Jersey, he needs Passaic and Bergen at the very least to enhance his North Jersey narrative. Bergen's Lou Stellato and Passaic's John Currie are close (they played against each other as high school football rivals) and want to operate together to endorse a 2017 gubernatorial candidate. If Stellato – who rose despite the best efforts of the south to minimize his power – sticks with Fulop, he can also pull Currie. That gives Fulop a good starting point of Bergen, Passaic and Hudson in addition to strong ties to Newark City Hall.
While Murphy continues to try to make an animated early case to voters, Assemblyman John Wisniewski (another gubernatorial hopeful) attempts to channel Bernie rage toward 2017, and state Senator Ray Lesniak (D-20) seems insistent on front-end loading liberal causes, Fulop – like Sweeney – delights in the game of trying to keep cohered those chairs who appear most amenable to his candidacy, namely those aforementioned northern Dems.
The mayor's detractors appear poised for that moment when they make the case that Fulop in his governance of Jersey City has not delivered reforms as advertised, and that he lacks the temperament to lead a state always under the threat of more dramatically balkanizing.
In addition to making guv moves, Fulop in the last month has maintained a more locally riveted grid: burnishing ribbon cuttings and school graduation ceremonies on his active Facebook page.