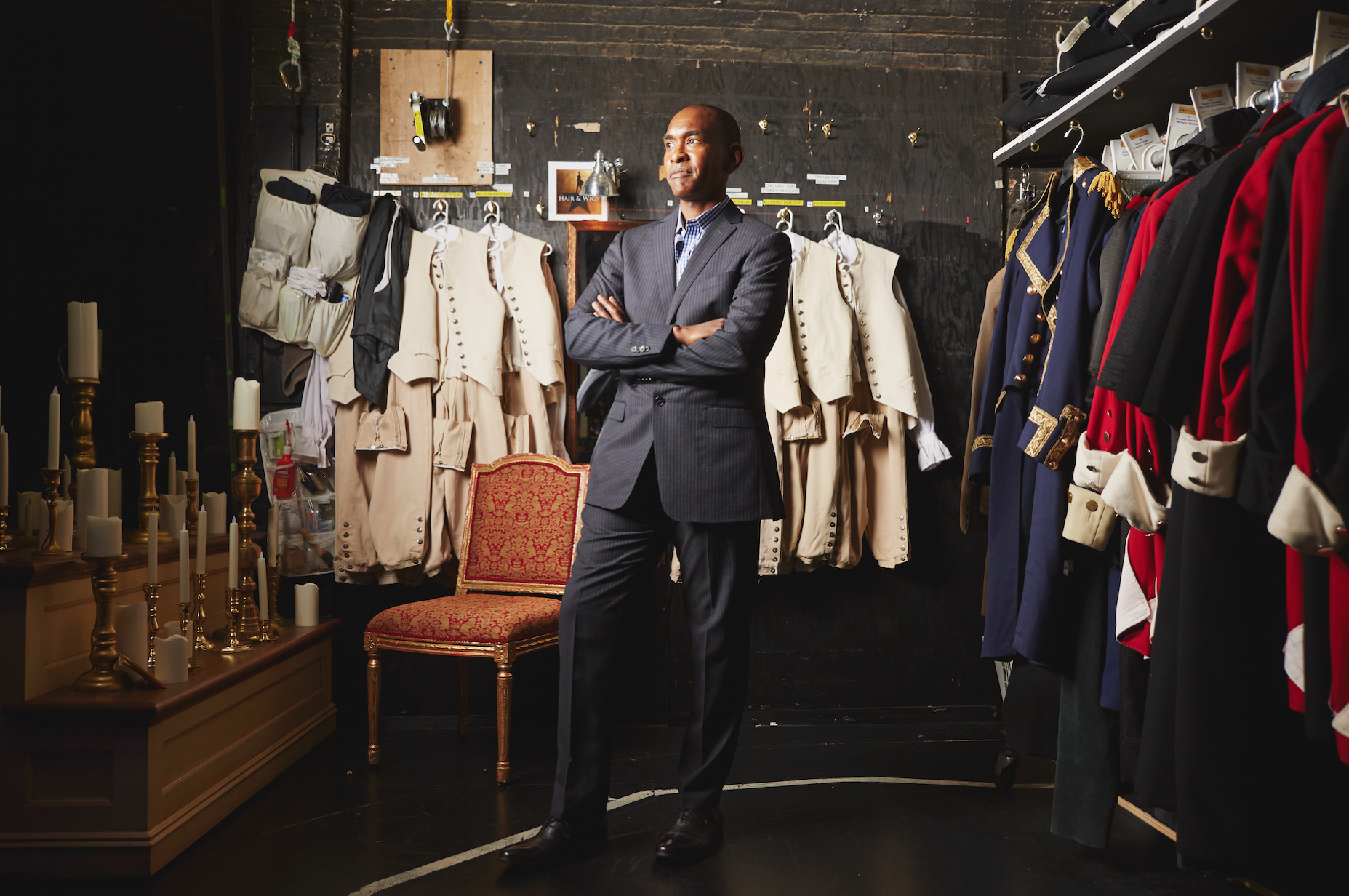 Six-time Tony-nominated costume designer Paul Tazewell created the looks for The Color Purple, Guys and Dolls, Memphis and, most notably, Bring in 'da Noise, Bring in 'da Funk. But Tazewell entered unchartered territory with Hamilton, as he sought to bring to life one of history's most iconic stories set in contemporary, street-heavy language. We met with the designer just days after receiving his sixth Tony nod to discuss his experience with the show and how the challenge has clearly paid off.
What was your path to becoming a professional costume designer? I grew up being very creative, drawing, painting and crafting in Akron, Ohio. My intent was to study fashion design in New York at the Pratt Institute. I was there for a year before I transferred to North Carolina School of the Arts to focus on costume design.
Why did you transition from fashion design to costume design? When I compared fashion design, where you're appealing to the masses versus something specific to a story, it made sense for me. I did three years in North Carolina and then graduate school at NYU in costume and set design. That's when I started designing productions for Tazewell Thompson, the former assistant director at the Arena Stage in Washington, D.C. Forging a strong relationship with this regional theater was an opportunity to hone my skills and really mature as a designer outside New York.
What would you describe as your "big break" in costume design? Somewhere around 1995 with Bring in 'da Noise, Bring in 'da Funk. The director at the Public Theater, George C. Wolfe, invited me to join the show, which was Broadway bound. That started a relationship with the Public Theater and with George, so we worked together for a considerable period of time. With Noise/Funk, I knew it was special. And it put my name on the map. But I was still seen largely as a designer of African-American shows. And that has been a double-edged sword because I developed as an artist classically through Shakespeare and historically based productions. But I started working a lot in fusing the worlds of contemporary and street and exploring those characters. That's not a place that comes naturally for me, though I do have a connection to my culture and heritage.
"These are the people we've lived with most of our lives, the founders of this country. How are we going to make it new and exciting?"
Hamilton seems like a "perfect storm" for you, then. All of the classical elements of plot mixed with contemporary storytelling. Can you describe your approach to designing the production? As for any other production, my process always starts with reading the play enough times to ingest what's there. Then it's asking, how is the story being told? How can I support the telling of story? So much of that is a sit-down conversation. Then I go to different kinds of imagery. If I'm doing something set in a specific year about specific people, I'll go online and research. But something can be set in a period, and I'll be told to abstract it and mash it up. That's what Hamilton is. It's an exploration, a journey. We needed to decide the most compelling way of presenting this visually. These are people we've lived with most of our lives, the founders of this country. How are we going to make it new and exciting? It was important for the audience to feel a youthful vigor.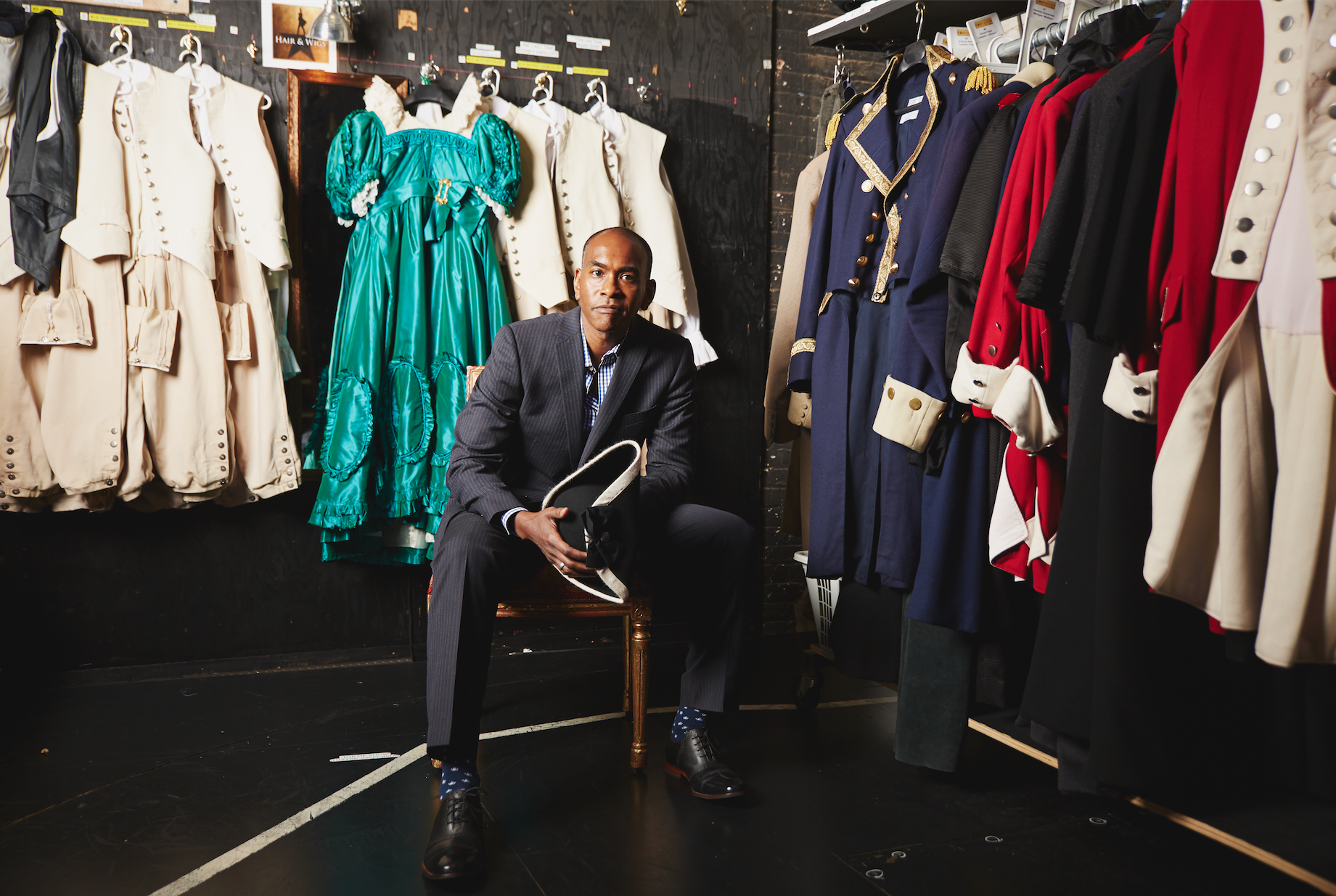 How did that message come across, technically speaking, in terms of the clothing? These are the men on dollar bills and coins, and you're marrying that with the way Lin [Manuel Miranda] wrote Hamilton. The choreography and music is contemporary, so how the cast moves in the clothing had to be contemporary. Getting that to mesh was the challenge. Where on the spectrum of the 18th century to 2016 would be the best place to land? So we decided to get it up on its feet in clothes to see what it does. At the play's workshop, I pulled 18th-century clothing. We put ladies in corsets and skirts and men in uniform coats. That's where the idea of a neutral palette became important. It started as an idea to connect Hamilton to paper or parchment, where things begin before he starts to write. And as characters are revealed, we start to individualize them. Hamilton becomes the prime character to change, and everyone starts to shift and take on an individual color palette. Green for Hamilton was specific for Lin. It's the color of money.
Where it really shifts is in the ensemble. They become British or American soldiers, so their neutral look has to flex from one to the other. Ladies wear corsets on top and pants, so they can put on a uniform coat and be a man or add a skirt and be at a ball. It needed to feel seamless, and transitionally it needed to operate that way. For principals, the task is how do I take them out of a swirling sea of ensemble members and have you focus on who they are?
How important are these choices, and therefore the costumes, to an overall production? I think basic theatergoers realize when a costume is sparkly and glamorous, and they realize when it's wrong. But if it's right, then it should get out of the way. It shouldn't go away, but it should get out of the way so you can be in the moment and experience this world. I've been a part of productions where costumes have pulled focus because another element wasn't delivering. A costume can be built beautifully, but if the play's vision isn't consistent or a performance is off, then you focus on something other than the story. That's why Hamilton is so rare. From the beginning, everyone was so comfortable with what the other person was bringing to the event. We just cohered, and the most important thing was to serve the piece and Lin's point of view, however it needed to happen. Period.